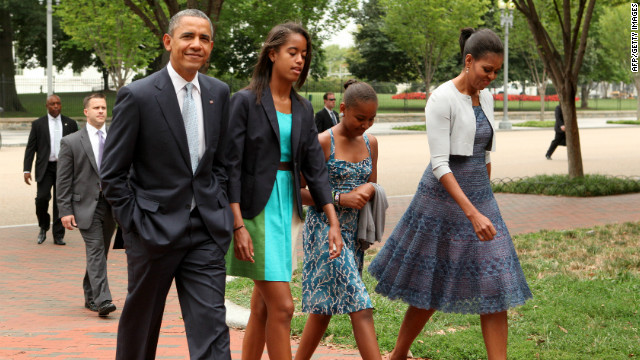 August 19th, 2012
01:23 PM ET
Washington (CNN) – The two men locked in an intense campaign for the White House marked one of the rare days that neither has a campaign event by attending church services with their families on Sunday.
President Barack Obama, along with first lady Michelle Obama and their two daughters, Sasha and Malia, walked across Lafayette Square on an overcast Sunday in the nation's capital to attend mass at St. John's Episcopal Church.
During the sermon, the Rev. Michael Angell spoke about what he called "a summer of violence." He mentioned recent shootings, including the movie theater shooting in Aurora, Colorado, that killed 12 people late last month and the shooting at a Sikh temple in Oak Creek, Wisconsin, that killed six people earlier this month.
FULL STORY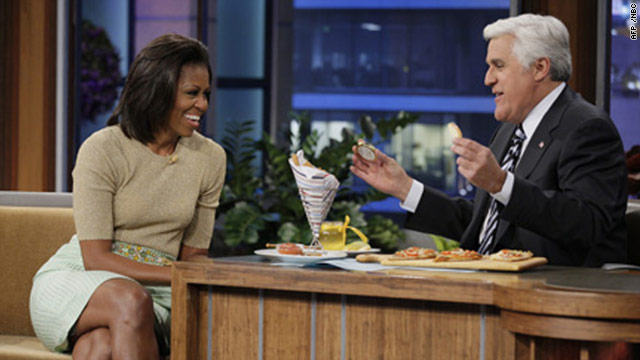 January 31st, 2012
10:28 PM ET
 We're getting a glimpse into what life is like in the White House including mentally preparing for a presidential campaign and sleepovers for the first daughters from first lady Michelle Obama as she appeared on The Tonight Show with Jay Leno Tuesday. 
The first lady is in California raising money for her husband's campaign at Democratic National Committee fundraisers and also advancing her Let's Move initiative to solve the problem of childhood obesity within a generation.
 Appearing on The Tonight Show with Jay Leno, Mrs. Obama confided her feelings on the upcoming campaign.
 "There's really no way to prepare for it.  You know, you just take each day as it comes.  I think, Barack and I, our motto is, you try to do the best job we can do every single day and the hope is that will speak for itself.  So, you know, we wake up everyday, we think about what this country needs."
 She told Leno two of the most important issues she has pressed for as first lady are her initiative to combat childhood obesity in this country and her work with military families.
On the subject of her own family, the first lady said her daughters Sasha and Malia are adjusting well to life in the White House.
"They're doing really well and I think that's been one of the most surprising things about living in the White House and probably one of the things I've worried most about was whether we could have a normal life,"  she told Leno in a video clip released by NBC. 
"The people at the White House are amazing, the girls are good, they're normal, we always check in, they have a regular life.  They've got friends and sleepovers, and to them its home.  It's been truly a blessing for us," she said. 
The first lady came to the Leno show bearing gifts as she presented the host with an apple and some White House honey from her White House kitchen garden.  The comedian couldn't let that pass without a double entendre joke saying, "That sounds bad…You know, with a different president, that could mean a whole different thing."
And Mitt Romney's musical skills also came up as Leno asked Mrs. Obama if she heard the GOP candidate's slightly off key rendition of  "America the Beautiful" on the campaign trail Tuesday.  Mrs. Obama didn't miss a beat saying she had seen the video in the NBC green room and as the audience laughed she hesitated only briefly diplomatically declaring the rendition "beautiful" and that, "It's a song that's to be sung by every American."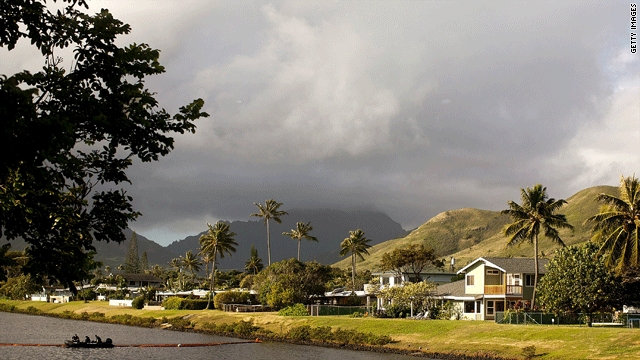 December 27th, 2011
02:07 PM ET
As his Republican rivals criss-cross a chillyIowa landscape this week, President Obama is in vacation mode –spending time with his family including hiking, golfing with friends and visiting troops in his native Hawaii. But he is keeping a noticeably low profile. 
 The White House reminds this is a working vacation as the president each day receives his daily briefing and advisors follow domestic and world developments.  The administration is also presumably preparing the president's State of the Union address to Congress which is set for January 24th.
 The president's holiday vacation was delayed just days before Christmas in his last interaction with Congress when House Republicans "blinked" and voted to extend the payroll tax cut another two months ending a stalemate with the White House.
 But we are seeing very few photo opportunities of the president enjoying the balmy Hawaiian breezes. FULL POST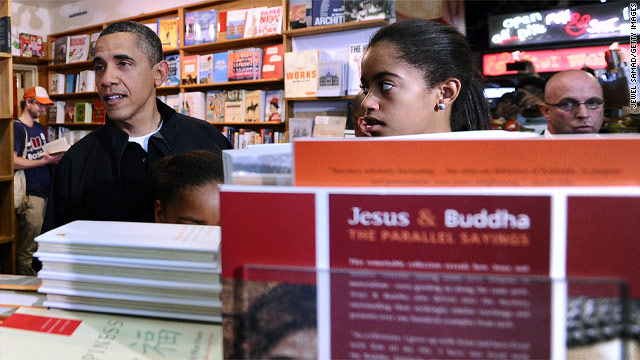 November 26th, 2011
04:18 PM ET
On one of the busiest shopping weekends of the year, President Obama and first daughters Sasha and Malia dropped by a local area bookstore in support of the 2nd annual Small Business Saturday.  The First Family, known for their bookstore outings provided some Thanksgiving retail therapy to Kramerbooks & Afterwords Cafe in Washington's Dupont Circle neighborhood.  The family was dressed casually, with both girls wearing jeans.  The visit didn't seem like a spur of the moment decision, since the area in front of the store had been cordoned off with yellow police tape.
The President and first daughters were greeted with applause, as some stunned shoppers stopped in their tracks at the scene of Secret Service and travelling Media in the crowded bookstore.  The First Family browsed together, spending time in the travel/writing section of the trendy bookstore/restaurant known for its eclectic variety of books.
The President greeted 5-year old Alexander Lee Mussehl at the behest of the youngster's Grandmother, Susan Lee of Washington. Obama asked Alexander if he was doing some Christmas shopping.  The President then responded for him "Well, we're starting early. This is 'Small Business Saturday.' So we're out here supporting small business."
Daughter Malia,  loaded down with an armful of books, also said hello to young Alexander.  The White House provided this list of the books purchased at the shop by the first family.

The Invention of Hugo Cabret – by Brian Selznick
Diary of a Wimpy Kid: Cabin Fever – by Jeff Kinney
Tails – by Matthew Van Fleet
Descent into Chaos – by Ahmed Rashid
The Tiger's Wife – by Tea Obreht
The Phantom Tollbooth – by Norton Juster
The Brief Wondrous Life of Oscar Wao – by Junot Diaz
Zen Shorts – by Jon Muth
June 24th, 2011
05:53 PM ET
CNN's Robyn Curnow caught up with first lady Michelle Obama in Botswana for an interview during which she discussed some of the high points of her African trip:
On Mandela: "The one thing I told him, I wanted to make sure he understood how important his leadership and sacrifice has been to who I've become, to who my husband has become and, in short, I just said, 'Thank you.' It's really hard to know what to say to such an icon."
On the U.S. elections: "We really don't talk about the election. We're really doing the work, and that's an important and useful distraction in the midst of it. There's a lot on the president of theUnited States' plate that keeps him focused on what needs to be done, so you just keep doing what you believe is right. I always say this: One of the reasons why I support this president and not just as my husband, but as a citizen, is because I see him taking that long view. I see him every day waking up worrying, not about polls, but worrying about what is the right thing to do for the future. That keeps you pretty focused on what's important."
On husband's campaign: "When it comes to the campaign we're ready to work hard. We did it before and we'll do it again, so we're rolling up our sleeves and getting on with it."
On daughters: "Fortunately, we have help from the media. I have to say this: I am very grateful for the support and kindness that we've gotten. People have respected their privacy, and in that way, no matter what people may feel about my husband's policies or what-have-you, they care about children, and that's been good to see."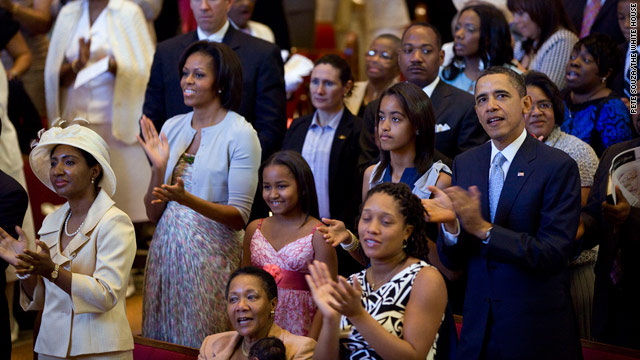 April 24th, 2011
02:00 PM ET
WASHINGTON (CNN) - Dressed in their Easter Sunday best, President Obama, the first lady, and daughters Sasha and Malia entered Shiloh Baptist Church in Washington Sunday to a standing ovation.
The first family attended the 10 a.m. Easter service, a rare public appearance at a church for the president. Rev. Smith, the senior minister of the historic church, welcomed the Obamas.  "It probably has not been lost on you that we have some very special visitors this morning... so we welcome President Barack Obama, Michelle, Malia and Sasha."
With his arm around his daughter Malia, President Obama sang along as the 120-member choir performed the introit, This is the Day, and an opening hymn. The service also included scripture readings from the Old Testament (Jeremiah 31:1-6) and the New Testament (John 20:1-18).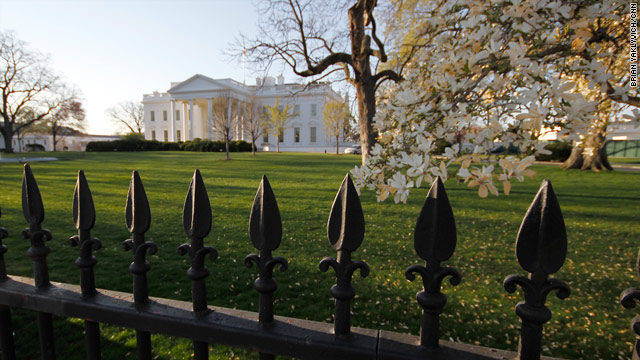 April 8th, 2011
06:34 PM ET
(WASHINGTON) CNN–As last minute negotiations continue to avert a government shutdown set for midnight Friday, the first family has cancelled a planned weekend getaway to Williamsburg, VA. The White House announced late Friday afternoon that "The President will remain in Washington, DC this weekend as he continues to work with Congressional leaders to reach an agreement on the budget. The First Family's trip to Williamsburg has been postponed."  Williamsburg is 150 miles south of Washington, DC and was the 17th century capital of the colony of Virginia.  In 2005, Queen Elizabeth and Prince Phillip visited the area to commemorate the founding of nearby Jamestown, the first permanent English settlement in America.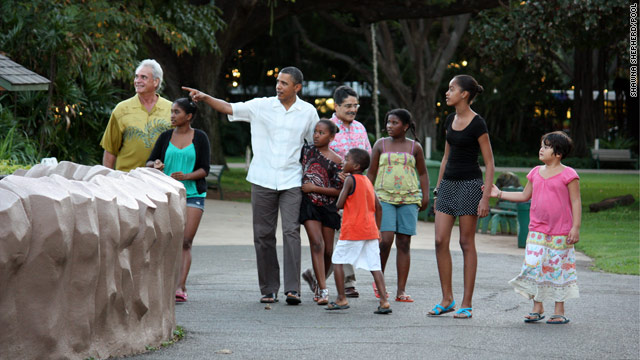 January 3rd, 2011
11:56 PM ET
(CNN) - Just hours before he was scheduled to fly back to Washington, President Obama, his daughters, and other friends and family made a vist to the Honolulu zoo. As they walked by a primate exhibit that included White-Handed Gibbons, and Ruffled Lemurs, the president's youngest daughter, Sasha, yelled "they are so adorable'" when she saw the lemurs.
Obama's sister Maya Ng-Sotero, her husband and their children were part of the delegation at the zoo along with the president's friend from Chicago, Martin Nesbitt, and his family. The group was also joined by a zookeeper who showed them around.
Before the visit to the zoo, Obama and his daughters visited the National Memorial Cemetary of the Pacific at Punchbowl in Honolulu where Mr. Obama's grandfather is buried.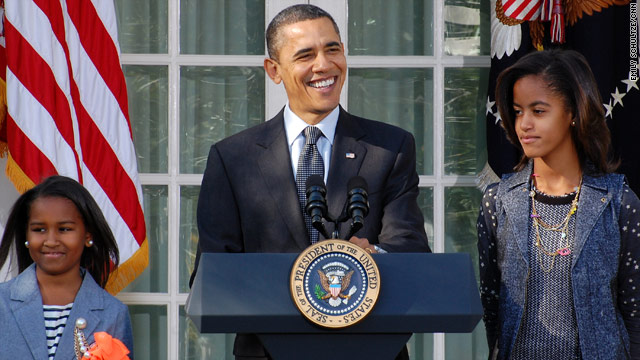 November 24th, 2010
12:05 PM ET
THE PRESIDENT:  I have my two trusty assistants here - (laughter) - Malia and Sasha for one of the most important duties that I carry out as President.
Before everybody heads home for Thanksgiving, there is one official duty I am sworn to uphold as the leader of the most powerful nation on Earth.  Today, I have the awesome responsibility of granting a presidential pardon to a pair of turkeys.  Now, for the record, let me say that it feels pretty good to stop at least one shellacking this November.  (Laughter.)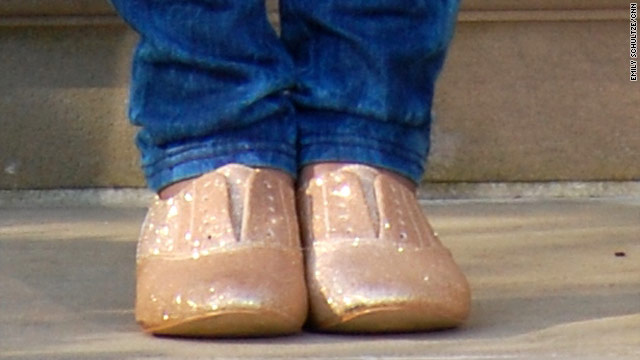 November 24th, 2010
11:53 AM ET
There was a big white turkey in the Rose Garden today but I only had eyes for Sasha's shoes.