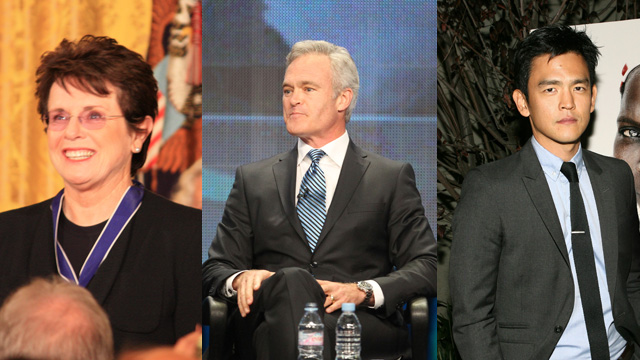 October 13th, 2011
06:33 PM ET
Below is a list of expected attendees at tonight's State Dinner.
The President and Mrs. Obama
His Excellency Lee Myung-bak, President of the Republic of Korea
Mrs. Kim Yoon-ok
Mr. Charles C. Adams, Jr., Geneva, Switzerland
Mrs. Vera Risteski-Adams
Ms. Angella Ahn, Performer, Bozeman, MT
Mr. Michael P. Moore
Ms. Lucia Ahn, Performer, New York, NY
Mr. Christiaan P. Ahn
Ms. Maria Ahn, Performer, New York, NY
Ms. Young Joo Rhee, Cliffside Park, NJ
The Honorable Brooke Anderson, Washington, DC
FULL POST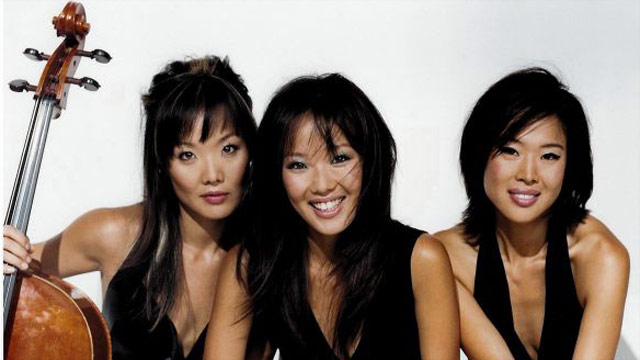 October 13th, 2011
06:13 PM ET
The White House will host entertainment in the State Dining Room following the dinner in the East Room, featuring performances by the Ahn Trio and selections by Janelle Monáe.
THE AHN TRIO
Angella Ahn, Violin
Lucia Ahn, Piano
Maria Ahn, Cello
JANELLE MONÁE
Janelle Monáe, Vocals
Terrence Brown, Keyboard
Kellis Parker Jr., Guitar
Michael Phillips, Drums
Jonathan Webb, Bass
Lance Powlis, Trumpet
Marcus Lewis, Trombone
FULL POST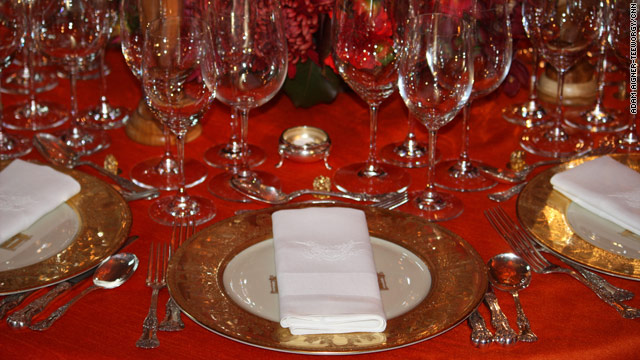 October 13th, 2011
05:53 PM ET
The President and Mrs. Obama will host His Excellency President Lee Myung-bak and Mrs. Kim Yoon-ok for a State Dinner on the night of October 13th, 2011. The State Dinner will be held in the East Room of the White House. White House Executive Chef Cris Comerford and White House Executive Pastry Chef William Yosses have constructed the evening's menu using local ingredients, including produce grown in the White House Kitchen Garden.
A Fall Harvest Dinner
The Korea State Dinner Menu is a celebration of an early Fall Harvest. Last week, on October 5, the First Lady and local students from Tubman and Bancroft Elementary Schools in Washington, DC worked together to harvest vegetables in the White House Kitchen Garden as part of Mrs. Obama's Let's Move! initiative. Vegetables from that harvest are highlighted in this evening's dinner and perennial herbs from the garden are used throughout the meal.
Local Menu Selection
The first course, Butternut Squash Bisque, represents the best in local, seasonal fare: the dish is light yet robust and features the scents of fall. It includes squash from the White House Kitchen Garden and honey from the White House beehive. The Early Fall Harvest Salad, featuring daikon sheets and masago rice pearl crispies, is a nod to Korean traditions, and includes greens from the White House Kitchen Garden. The main dish features wagyu beef from a Texas ranch, fresh kale from a DC-area source and squash from the White House Kitchen Garden. The dessert features a classic recipe of chocolate cake layered with a harmonious blend of Korean and American pears.
First Course
Butternut Squash Bisque, Honey Poached Cranberries,
Virginia Cured Ham, Pumpkin Seed Praline, Crème Fraiche
Second Course
Early Fall Harvest Salad on Daikon Sheets,
Masago Rice Pearl Crispies, Rice Wine Vinaigrette
Main Course
Texas Wagyu Beef, Orange-Ginger Fondue,
Sauteed Kale, Roasted Kabocha Squash
Dessert
Chocolate Malt Devils Food Layers
With Pear and Almond Brittle
An American wine will be paired with each course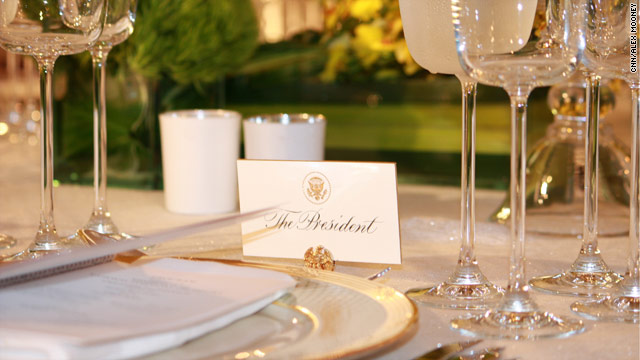 October 11th, 2011
03:37 PM ET
By Sr. State Dept. Producer Elise Labott
State visits for foreign leaders are meant to signify the importance the U.S. president places on the relationship with a particular country.
Such is the case for South Korea, whose president, Lee Myung-bak, arrives in Washington later this week for a state visit. Lee's arrival comes on the heels of a free trade agreement with Seoul being sent last week to Congress for final approval.
In addition to an Oval Office meeting with President Barack Obama Thursday, Lee will be feted at a State Department luncheon on Wednesday hosted by Secretary of State Hillary Clinton and a state dinner Thursday at the White House.
But it looks as if Obama's choice to be his new ambassador to Seoul won't be part of the festivities, due to a nail-biting political standoff over his confirmation which former diplomats warn could affect U.S. relations with a major ally and trading partner.
The administration's nominee to be ambassador, Sung Kim, was announced this summer. The choice of Kim, who would be the first American of Korean descent to hold the post, was hailed by Seoul as an opportunity to for the two countries strengthen relations.
October 11th, 2011
12:50 PM ET
President Lee Myung-bak of South Korea will be in D.C. this week for a full-fledged State Visit.   While in town he will attend a State Dinner in his honor at the White House and address a joint meeting of Congress.
 Population:  48,754,657
Area: Slightly larger then Indiana
Religion: Christian, Buddhist
GDP per Capita:  U.S. $19, 600
Life expectancy:  76
Unemployment:  3.7%
Literacy: 97.9
Currency South Korean won,  $1 US is 1186.60 Korean won
 Vote at age 19
Drink at age 20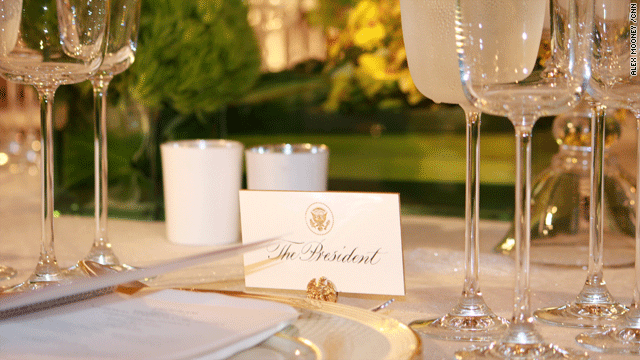 June 7th, 2011
02:52 PM ET
Looking for a good meal tonight? The White House has it covered. But you'll need a much-sought after invite to the State Dinner to get a taste. The White House says many of the vegetables and herbs used to prepare the dinner came from the White House Kitchen Garden.
Here's the menu:
White House Garden Chopped Salad
Fine Herbs
White House Honey Gastrique

Tuna Tartare with Rye Crisps
Pickled Young Carrots and Mustard Oil
Spring Pea Salad
Shaved Ham and Ginger Snaps

Petit Filet
With Maryland Crab Ravioli
Wild Ramp Puree

Apple Strudel
Golden Raisins and Tophen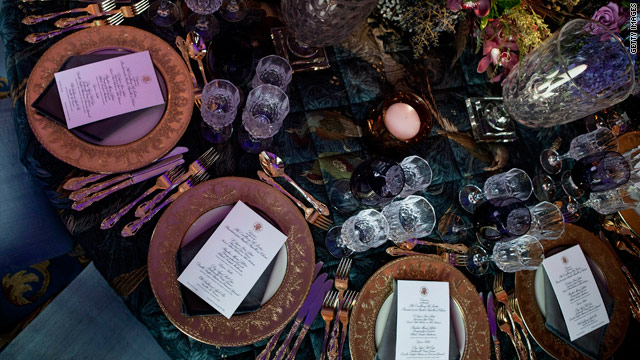 June 7th, 2011
01:21 PM ET
(WASHINGTON) CNN–President and Mrs. Obama tonight will host German Chancellor Angela Merkel and her husband  Joachim Sauer at a state dinner full of pomp and elegance.  The dinner will be held in the Rose Garden.  This isn't the first time the Obama's have hosted a state dinner outside.  The dinner for India's prime minister in 2009 was held in a white tent on the White House South Lawn.  So why not inside in the actual State Dining Room?  Well, it's like Thanksgiving at Grandma's house; it all comes down to space!  The State Dining Room only holds about 140 people.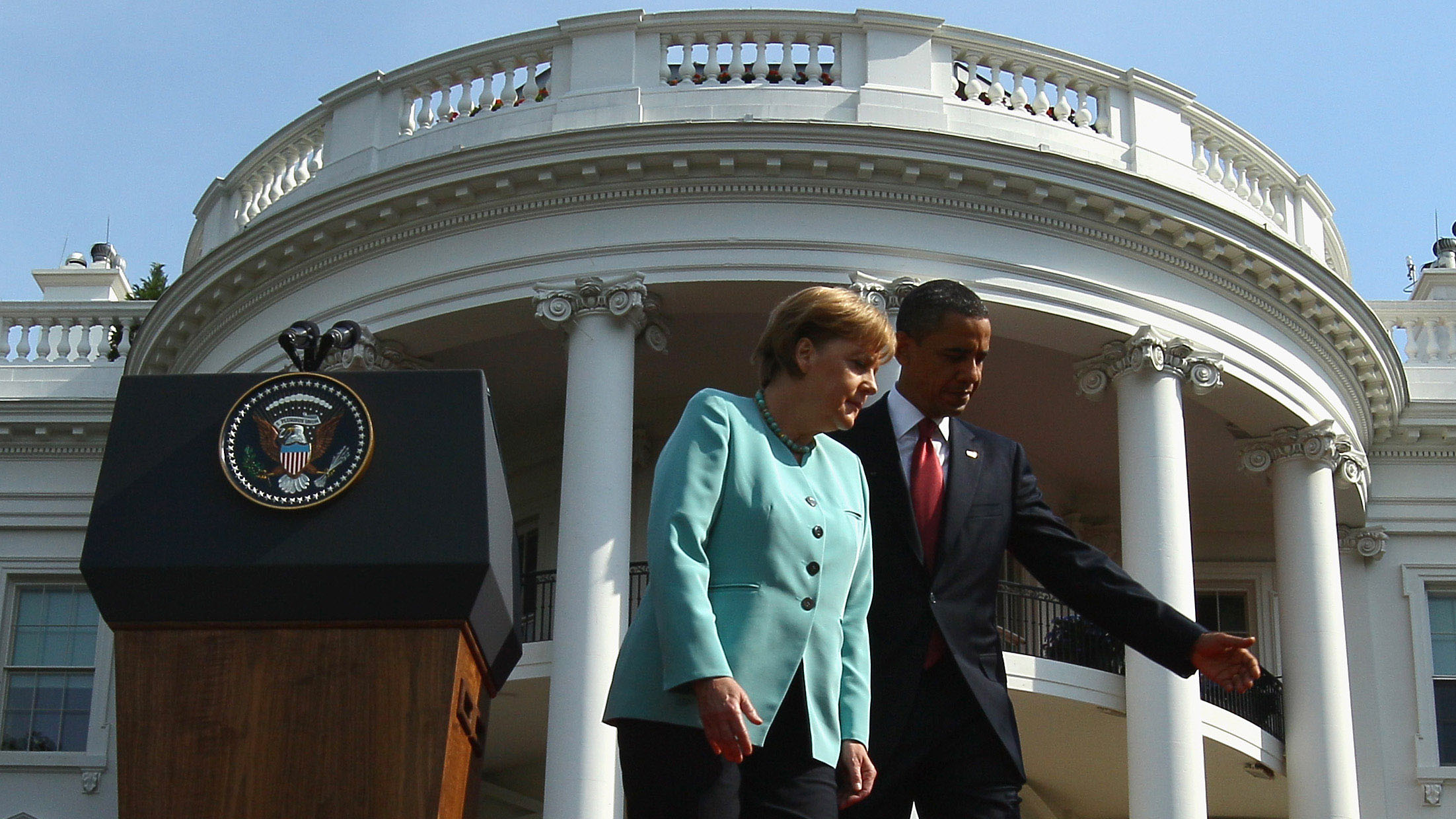 June 7th, 2011
11:27 AM ET
Washington (CNN)- German Chancellor Angela Merkel received an official welcome to the White House Tuesday morning in a ceremony marked by pomp and circumstance, a major honor for an ally who has differed sharply on key issues at times from her American counterparts.
The chancellor also will receive the Presidential Medal of Freedom, the nation's highest civilian honor, at a state dinner Tuesday evening.
Merkel, 56, dined privately with President Barack Obama at a Georgetown restaurant Monday night. The two leaders are likely to discuss a range of economic and security topics during Merkel's visit, including the turmoil in the Middle East and the shaky global economy.
"Our alliance at its core is a partnership between two peoples," Obama said. "The story of Germany and our alliance in the 20th century shows what's possible in the 21st. Wars can end, adversaries can become allies, walls can come down. At long last, nations can be whole and can be free."
More HERE
June 7th, 2011
10:00 AM ET
When President Obama hosts a State Dinner for German Chancellor Angela Merkel Tuesday, it will be the latest in a long line of White House fetes for foreign heads of states.
White House State Dinners can be traced all the way back to 1874, when President Ulysses S. Grant hosted an intimate 40-person gathering for Hawaiian King Kalakua. Since then, State Dinners have become considerably more elaborate, with each president adding a touch of his personality to the once-staid affairs. While some are big and others small, all are considered to be the toughest ticket in town to score and often produce memorable moments as shown above.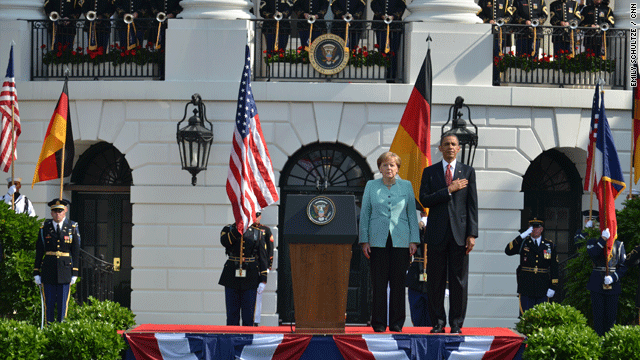 President Obama took German Chancellor Angela Merkel to dinner last in Georgetown and today he will welcome her to the White House.   Her visit includes a South Lawn arrival ceremony, an Oval office bi-lat, an East Room presser and a formal State Dinner tonight.
The full schedule is after the jump.