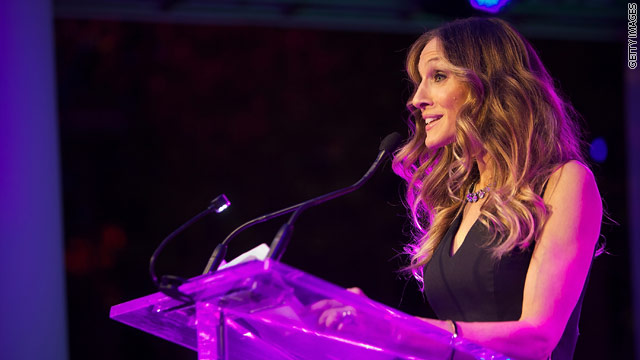 June 15th, 2012
09:05 AM ET
(CNN) – President Barack Obama used a pair of fund-raisers in New York Thursday to further the message he laid out in a speech earlier in the day in Ohio, painting the November election as a choice between two starkly different visions for the United States.
"What we're going to have to do is present the choice," Obama told a group of supporters at the home of actress Sarah Jessica Parker, according to a pool report. "You're the tie-breaker, you're the ultimate arbiter."
Obama warned, as he did in Ohio, that Mitt Romney and Republicans will largely blame him for the current economy and say it's "the other guy's fault."
"It's an elegant message. It happens to be wrong, but it's crisp. You can fit it on a bumper sticker," Obama said, noting the GOP will spend "$500 million" on ads.
The president delivered a similar message of caution during the speech in Ohio, the battleground state he and Romney visited on the same day.
For the full story, click here.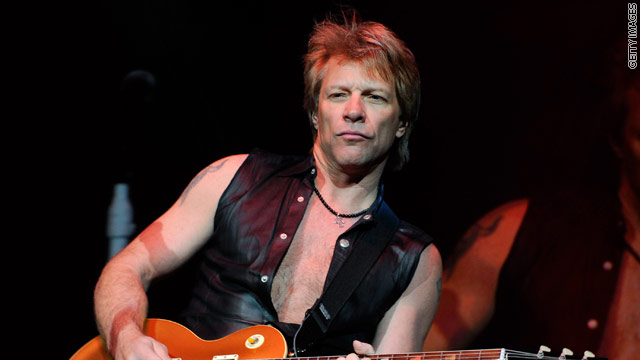 June 4th, 2012
05:33 PM ET
President Obama made a quick trip to New York City on Monday night for some fundraiser but he took along a very important guest on Air Force One: singer Jon Bon Jovi. He was already on board when the travel pool boarded but they did catch a glimpse of him getting off the plane, according to pool reports. JBJ will headline one of tonight's fundraisers when he gives a musical performance at the event at the Waldorf Astoria.
Bon Jovi was appointed to the president's White House Council for Community Solutions back in December 2010. He visited the White House in January to meet about a program to hire at-risk teenagers for summer jobs.
For the record, a White House official tells the pool, "For those of you asking, Bon Jovi's travel was paid for by the campaign."
May 28th, 2012
10:44 AM ET
Hidden from the public's eyes, seen only by those with special access, Washington D.C. sits on a treasure trove of unique spots off limits to the average tourist. For instance, a view from the top of the US Capitol building requires special permission. A tour of the Oval Office demands an escort and a secret service agent. Another one of those special spots sits right under the White House press briefing room.
A sign on a door reading "Restricted Area" leads down the stairway to an indoor pool built for President Roosevelt in the 1930's. The pool was covered up during President Nixon's administration and the press briefing room was built on top of it. Today, the walls of the former pool are filled with hundreds of signatures of journalists and celebrities who have visited this secret place. Autographs include the likes of music legend Bono and actress Sarah Jessica Parker. Bono even drew his face! Baseballer Bernie Williams left his mark, so did former President George H.W. Bush. Other not so famous people, but those with special connections, have left their marks as well.
FULL POST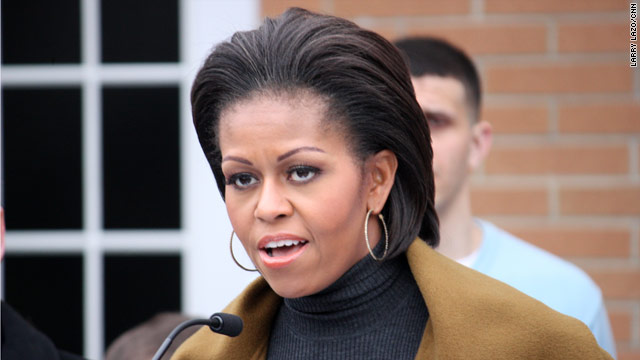 May 24th, 2012
06:19 PM ET
First Lady Michelle Obama says if she could be anyone else in the world it would be Beyonce! Mrs. Obama tells PEOPLE Magazine in an interview on news stands Friday, "Gosh. If I had some gift, I'd be Beyoncé, I'd be some great singer. The power of music, being able to play an instrument…It looks like musicians just have the most fun."
The first lady also says the president serenades her at the White House. "Sometimes I can't get him to stop singing. He loves it in the shower in the morning, sings to the kids. But it's not a song. He'll sing one line of something romantic or cute."
The interview for PEOPLE as well as several television appearances next week is an effort by Mrs. Obama to publicize her new book on The White House kitchen garden, "American Grown."
The White House says she will appear on Good Morning America, The View, The Daily Show with Jon Stewart and Live! with Kelly. The first lady's proceeds from the book will be donated to the National Park Foundation to be used for programs that promote healthy eating habits a pet cause of hers according to the White House.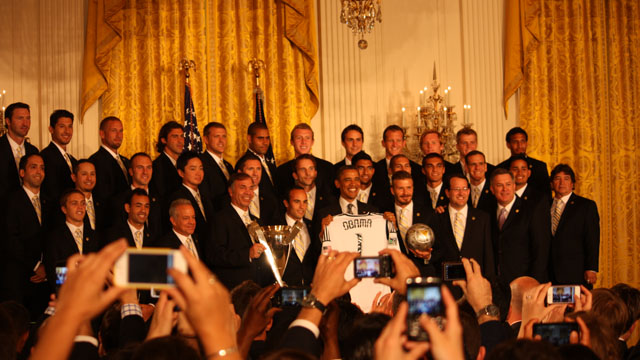 May 15th, 2012
05:49 PM ET
There was some serious star power in the East Room of the White House Tuesday and it had nothing to do with politics. The Major League Soccer champion Los Angeles Galaxy including star players David Beckham, forward Robbie Keane, midfielder Landon Donovan and their team mates were honored by President Obama and dozens of young soccer fans invited to the White House.
Calling them the "Miami Heat of soccer" the president commended the team for their success.
"[T]ogether you pulled off one of the toughest feats in team sports: You lived up to the hype. You combined star power, hard work; it paid off."
The president poked a little fun at David Beckham telling the 36 year old, "I said half his teammates could be his kids."
"We're getting old, David. Although you're holding up better than me," the president laughingly told Beckham.
But he thanked the team for agreeing to stay and talk with children invited to the White House to meet the players.
"As a soccer dad, I know you've inspired a lot of kids. And today you're giving them an experience that they will never forget," the president told them.
After the East Room event, the players joined Michelle Obama and about 60 children invited for the event in the State Dining Room as part of a Let's Move program, the first lady's initiative to instill healthy eating habits in children.
Mrs. Obama said she hoped to hold a soccer clinic outside on the White House lawn but rain forced them inside. She told the kids about the importance of sports and remaining active.
"[W]e want to show kids just like you that there are all kinds of ways to be active, and that being active is also a whole lot of fun. So a lot of what we do while there are soccer drills and things like that going on, we're doing a lot of playing around and laughing, and realizing that that's what being healthy is about. It's not always work; most of the time it's a lot of fun."
She left admonishing the children to "eat your vegetables."
A sentiment that was echoed by star soccer player Beckham who when asked by one child was his favorite food is he hesitated only briefly and answered, carrots!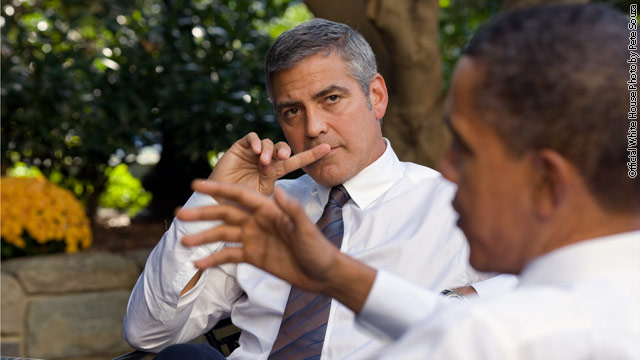 May 3rd, 2012
11:21 AM ET
It's always a heady combination, the intersection of politics and Hollywood and now the Obama campaign is reportedly cashing in big-time.
The contest called "Obama, Clooney, and You" offered supporters a chance to win two tickets for dinner with the president, George Clooney and a host of other high dollar donors at the movie star's Los Angeles home next week. The contest has now ended.
A Democratic official declined to tell CNN exactly how much money the contest raised but did say tickets for the 150 paying guests are $40,000 each. That's a cool $6 million dollars.
The on-line contest, similar to other raffles run by the Obama campaign offering "Dinner with Barack" and at times also including First Lady Michelle Obama was designed to encourage "grassroots supporters" to donate as little as $3.
The Wall Street Journal reported this week that actor Clooney is deeming the fundraiser a huge success.
"All I know is it's the biggest fundraiser so far to date-ever," Clooney told the Wall Street Journal. "Right now we've raised about $10 million for the fundraiser, which is about double anything that's ever been done before," said the actor. FULL POST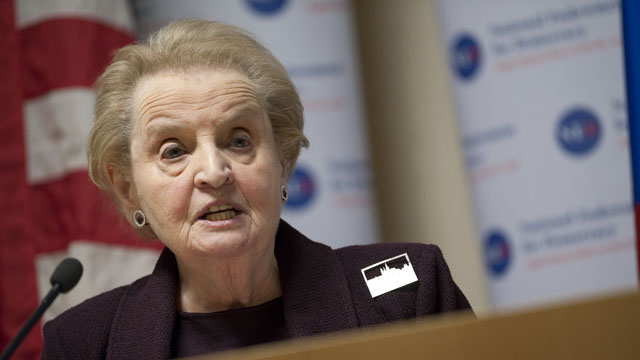 April 26th, 2012
11:59 AM ET
A senior administration official confirms the first woman to serve as U.S. Secretary of State, Madeleine Albright, will receive the Presidential Medal of Freedom.
The Medal of Freedom is the nation's highest civilian honor.
A White House release described the Presidential Medal of freedom as an honor presented to individuals "who have made especially meritorious contributions to the security or national interests of the United States, to world peace, or to cultural or other significant public or private endeavors."
The White House had previously announced former University of Tennesee women's basketball coach Pat Summitt and former Polish Underground officer Jan Karski, who was one of the first people to provide accounts of the Holocaust to the outside world, will also receive honor.
A ceremony honoring them will take place sometime later this year at the White House.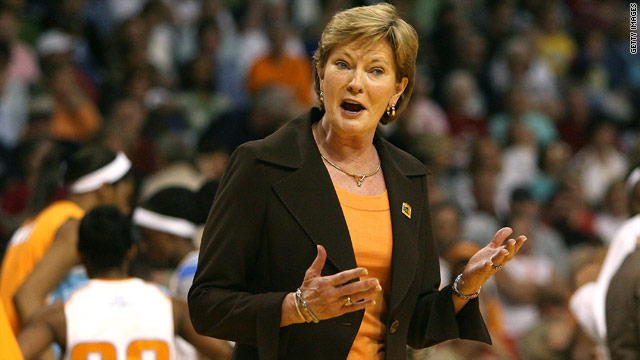 April 19th, 2012
03:16 PM ET
Calling her an "inspiration" President Barack Obama Thursday announced former University of Tennesee women's basketball coach Pat Summitt will receive the Presidential Medal of Freedom, the nation's highest civilian honor. The honor comes just a day after Summitt announced she would step down as coach to Tennesee's Lady Vols and eight months after revealing her diagnosis with early-onset Alzheimer's.
"Coach Summitt is an inspiration – both as the all-time winningest NCAA coach, and as someone who is willing to speak so openly and courageously about her battle with Alzheimer's. Pat's gift has always been her ability to push those around her to new heights, and over the last 38 years, her unique approach has resulted in both unparalleled success on the court and unrivaled loyalty from those who know her and those whose lives she has touched. Pat's coaching career may be over, but I'm confident that her work is far from finished. I look forward to awarding her this honor," the president said in a statement announcing Coach Summitt's recognition.
Coach Summitt took her Lady Vols to eight national championships and 1,098 wins–the most in major-college basketball history.
The Presidential Medal of freedom is presented to individuals "who have made especially meritorious contributions to the security or national interests of the United States, to world peace, or to cultural or other significant public or private endeavors," according to a White House statement.
Coach Summitt's work off the basketball court, on behalf of Alzheimer's patients through the Pat Summitt Foundation, was also recognized in Thursday's White House announcement.
Other recipients of the Presidential Medal of Freedom will be announced in the coming weeks according to the White House. A ceremony honoring them will take place sometime later this year at the White House.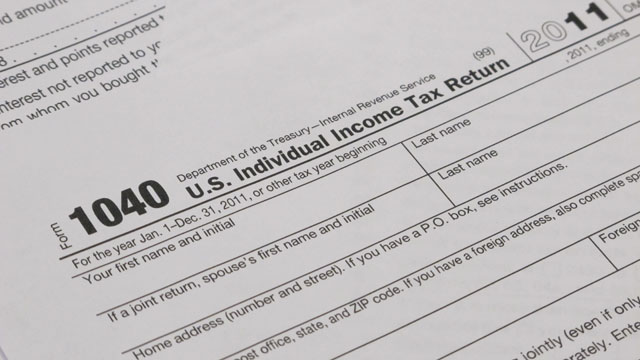 April 13th, 2012
12:07 PM ET
NEW YORK (CNNMoney) - President Obama and the first family saw their income drop by almost $1 million in 2011 as sales from his best-selling books slowed.
The Obama family, in tax returns released Friday by the White House, reported an adjusted gross income of $789,674 for 2011, down from $1,728,096 in the previous year. The family income topped $5.5 million in 2009.
The president earns a salary of $400,000 for his day job. His total earnings are much higher because his books - "Dreams From My Father," and "The Audacity of Hope" continue to attract buyers.
The Obamas reported paying $162,074 in federal taxes. They donated $172,130, or 22% of their income, to 39 different charities.
Obama is donating the proceeds from his latest book, "Of Thee I Sing," to a Fisher House scholarship fund for children of fallen and disabled soldiers. This year, the contribution was $117,130.
Vice President Joe Biden and his wife Jill reported income of $379,035, but gave only $5,540 - or 1.4% - to charity.
Jay Carney, the White House press secretary, noted in a statement that Obama's 2011 effective federal income tax rate is 20.5%, and that the president's own policies would result in higher taxes for the Obama family. FULL POST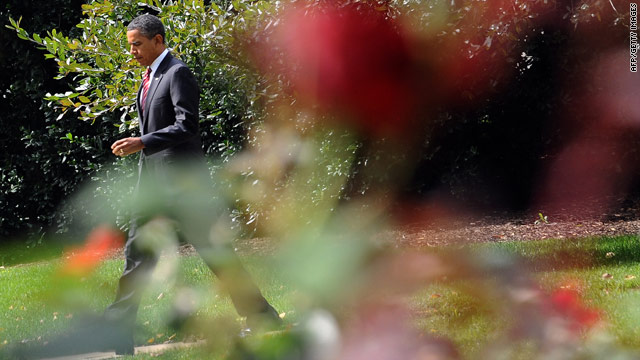 April 13th, 2012
08:26 AM ET
President Barack Obama weighed in on the controversy lighting up the blogosphere between a Democratic strategist and Ann Romney, wife of GOP presidential candidate Mitt Romney. The president told Columbus, OH television station WCMH that candidates' wives should be off limits. Obama defended Ann Romney.
"First of all there is no tougher job than being a mom. I've watched Michelle, who for most of her career had to juggle work and family, but there were times when she was on maternity leave and I promise you that's work. So I think this was an ill-advised statement by somebody on television. It's not something that I subscribe to, and moreover my general rule is you don't talk about the spouses of elected officials because they've got a really tough job. They're out there supporting their husband or wife who have chosen to serve in public eye. Sometimes that spouse isn't volunteering for that job, but they're doing the best they can supporting somebody they love and they care about. And i think they're off limits, so on both counts it was the wrong thing to say and I haven't met Ms. Romney but she seems like a wonderful woman and I know that she's devoted her life to her family."
Democratic strategist Hilary Rosen questioned stay at home mom Ann Romney's qualifications to advise on women's economic issues. (full story on CNN.com)