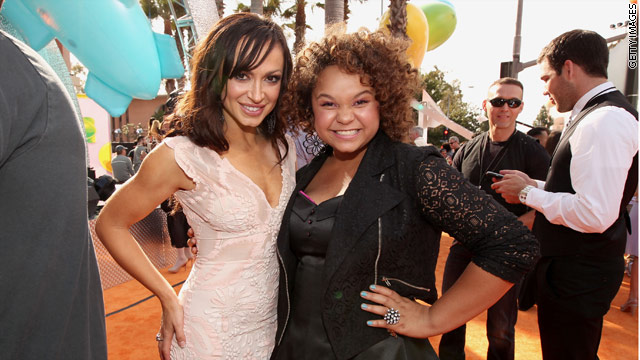 April 6th, 2012
06:10 PM ET
The White House has announced the line-up of talent for Monday's White House Easter Egg Roll and it includes several tween stars. Actress and singer Rachel Crow is scheduled to sing the national anthem to kick the festivities off. And teen stars Janelle Monae, Cody Simpson, Rachel Crow, Zendaya, China Ann McClain and the McClain Sisters will also be performing on stage on the South Lawn.
Among the other activities planned are a tennis clinic with former teenage tennis stars Michael Chang and Chris Evert and the "Eggtivity Zone" which will feature professional athletes such as Dedreck Etan Thom and Nick Young of the NBA and the NFL's Brian Orakpo, Lorenzo Alexander, and Antwaan Randle El.
The star of NBC's "Biggest Loser", trainer Bob Harper, will also be part of the activities which are a part of First Lady Michelle Obama's "Let's Move" initiative.
Several stars like ABC's Robin Roberts, actress Julianne Moore, and actor Forest Whitaker will be reading stories to children. And White House chefs will be joined by Top Chefs Richard Blais and Paul Qui and others where they will do healthy food demonstrations.
The White House has distributed 35,000 tickets for the event that will last from 7:30a to 6:20p.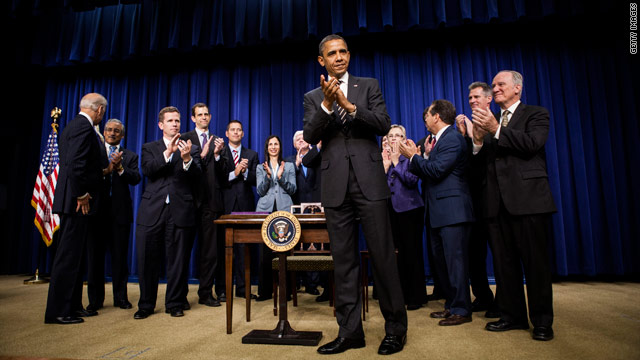 April 4th, 2012
02:08 PM ET
Here at the White House we're seeing something this week that we haven't seen in a very long time: public bill signings attended by Republican and Democrats.
In recent months, as President Obama has positioned himself opposite an unpopular congress, he has shied away from the fanfare of signing ceremonies, once routine in the early months of his term. But today he signed the STOCK Act, aimed at preventing elected officials from using their professional knowledge for financial benefit, in a public ceremony at the White House. Tomorrow he will do the same with the JOBS Act, a bill that is supposed to make it easier for small businesses and start-ups raise investment dollars (though some critics say it won't create jobs and could increase risk for investors).
The last signing ceremony at the White House was in early February (a bill spearheaded by Democratic former Rep. Gabrielle Giffords of Arizona) and, before that, November. In February, congress passed a substantial bill to fund the FAA and an extension of the payroll tax cut, a measure that received overwhelming bipartisan support and that Obama had pressed congress to pass. He signed both in private.
Republicans charged that he was playing politics, denying them a visual of bipartisanship in an election year. House Republican leaders have adopted a more conciliatory tone toward the president in recent months following a bruising battle on a temporary extension of the payroll tax cut in December. But not all Republicans want a picture standing next to the president. House Speaker John Boehner (R-OH) and Senate Republican Leader Mitch McConnell (R-KY) did not make the trip. Noticeable among the handful of GOP lawmakers at todays signing ceremonies were those who are trying not to appear hyper-partisan as they face strong Democratic challengers in tough re-election races, including Sen. Scott Brown (R-MA) and Rep. Robert Dold (R-IL).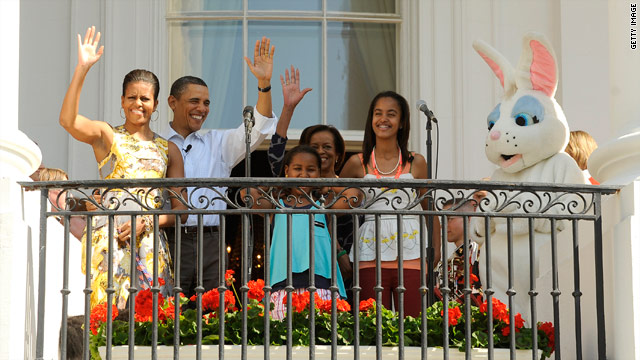 April 2nd, 2012
01:52 PM ET
The anticipation is building for some 30,000 kids and their parents for this year's 134th annual rite of spring at the White House: The Easter Egg Roll.
Now just one week out and the White House is teasing us with snippets of information.
Monday they released the much anticipated list of costumed characters who will be prancing around the White House lawn.
There are all the usual suspects like Bugs Bunny, Daffy Duck, Clifford the Big Red Dog and the Cat in the Hat.
But they'll be joined by movie characters, Alex the Lion from Madagascar 3 and those Penguins of Madagascar who are described on their website as an "elite strike force with unmatched commando skills." Hmm, the Secret Service might take exception to that!
The First Lady is putting her imprint on the festivities tailoring the activities to promote health and wellness keeping with this year's theme "Let's Go, Let's Play, Let's Move!" Michelle Obama's signature "Let's Move" initiative tackles the problem of childhood obesity. FULL POST
March 23rd, 2012
10:27 AM ET
President Obama addressed the Trayvon Martin shooting today in the Rose Garden.
"Obviously this is a tragedy. I can only imagine what these parents are going through. When I think about this boy I think about my own kids and I think every parent in America should be able to understand why it is absolutely imperative that we investigate every aspect of this and that everybody pulls together, federal, state and local to figure out exactly how this tragedy happened.
I'm glad that not only the Justice Department is looking into it, I understand now that the governor of the state of Florida has formed a task force to investigate what is taking place.
I think all of us have to do some soul searching to figure out how something like this happened. That means that we examine the laws and the context for what happened as well as the specifics of the incident.
But my main message is to the parents of Trayvon. If I had a son, he would look like Trayvon. I think they are right to expect that all of us as Americans are going to take this with the seriousness it deserves and we will get to the bottom of exactly what happened."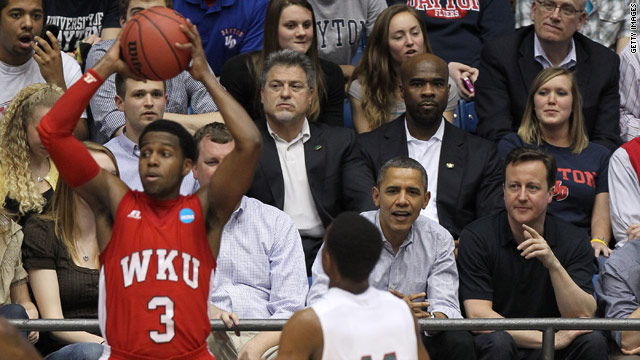 March 20th, 2012
06:13 PM ET
Ohio is on a winning streak. Not only does it still have four teams left in the NCAA men's basketball tournament but it has also elected the winning president in twelve consecutive elections. President Barack Obama knows just how important the Buckeye State is – he will be visiting it later this week – his nineteenth time since taking office.
"Ohio is a state that in some ways fits the averages very well and that means it's going to be a microcosm of the rest of the country," said political science professor Paul Beck at Ohio State University (OSU). "So they [Obama and Biden] are really going to spend a lot of time here."
Thursday, just hours before the intrastate battle between OSU and Cincinnati in Boston, President Obama will be on the Buckeyes campus in Columbus to deliver a speech on the administration's energy strategy. Mr. Obama likes the Buckeyes, he picked them to make it all the way to the Final Four. They are one of four Ohio teams still alive in the men's basketball national championship.  The others are Xavier, Cincinnati and Ohio University. According to the NCAA, it's the first time in tournament history that four teams from one state have made it to the Sweet 16.
This has the state's leader, Governor John Kasich, bursting with excitement. During a Cincinnati radio show on Monday, talk of basketball took the forefront, over taxes and oil exploration. "This is unbelievable.. I don't care who gets there as long as one of us gets there," Kasich said giddily, referring to one of the Ohio teams possibly winning the championship. It may be hard for the republican governor to root for the other Ohio teams since he is a graduate of Ohio State but he claims he will be rooting for all of them.
The president and governor won't be alone in keeping an eye on Ohio.  House Speaker John Boehner's congressional district includes parts on Cincinnati, the home of Xavier University. "I'm thrilled that Ohio teams are doing so well in the NCAA tournament – especially my alma mater, Xavier. Go Musketeers!" Boehner said in a written statement.
Just last week, President Obama headed to Dayton, Ohio with British Prime Minister David Cameron to kick off the first day of the tournament. During a half time interview the president said he brought the prime minister to the game as a chance to see his very first basketball game but also "to see the great state of Ohio," adding "the heartland is what it's all about."
Voters in Ohio will have little control over whether a basketball championship trophy comes back to the state for the first time since 1962, but come November it certainly hopes to play a large role in deciding whether Obama gets to fill out another presidential basketball bracket.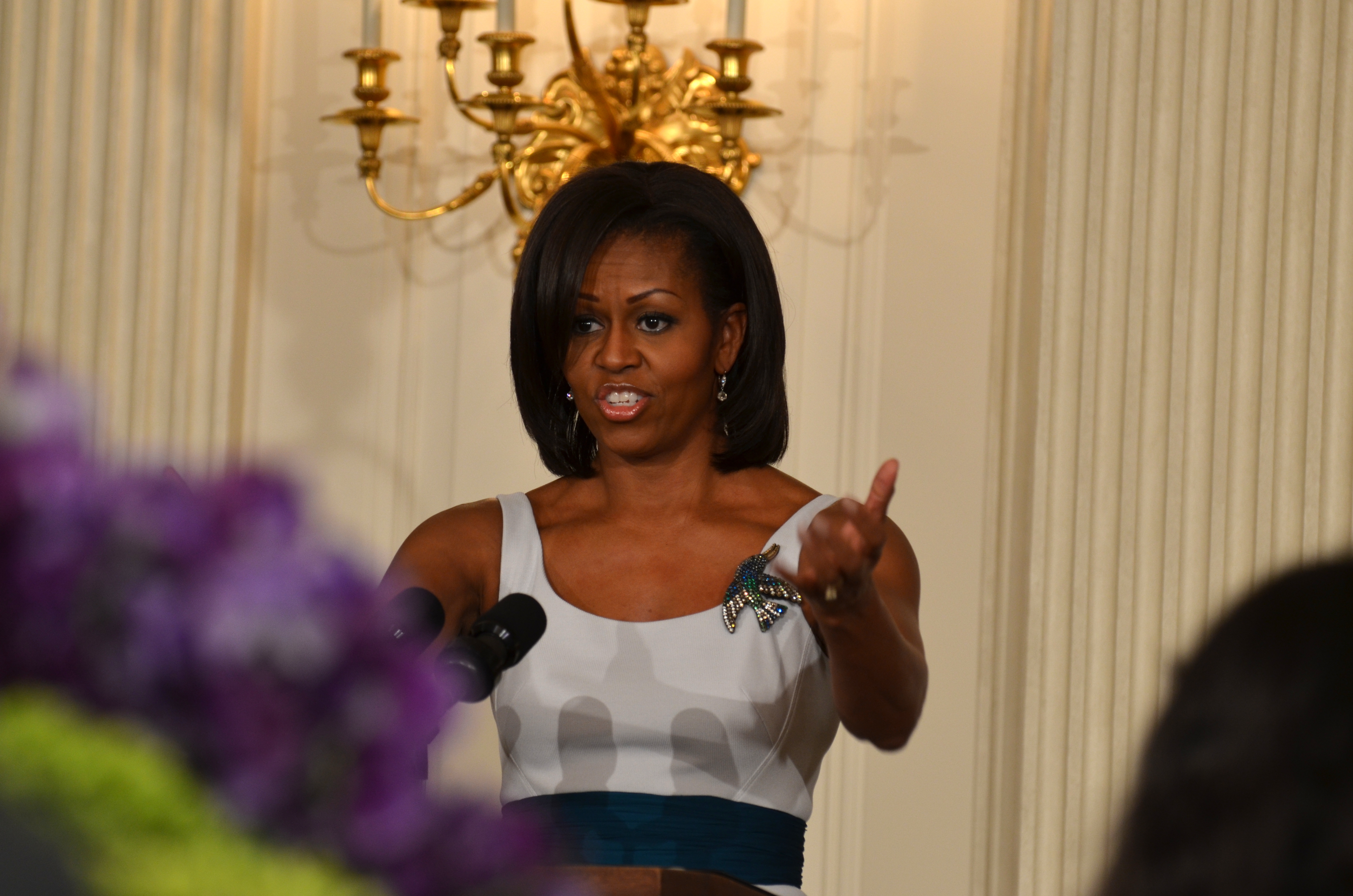 March 14th, 2012
04:41 PM ET
Mrs. Obama gave a short preview of tonight's State Dinner to a group of local students this afternoon in the State Dining Room.  Explaining the intricate dance required to serve dinner for 150 guests, the first lady described the kitchen to the audience.
"The White House is a big place, but the kitchen is really teeny. You wouldn't believe it - it's a little bitty kitchen, so they have to really man the engines to make it happen," Mrs. Obama explained.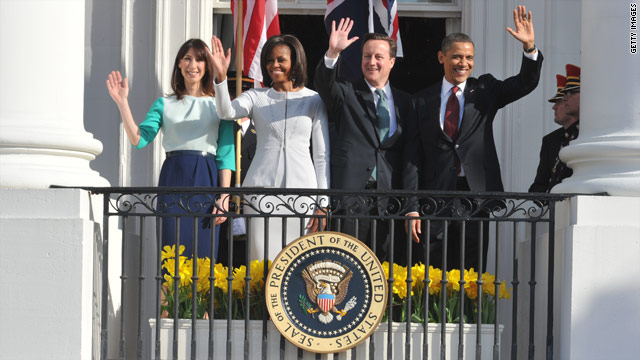 March 14th, 2012
12:24 PM ET
The White House released this information on the gifts from the Obamas to the Camerons:
On the occasion of the Official Visit, The President and Mrs. Obama gave the Prime Minister and Mrs. Cameron a one-of-a-kind Braten 1000 Series Grill hand made by Engelbrecht Grills and Cookers of Paxton, Illinois. Symbolizing the personal friendship between the President and Mrs. Obama and Prime Minister and Mrs. Cameron, the gift commemorates their May 2011 visit to 10 Downing Street where together they grilled and served food to American and British Armed Service Members.
An American classic, the wood and charcoal burning grill is customized with American and British friendship flags engraved into the utility shelf and a personalized plaque mounted on the exterior lid. The grill and all its component parts are made in the United States and Engelbrecht Grills and Cookers has been praised for its environmentally friendly practices. The gift also includes two White House chef jackets each featuring American and British flags, and the Great Seal. Prime Minister and Mrs. Cameron's names are embroidered onto the front of their individual jacket.
Mrs. Obama gave Mrs. Cameron an original crystal honey vase with honey collected from the South Lawn of the White House hand-etched with the words "White House Honey" onto the front side of the vase. Chamomile seeds harvested from the White House kitchen garden and a custom candle inspired by the White House were also presented.
Each of Prime Minister and Mrs. Cameron's children received personalized American made bean bag chairs, each featuring the Presidential Seal and the child's name embroidered.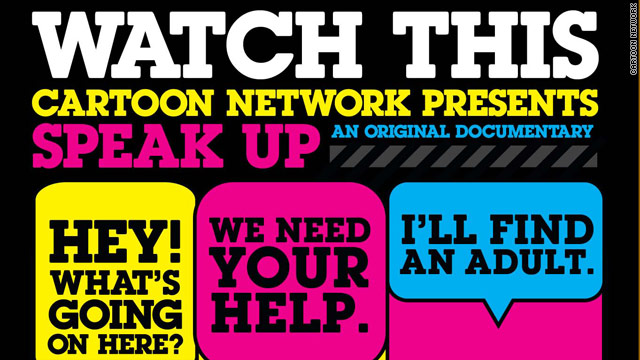 March 13th, 2012
05:06 PM ET
President Obama is taking a stand – and this time it's against bullying.
Joining the Cartoon Network's campaign "Stop Bullying: Speak Up", the president has recorded an opening message introducing a 30-minute documentary film "Speak Up".
Cartoon Network describes the film as a "moving, thoughtful and hopeful program (that) consists of candid interviews with kids, mostly between the ages of 8 and 13 years old, who either are or have been the target of bullies, bystanders in a bullying situation or even bullies themselves."
Cartoon Network's "Stop Bullying: Speak Up" is a multi-platform initiative launched in October 2010 that focuses on motivating bystanders-witnesses to bullying-to speak up and help prevent bullying.
The half-hour film premieres on March 14, 2012, at a middle school on Capitol Hill in Washington, D.C and will air nationally on Cartoon Network on March 18, 2012.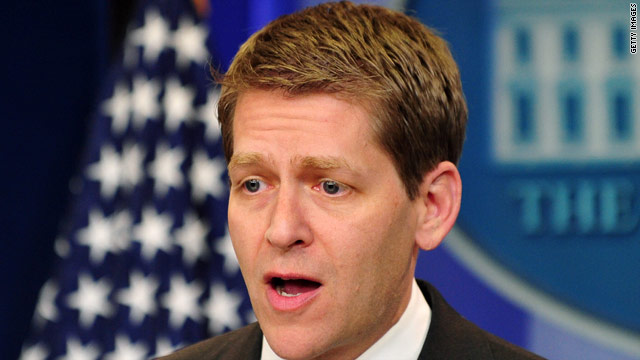 March 13th, 2012
04:57 PM ET
Washington (CNN) – Monday White House Press Secretary Jay Carney said any politician who claimed they could guarantee $2.50 a gallon gasoline would be "lying." There is only one candidate – Newt Gingrich – who has made headlines calling for exactly that.
On Tuesday, the president's spokesman had to walk back such impolitic language.
"It is a fallacy, as I said yesterday, to suggest that there's some three-point plan or five-point plan out there that could magically, if you wave a wand, reduce the price that Americans are paying per gallon of gas," Carney told reporters today. "I said yesterday that anybody who said that would be a liar. And I shouldn't have gone on motivations. I should have said that anybody who says that doesn't know what he's talking about."
On Monday, Carney had said: "What he [Obama] is not willing to do is to look the American people in the eye and claim that there is a strategy by which he can guarantee the price of gas will be $2.50 at the pump. Any politician who does that is lying, because it just - that strategy does not exist. It is a simple fact that there is no such plan that can guarantee the price of oil or the price at the pump."
FULL POST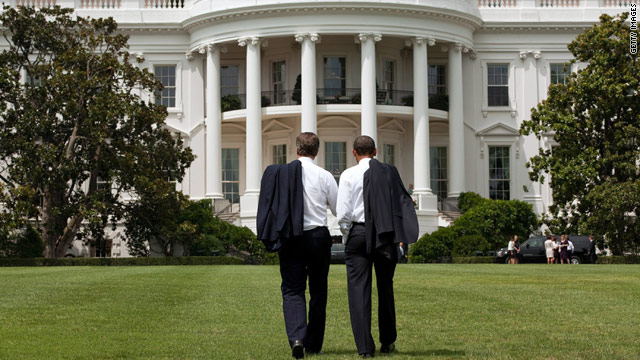 March 12th, 2012
11:22 AM ET
Washington (CNN) –Washington is rolling out the red carpet this week as Britain's Prime Minister David Cameron and his wife Samantha arrive Tuesday for an "official" visit culminated by a State Dinner at the White House.
But wait. Why is the British PM's visit merely "offficial" and not a "state" visit to match the state dinner in his honor? Simple Washington double-speak it turns out. Cameron is Britain's Prime Minister and is not the head of his country. That's Queen Elizabeth.
"It's really just terminology," Caitlin Hayden, Deputy National Security Council spokesman told CNN in an email.
Hayden said state visits are reserved for the "head of state" like Queen Elizabeth and "official visits" are for the head of government like Mr. Cameron. But she says they both get the same perks with one minor exception. FULL POST