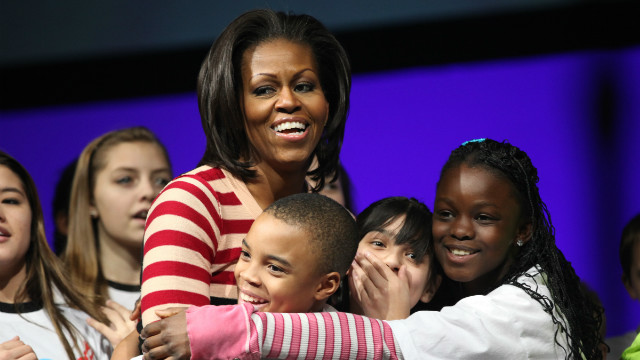 February 13th, 2012
04:04 PM ET
Washington (CNN) - First lady Michelle Obama is a popular American political figure, even more so than her husband. Her name, face and stories of her influence behind the scenes are a constant in the media, and sometimes in not so flattering words and images.
In books, she is portrayed as battling with White House insiders. In magazines, she has been satirized as a militant activist. On TV, she responds to those who see her as an "angry black woman."
But still, she stays centered, focusing on her issues - health and young children, military families and raising her family inside the White House bubble.
"The administration is doing everything they can to keep her out in the public eye and remind everyone why they liked this family in the first place," said Garrett Graff, editor of The Washingtonian magazine.
FULL POST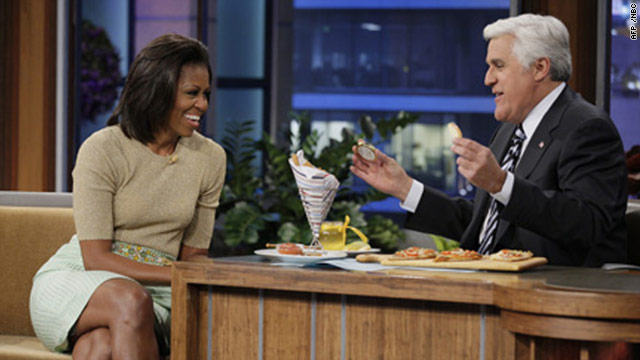 January 31st, 2012
10:28 PM ET
 We're getting a glimpse into what life is like in the White House including mentally preparing for a presidential campaign and sleepovers for the first daughters from first lady Michelle Obama as she appeared on The Tonight Show with Jay Leno Tuesday. 
The first lady is in California raising money for her husband's campaign at Democratic National Committee fundraisers and also advancing her Let's Move initiative to solve the problem of childhood obesity within a generation.
 Appearing on The Tonight Show with Jay Leno, Mrs. Obama confided her feelings on the upcoming campaign.
 "There's really no way to prepare for it.  You know, you just take each day as it comes.  I think, Barack and I, our motto is, you try to do the best job we can do every single day and the hope is that will speak for itself.  So, you know, we wake up everyday, we think about what this country needs."
 She told Leno two of the most important issues she has pressed for as first lady are her initiative to combat childhood obesity in this country and her work with military families.
On the subject of her own family, the first lady said her daughters Sasha and Malia are adjusting well to life in the White House.
"They're doing really well and I think that's been one of the most surprising things about living in the White House and probably one of the things I've worried most about was whether we could have a normal life,"  she told Leno in a video clip released by NBC. 
"The people at the White House are amazing, the girls are good, they're normal, we always check in, they have a regular life.  They've got friends and sleepovers, and to them its home.  It's been truly a blessing for us," she said. 
The first lady came to the Leno show bearing gifts as she presented the host with an apple and some White House honey from her White House kitchen garden.  The comedian couldn't let that pass without a double entendre joke saying, "That sounds bad…You know, with a different president, that could mean a whole different thing."
And Mitt Romney's musical skills also came up as Leno asked Mrs. Obama if she heard the GOP candidate's slightly off key rendition of  "America the Beautiful" on the campaign trail Tuesday.  Mrs. Obama didn't miss a beat saying she had seen the video in the NBC green room and as the audience laughed she hesitated only briefly diplomatically declaring the rendition "beautiful" and that, "It's a song that's to be sung by every American."
January 13th, 2012
05:16 PM ET
First Lady Michelle Obama can add "actress" to her repertoire after making a cameo appearance in the Nickelodeon hit, "iCarly".
Mrs. Obama and the entire cast celebrated her upcoming acting debut with a special screening of the episode called "iMeet The First Lady" at a local school, Hayfield Secondary, which has a high percentage of military families. The show, which honors children from military families, stars Miranda Cosgrove as Carly Shay, who is the daughter of an Air Force Colonel serving overseas.
The first lady talked to the students at the Alexandria, Virginia middle school about some of the challenges facing military kids.
"When you find a kid who's a military kid who's come in new, it's important for you all to do like iCarly's friends and step up and know the kinds of struggles and challenges they they're facing, alright? 'Cause it's not easy changing schools every few years and keeping your grades up and knowing that your dad is away serving in another part of the world, right?" Mrs. Obama said. "So we need all of you to step up as well, and all the kids all over the country to find out who the military kids are in your schools and make sure you make them feel welcome."
Mrs. Obama confessed that while her family doesn't watch too much television, they are fans of the show.
"We watch all kinds of things, I mean, but we try not to have too much T.V. time during the week. But we're big fans of iCarly, we certainly are. And I even get upset when I'm watching a re-run, so I'll be glad when the new episodes come out," the first lady said. FULL POST
January 11th, 2012
04:20 PM ET
While on vacation in Hawaii this past month President Obama and his family stopped by The East-West Center to view an exhibit of his mother's life and work in Indonesia.   The exhibit of jewelry, textiles, metal work and photographs collected by Obama's mother Ann Dunham closed earlier this month but here you have a chance to see what the president saw when he stopped by.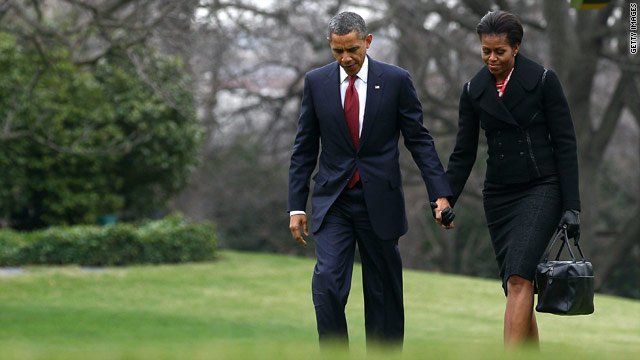 January 11th, 2012
11:31 AM ET
Michelle Obama denied reports that there has ever been any friction between the first lady and her husband's top advisors.  In an interview conducted by Gayle King for CBS This Morning, Mrs. Obama refuted claim of conflict with White House staff but acknowledged she speaks her mind.  "I mean, one thing is true that I talk very candidly to my husband about how I feel, but that's the kind of relationship we have," she said.
The newly published book, "The Obamas," by New York Times reporter Jodi Kantor, portrays the relationship between Mrs. Obama and her husband's former Chief of Staff Rahm Emmanuel as difficult and tense.  Mrs. Obama disagreed with that assessment, "Rahm and I have never had a cross word…I don't have conversations with my husband's staff,"
Acknowledging that she is not a policy expert and that her husband has plenty of smart advisors, she added, "That's not to say that we don't have discussions and conversations.  That's not to say that my husband doesn't know how I feel."
The interview, which was taped in Mrs. Obama's East Wing office, also included questions about life in the White House.  The first lady told King it was a privilege to live in the White House but worries about her daughters, "If there's any anxiety that I feel, it's because I want to make sure that my girls come out of this on the other end whole."
The first lady, who is expected to campaign extensively for her husband during the upcoming campaign, ruled out ever running for office herself.  "Never. I don't have an interest in political life, in that way. Never have, never will," she said.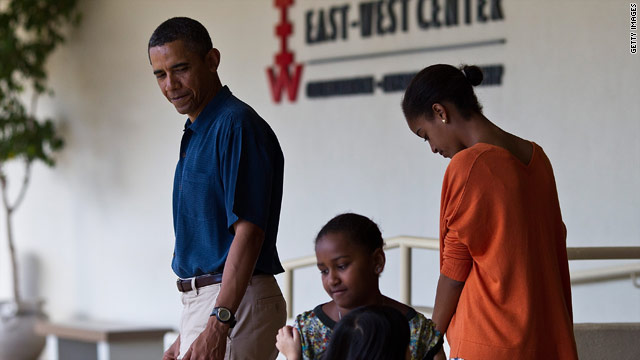 January 2nd, 2012
08:03 AM ET
Today is the last day for the Obama family vacation to Hawaii. Yesterday, President Obama and family visited the East-West Center to view the anthropological work of his mother, Stanley Ann Dunham. They also visited the National Memorial Cemetery of the Pacific at Punchbowl to visit the grave of his grandfather, Stanley Dunham. They also spent time at the beach and President and Mrs. Obama went out to dinner.
So we'll see what the Obamas have in store for their final day before returning to DC to get back into their normal routine on Tuesday morning. They'll take a red-eye flight home from Hawaii tonight, leaving at 5:00pm Hawaii time. They'll fly through the night and return on Tuesday morning.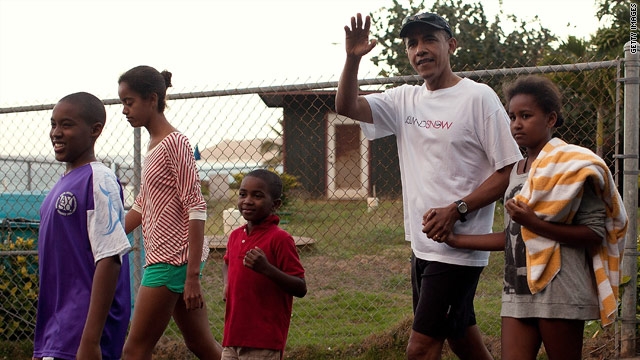 December 29th, 2011
05:43 PM ET
Working out, spending time with the kids, dinner out with  family and friends, golfing with your buddies… does this sound like your last vacation?  Mine either.  If you add a beautiful rental house on a lush Hawaiian island you've just described President Obama's Christmas vacation on the island of Oahu.
Tuesday was family day.  In the afternoon the Obamas went to Hanuma Bay, a famous snorkeling spot.  The park is closed to the public on Tuesdays so they had the place to themselves.  According to CNN affiliate KITV the president and his family  and while there they released 4 green turtles into the ocean.  The 18 month old turtles were born and raised at Sea Life Park, and are tagged with microchips in their fins so if they can be identified if the come ashore again.  Later the President and his girls continued the aquatic theme and headed to Sea Life Park in Waimanlo, the former home of the recently released turtles.
Wednesday was a round of golf with friends at Ko'olau Golf Club in Kaneohe then dinner at one of the toniest restaurants in town.  The first couple dined at Alan Wong's with 8 other friends and family.  Wong greeted both of the Obamas with a hug then fed them and the rest of their party a special tasting menu.
Alas, it's not all play when you're President of the United States on vacation.  President Obama still receives his National Security Briefing everyday.  But for a few more days he enjoy that briefing in the warm Hawaiian weather before returning to the cold reality of Washington, D.C.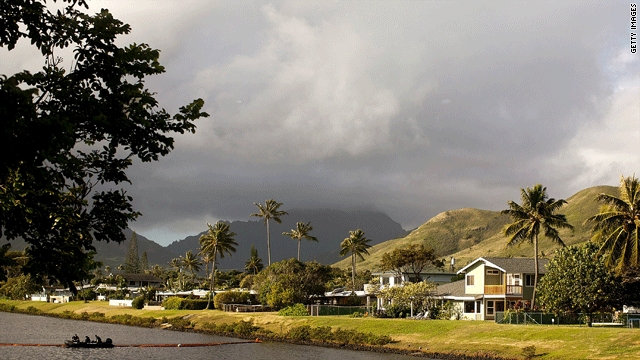 December 27th, 2011
02:07 PM ET
As his Republican rivals criss-cross a chillyIowa landscape this week, President Obama is in vacation mode –spending time with his family including hiking, golfing with friends and visiting troops in his native Hawaii. But he is keeping a noticeably low profile. 
 The White House reminds this is a working vacation as the president each day receives his daily briefing and advisors follow domestic and world developments.  The administration is also presumably preparing the president's State of the Union address to Congress which is set for January 24th.
 The president's holiday vacation was delayed just days before Christmas in his last interaction with Congress when House Republicans "blinked" and voted to extend the payroll tax cut another two months ending a stalemate with the White House.
 But we are seeing very few photo opportunities of the president enjoying the balmy Hawaiian breezes. FULL POST
December 25th, 2011
08:57 PM ET
President Obama and his family are spending Christmas on the Hawaiian island of Oahu.   According to information provided by the White House the first family opened presents and sang carols before heading to Christmas services at the Marine Corps Base Kaneohe Bay chapel.
Later in the day President Obama and the first lady will head back to the base to visit with service members and their families.
December 23rd, 2011
08:13 PM ET
President Obama and the first family are once again spending their annual holiday vacation on the Hawaiian island of Oahu, Obama's childhood home.  The first family is renting a secluded 5-bedroom house situated on Kailua Beach, according to local realtor David Dunham.  The first family has vacationed on Kailua Beach for the past three years.
The 6,000 square foot luxury house, has an "Asian flair", according to Dunham.  Interior Designer Jay Gorsia designed the house to reflect the Chinese and Indian heritage of the owners.  The house is accentuated with Brazilian hardwoods and cherry trim molding, and has a swimming pool set among a lush tropical garden and koi pond.
This year's presidential holiday retreat, just a few houses down the street from where the Obama family vacationed in the past, also has a larger swimming pool and a greater level of privacy than houses in years past.  A temporary eight foot barrier has been built as an added measure of privacy and security according to Dunham.  The Obamas are the first group to ever rent the house.
Dunham plans to list the house for sale once the Obama family returns to Washington. The sales price: a cool $7.9 million.