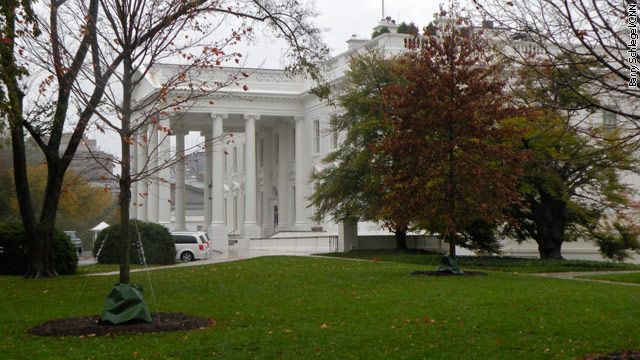 December 7th, 2012
07:58 AM ET
Washington (CNN) - President Barack Obama has no public events on his schedule and there is no press briefing scheduled Friday, on the same day the Labor Department releases its November jobs numbers. Obama will meet with senior advisers in the Oval Office and later sign the Child Protection Act of 2012 in the Oval Office, away from cameras.
Vice President Joe Biden will have lunch with a group of "middle class Americans" who would see their income taxes go up if Congress does not extend the middle class tax cuts. The Biden excursion is the latest public push from the administration's stance in the ongoing fiscal cliff negotiations. One of the lunch's expected participants participated in the #My2k campaign, according to the White House. The Twitter campaign resulted in the president answering questions online and encouraged Americans to detail how the would be affected should their tax levels not be extended at the end of the month.
FULL POST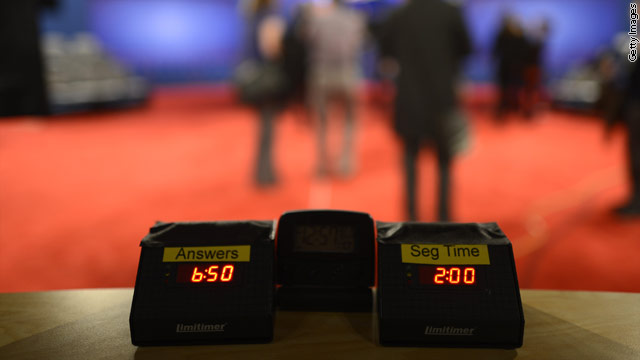 October 16th, 2012
10:03 AM ET
All eyes will be on President Obama tomorrow night at 9:00p to see if the second presidential debate will go better than the first for the president. We'll see if this round of debate prep in Williamsburg is more effective when he faces off with Mitt Romney at the debate at Hofstra University in Hempstead, New York.
He leaves Williamsburg just before lunch time and spends the afternoon with nothing on his schedule before the debate. The campaign was still tight-lipped on his preparations in Williamsburg when they spoke with reporters off-camera on Monday afternoon but they say we can expect to see a different Obama in tomorrow night's town hall debate. "You should expect that he's going to be firm, but respectful in correcting the record in the times we expect Mitt Romney will hide from and distort his own policies. He's energized and I expect he'll also be making a passionate case. But the audience is the people in the room, but also the people at home, and certainly he takes that into account in how he's preparing and looking ahead to tomorrow," said Jen Psaki, campaign spokeswoman.
Psaki said he's watched the video from the first debate and is looking at what he could do better. She also points out that he's his own harshest critic.
First Lady Michelle Obama will also attend the New York debate.
The Vice President takes a break from the campaign trail to attend the funeral of his friend Arlen Specter in Pennsylvania. He returns to the trail on Wednesday.
Full schedule after the jump
FULL POST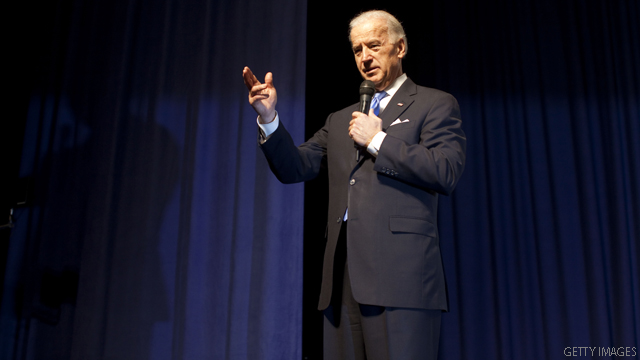 May 16th, 2012
09:30 AM ET
(CNN) – The Barack Obama campaign is dispatching Vice President Joe Biden to eastern Ohio Wednesday to push the president's economic record and take direct aim at presumptive Republican presidential nominee Mitt Romney's history as a venture capitalist.
In a speech at M7 Technologies, an advanced manufacturing plant in Youngstown, Ohio, Biden will add new emphasis to the attack on Romney's tenure at Bain Capital that the Obama campaign has waged all week.
"In the 1990s, there was a steel mill in Kansas City, Missouri," Biden will say, according to advanced remarks of the speech distributed by the Obama campaign. "It had been in business since 1888. Then Romney and his partners bought the company. Eight years later it went bankrupt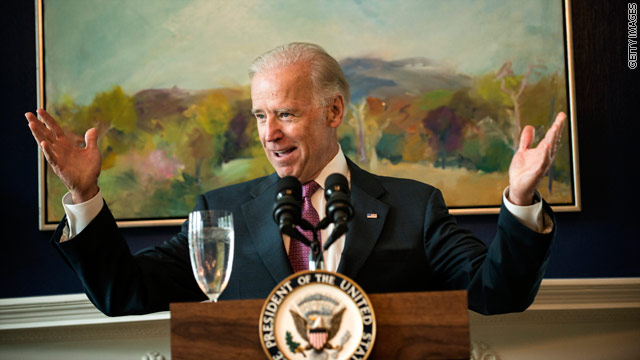 May 10th, 2012
03:43 PM ET
Washington (CNN) – Multiple top Democrats said Thursday the president's senior aides are deeply annoyed with Vice President Joe Biden for forcing the conversation on same-sex marriage.   One source said Biden has, in the past, counseled the president against announcing support for same-sex marriage – making the circumstances that much more frustrating. Although other sources said they have not heard Biden make that point in recent years.   Biden made comments supporting such unions during an appearance on NBC's "Meet the Press" that aired Sunday, seemingly forcing the issue to the forefront of public debate.
Another source said the recent events gave renewed life to old jokes and flippant remarks like, "Hello? Does he know this is the Obama presidency not the Biden presidency?"
None of these sources said they believed it would create a lasting rift between the West Wing and the vice president's office – because Biden has gone off script before and will do it again.
The president's team said they were aware of the risk when they tapped Biden for the ticket. One source added that the president has a close personal relationship with the former senator and that trumps his advisers' frustrations. But there is a great deal of interest in keeping the vice president "on script."   These top Democrats said they are not concerned that Biden will "get credit" for the same-sex marriage announcement. They said history will show it's the president who did this and they believe most people thought the president already supported same-sex marriage.   Sources also said the vice president feels bad about putting the president in a tough position.   As evidence he is not in the dog house, Biden hosted a student loan event at the White House Thursday and will make a two-day campaign swing in Ohio next week.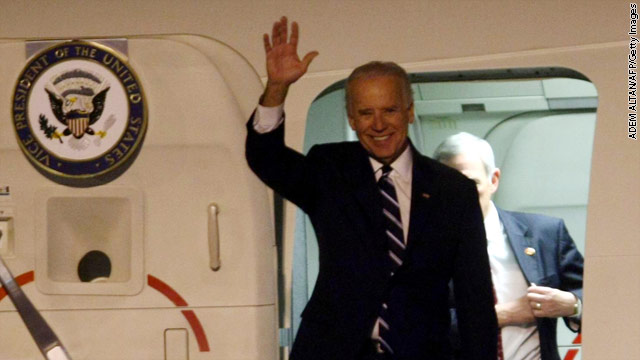 April 20th, 2012
06:02 PM ET
Air Force Two, a modified Boeing 757 airplane carrying Vice President Joe Biden, was involved in a "bird strike" while landing in Santa Barbara, CA on Thursday evening, an Air Force spokesman confirmed to CNN.
"The plane landed safely as a precautionary measure and is currently being inspected to assess if there is any damage," said Lieutenant Gregg Johnson, a public affairs officer for the Air Force's 89th Airlift Wing – the unit responsible for managing presidential air travel.
Lt. Johnson assured CNN that the strike did not cause an emergency landing and that all passengers, including the vice president, were safe at all times.
"The Vice President left Santa Barbara this afternoon as scheduled, aboard an alternate U.S. Air Force aircraft," a spokesperson in the Office of the Vice President said, confirming the bird strike.
While the vice president's original airplane is being inspected, Lt. Johnson said the Air Force sent a C-20 – also known as a Gulfstream 3 – from Colorado Springs to pick up Biden and his travelling party and carry them back to Delaware as scheduled.
March 12th, 2012
03:17 PM ET
Washington (CNN)—When Vice President Joe Biden hits the campaign trail in the pivotal swing state of Ohio this week, he will likely focus on one of the Obama administration's successes – the bailout of the auto industry. 
Biden gives the first in a series of four high profile speeches at a United Auto Workers union hall inToledo on Thursday. 
A Democratic campaign official tells CNN the speeches are designed "to begin framing the core issues of the general election."
The auto industry in Ohio, a critical swing state in the upcoming presidential election, is key to the state's economy. 
Ohio is only second to Michigan in auto production, employing 72,000 workers in the auto and parts industries.  FULL POST
February 14th, 2012
05:08 PM ET
Vice President Joe Biden just made a brief, unplanned visit to the White House press briefing room with his youngest sister-in-law Kim Snow and her husband Jimmy. Talking to a few reporters, Biden jokingly offered some marital advice for Valentine's Day.
"Every man should marry into a family with 5 sisters," Biden said. "One of them always loves you. Not the same one, but one of them."
Biden joked that Kim was visiting the briefing room to make an announcement.
"I'm her favorite brother in law," the vice president said.
January 11th, 2012
07:39 AM ET
(CNN) – As Republican presidential candidates monitored vote returns from Tuesday's New Hampshire primary, Vice President Joe Biden slammed the contest's projected winner as out of touch with middle class Americans.
Speaking to New Hampshire voters via teleconference, Biden took specific aim at Mitt Romney, saying the former Massachusetts governor was more concerned with wealthy businesses than middle class workers.
Biden conceded Romney's widely-commented-on comment that he "likes being able to fire people" was "probably taken a little out of context," but said the remark nonetheless reflected Romney's true sentiments.
"He thinks it's more important for the stockholders and the shareholders and the investors and the venture capital guys to do well than for those employees to be part of the bargain," Biden said.
Read the complete story on the CNN Ticker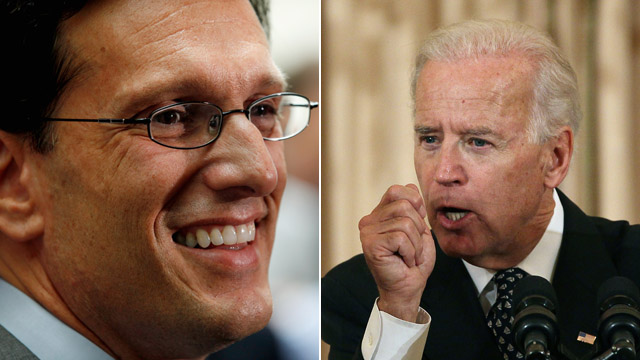 November 2nd, 2011
11:40 AM ET
Vice President Joe Biden and his wife, Jill, are hosting House Majority Leader Eric Cantor (R-VA) and his wife, Diana, for dinner tonight.
It may seem like an unusual double date.  Cantor has often been a thorn in the White House's side, pulling out of "the Biden talks" on deficit reduction in June to leave negotiations on raising the debt ceiling to President Obama and House Speaker John Boehner.  Those negotiations ultimately failed to reach a "grand bargain" to reduce the deficit by several trillion dollars over ten years.
But the two have genuine affection for each other, Democratic and Republican sources say, much to the bewilderment of some White House aides I've spoken to.
"The Vice President and Congressman Cantor have developed a close relationship while working together over the past year," an official in the Vice President's Office says. "This dinner with their wives is a personal occasion."
"Leader Cantor has a great respect for and built a friendship with Vice President Biden from their work together this year," a source in Cantor's office says. "This social dinner is a continuation of that friendship with their wives.  They've been trying to get together for some time."
The four will dine at the Vice President's official residence on the grounds of the U.S. Naval Observatory.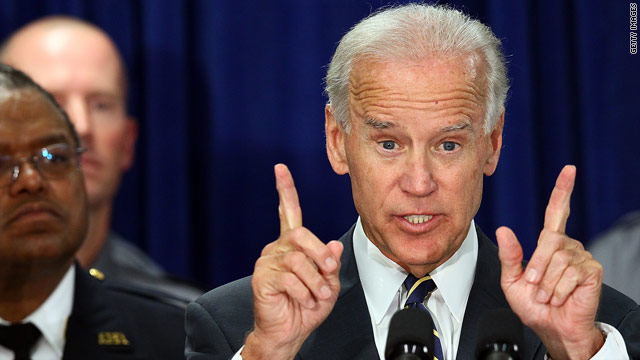 September 29th, 2011
03:28 PM ET
Obama administration officials often cite the economic conditions they inherited pre-2009 to beat back Republican attacks over the slow recovery.
But what the Bush administration did is "not relevant," Vice President Joe Biden told Florida radio station WLRN Thursday, a seeming departure from the standard White House's talking points:
"There are a lot of people in Florida that have good reason to be upset, because they lost their jobs. Even though 50-some percent of the American people think the economy tanked because of the last administration, that's not relevant, because we are in charge. And right now, we are the ones in charge and it's gotten better but it hasn't gotten good enough."
Later, White House spokesman Jay Carney appeared to walk back Biden's comments at Thursday's daily briefing.
"He didn't say the blame for it is owned. What he absolutely said was that most Americans want their elected officials in Washington to act to improve the situation."