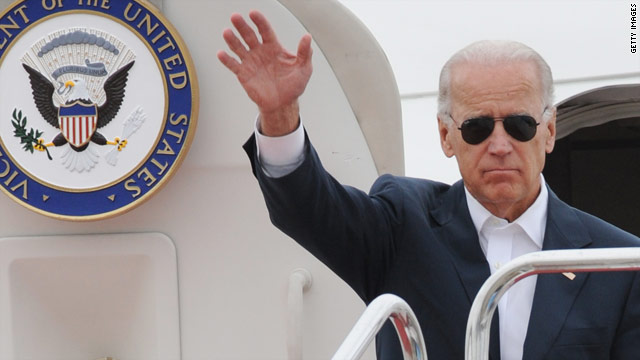 September 6th, 2011
10:08 AM ET
Joe Biden is a serious fan of cars, so much so that a now-famous Onion parody showing a shirtless version of the vice president washing a 1981 Pontiac Trans Am in the White House driveway may not have been that far off the mark.
"I have been in my bathing suit in my driveway and not only washed my Goodwood-green 1967 Corvette but also simonized it," Biden told Car and Driver Magazine in an interview out Tuesday. "At least the Onion should have had me washing a Trans Am convertible. I love convertibles."
Biden, who's father was longtime car dealer, also reminisced about favorite sets of wheels from his youth.
"I bought a '51 Studebaker. My dad thought it was nice and calm, but it had that overdrive, and it was fast. Then I bought a 1952 Plymouth convertible, candy-apple red with a split windshield. I think that was my favorite," he said.
"I had a '56 Chevy, then in college I bought a 100,000-mile Mercedes 190SL with those Solex carburetors that never functioned. And I still have my 1967 Goodwood-green Corvette, 327, 350-horse, with a rear-axle ratio that really gets up and goes," Biden continued.
Meanwhile, President Obama's No. 2 lamented that now he's "not allowed to drive anything" due to security concerns.
FULL POST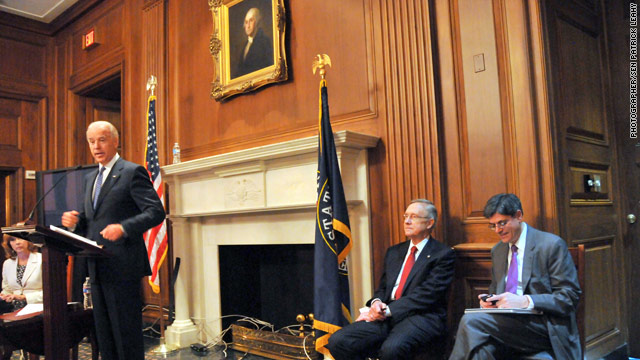 August 4th, 2011
11:23 AM ET
This week's picture of the week pulls back the curtain as we go behind the scenes as Vice President Biden became a key power player in helping to close the deal on raising the nation's debt ceiling.  The photo was taken by Vermont Senator Patrick Leahy (D) as Biden sought to calm Democrat's concerns about the deal in a closed door caucus meeting.  Senator Leahy's was the only camera allowed in the closed door meeting.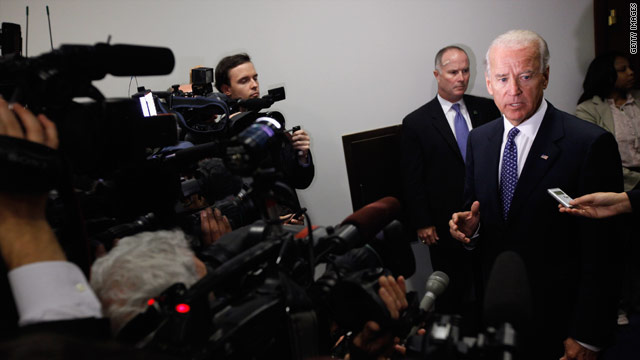 August 1st, 2011
06:44 PM ET
Here is more information from Democrats familiar with today's closed-door House meeting, with Vice President Biden.
The Vice President said the 14th amendment was NOT an option for the President.  Context: Rep. DeFazio (D-OR) wanted to know why the President didn't just use the 14th amendment. The VP explained the President had his legal scholars look into it and decided it was not appropriate. We've previously been advised that VP Biden consulted with the White House counsel's office about options – including whether the 14th amendment could be invoked. He chaired the Judiciary Committee when he was in the Senate so is probably familiar with the issues.
On reports that the VP called tea party lawmakers "terrorists": Multiple Democratic sources say the VP was listening to angry Democrats vent about Republicans who said they "negotiate like terrorists"  "how can you negotiate with hostage takers" and that they "feel pick pocketed". As they vented the VP said "well now we've taken away their weapons of mass destruction," meaning the Republicans can't use the debt ceiling as leverage with Democrats in the future. In an interview with CBS' Scott Pelley the Vice President denied he compared tea party linked lawmakers to terrorists.
Kendra Barkoff, the Vice President's Press Secretary, responded to the accusations: "The word was used by several members of Congress. The Vice President does not believe it's an appropriate term in political discourse."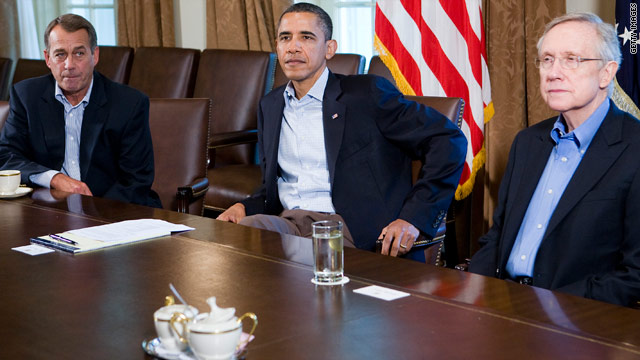 July 23rd, 2011
01:04 PM ET
Washington (CNN) - President Obama and Congressional leaders convened Saturday for less than an hour at the White House amid ongoing negotiations to raise the debt ceiling before the August 2 deadline. House Speaker John Boehner, Senate Majority Leader Harry Reid, House Minority Leader Nancy Pelosi and Senate Minority Leader Mitch McConnell met with the president and Vice President Joe Biden in the Cabinet Room of the White House.
Read more here about the status of the talks.
June 18th, 2011
05:27 PM ET
Washington (CNN) – President Obama and Speaker Boehner found themselves on the same side for once Saturday – teaming up to beat Vice President Biden and Ohio Gov. John Kasich on the golf course in a nail-biter that was decided on the 18th hole.
The victory netted the winning team $2 apiece, according to a joint statement released by the White House and the Speaker's office. After finishing their round, the foursome headed to the patio of the course's clubhouse to grab a cold drink, catch some U.S. Open coverage and visit with service members.
For the whole story, click on the Political Ticker.
June 18th, 2011
11:27 AM ET
WASHINGTON (CNN) - The long-awaited golf showdown between President Obama and House Speaker John Boehner is underway: The pair, along with with Vice President Joe Biden and GOP Ohio Gov. John Kasich, hit the links around 10 a.m. Saturday at Joint Base Andrews.
For the whole story, click on the Political Ticker.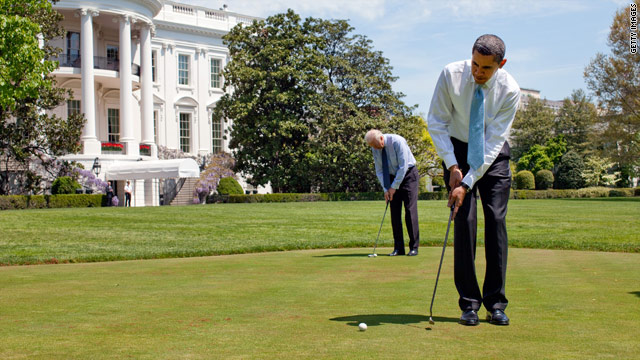 June 17th, 2011
12:13 PM ET
President Obama has played more than 60 rounds of golf during the first half of his term, but the match he's set to play Saturday just might carry the highest stakes.
That's when the president will tee up with House Speaker John Boehner, another avid golfer, amidst what appears to be a stalemate between the White House and Republicans on the Hill over the issue of raising the debt ceiling. Vice President Joe Biden and Ohio Gov. John Kasich will round out the foursome.
The high profile match at a still-undisclosed golf course has been dubbed the "Golf Summit," but it's likely the two leaders will haggle more over how many strokes Boehner - the better golfer with about an 8 handicap - will give the president than they will over the deficit. (Boehner has joked that each stroke will cost the president a trillion dollars.)
"I think I can say with great confidence that they will not wrap up the 18th hole and come out and say that we have a deal," White House Press Secretary Jay Carney said, adding that "this social occasion is a good thing."
Meanwhile, Biden just might steal the show on the course. According to Golf Digest, Biden has a 6 handicap and friends report he is playing better than he ever has. He's also been spied practicing all week in anticipation of the round. The president on the other hand is said to have a more humbling 17 handicap, though the White House maintains the true number is "classified."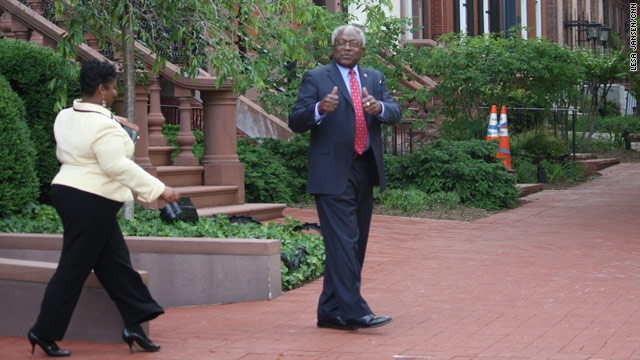 May 12th, 2011
07:47 PM ET
WASHINGTON (CNN) - He gave it a "two thumbs up."  No that's not the latest take on the newest summer movie release.  This is Washington, a land where reporters try to read the tea leaves and politicians try their darndest to prevent us from doing so.  The reviewer in question is Rep. James Clyburn (D) SC and one member of a bi-partisan congressional group lead by Vice President Joe Biden tasked with somehow hammering out a compromise that would allow Congress to vote to raise this nation's borrowing limit.  The deadline: this summer or the United States could default on some of its loans.
Republicans Rep. Eric Cantor (R) VA and Sen. Jon Kyl (R) AZ left smiling. They answered no questions but they waved.  Hmmm.
But it was Vice President Joe Biden, never one to shy away from a microphone, who came over to reporters to dissect the two hour meeting.  "Nothing is agreed to until everything is agreed to," he said solemnly adding, "[W]hat we agreed to is tentative."   He did repeat the mantra of the Democrats, "[E]verything is on the table."  But he also gave a glimpse inside the negotiations including that yes tax revenues, the bane of Republicans and long-term Medicare costs, something Democrats dismiss are all being discussed.
The bottom line from the vice president: "It is premature to be optimistic but I am clearly not pessimistic."  Oh and no more meetings until the week after next since the House is on break next week back in their home districts.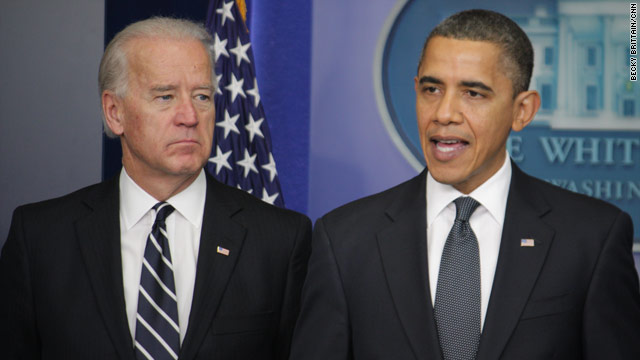 April 18th, 2011
04:12 PM ET
WASHINGTON (CNN) - There are a lot of perks to being President of the United States, unfortunately avoiding taxes is not one of them.  On this tax filing deadline day President Barack Obama and Vice President Joe Biden made public their tax returns.
The president and Mrs. Obama filed a joint return declaring a gross income of $1,728,096.  They paid $453,770 in taxes for 2010.  Most of the Obamas income surprisingly comes not from being president, which was just under $400,000, but instead from proceeds from the books the president has authored.  The Obamas supported dozens of charities from The Boys and Girls Clubs of Greater Washington to the Clinton Bush Haiti Fund to the Fisher House, a public private group that supports the needs of wounded military and their families.  They donated $245,075 or 14% of their income to charity.  The Obamas also deducted just under $50,000 interest paid on their mortgage, not 1600 Pennsylvania Avenue but their Chicago residence.
April 13th, 2011
05:03 PM ET
WASHINGTON (CNN) - It's not easy living under the glare of the spotlight, especially when you are caught on camera drifting to sleep while your boss delivers a major speech.  That's what happened to Vice President Biden, who appears to take a short catnap while President Obama is presenting his deficit reduction plan at George Washington University Wednesday afternoon.
We should give Biden the benefit of the doubt.  Maybe he was in the middle of a deep thought about what Obama was talking about, Medicare ending as we know it and not keeping our promise to seniors.  His eyes opened up as the president was saying, "tough luck – you're on your own."
No one can blame him for closing his eyes for 25 seconds during a 44-minute speech. If he could sleep for 20 years like Rip Van Winkle, maybe the deficit would be cut in half by then.