July 12th, 2012
02:07 PM ET
(CNN) - Vice President Joe Biden delivered a rousing address to the NAACP in Houston on Thursday, bolstering support for President Barack Obama and drawing sharp contrasts with the Republican Party on civil rights issues.
On the heels of recent voter identification disputes, Biden strayed from his typical campaign speech to zero in on voting rights, arguing that Republicans were making it more difficult for certain group to vote.
By implementing laws requiring voters to present official identification at the voting booth, Biden said, the GOP sees "a different future, where voting is made harder, not easier."
Democrats have said that such laws are politically motivated and intended to suppress minorty voting, given that fewer people in minority groups carry government-issued IDs. Republicans, meanwhile, make the case that such laws prevent fraud and protect the integrity of the system.
The issue was a hot topic this week at the NAACP convention, where Attorney General Eric Holder spoke Tuesday and lambasted states that have considered or attempted to implement such laws, including Texas, Florida and Pennsylvania.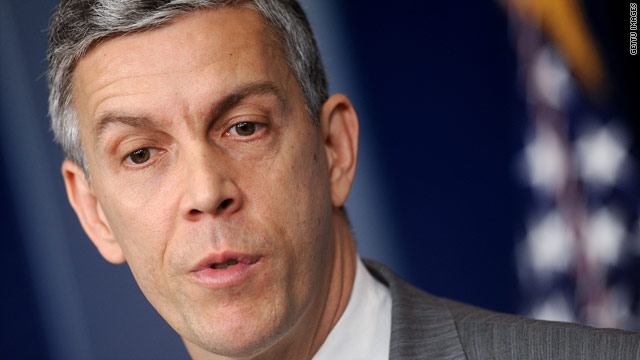 June 5th, 2012
02:05 PM ET
NEW YORK (CNNMoney) - The Obama administration announced a push to have colleges make better disclosures to students about the true cost of loans, as well as graduation and loan default rates at each school.
Vice President Joseph Biden, Education Secretary Arne Duncan and Richard Cordray, director of the Consumer Financial Protection Bureau, were set to meet Tuesday with presidents of 10 colleges that have committed to providing more detailed disclosure information to incoming students at the start of next school year.
The Obama administration officials at the meeting will later call on all colleges and universities to make the same disclosures.
The information to be provided by the 10 schools includes how much one year of college will cost, financial aid options to pay this cost, and net costs after grants and scholarships are taken into account.
They will also give students estimated monthly payments for the federal student loans the student would likely owe after graduation; and comparative information about the rates at which students enroll from one year to the next, graduate, and repay their loans without defaulting.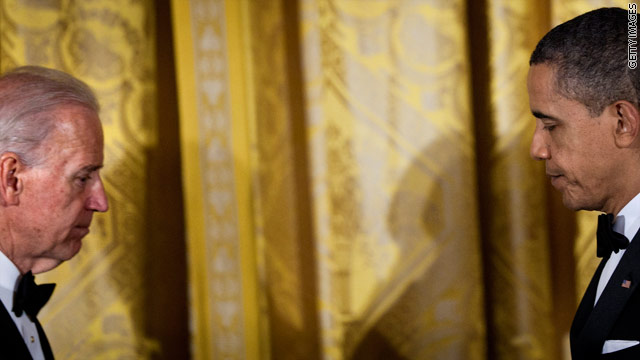 May 10th, 2012
05:53 PM ET
A senior administration official says the Vice President Biden met with President Obama in the Oval Office Wednesday morning and apologized for putting the president in a tough position. The president responded by saying that he knows the vice president is speaking from the heart.
President Obama's announcement that he now supports same-sex marriage came sooner than planned as a result of comments made by Vice President Joe Biden, he said in an interview broadcast Thursday.
Also a spokeswoman for the vice president Kendra Barkoff has issued a statement:
"The president has been the leader on this issue from day one. And the vice president never intended to distract from that."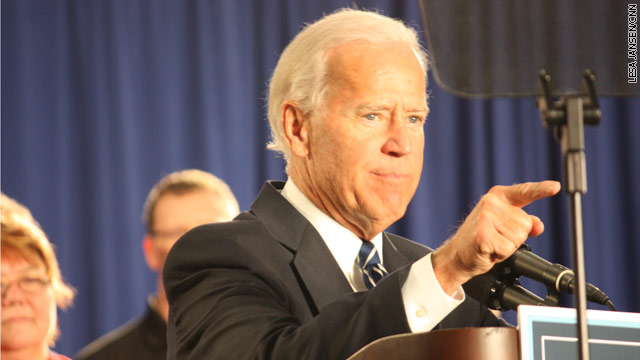 May 10th, 2012
04:11 PM ET
Washington (CNN) - Vice President Joe Biden gave no indication the White House was planning to change its position on same sex marriage when he was asked about just weeks ago at an LGBT fundraiser in Los Angeles April 19, two attendees tells CNN. Because it was an off the record event these participants did not want to be named, but tell CNN when Biden was asked about gay marriage he talked about his comfort with gay and lesbian couples raising families but added that the president sets the policy and offered no indication that there would be a shift in policy.
On the "CBS This Morning", the co-creator of the television series "Will and Grace," who also attended that fundraiser, said that he believed the vice president's remarks were "choreographed" because his remarks at the fund-raiser were recorded by the White House and were so similar to his comments on NBC's "Meet the Press" this past Sunday. White House officials confirm to CNN that it's standard to record every event the president and vice president attend as a record, whether they're public or private events.
That fund-raiser has taken on unexpected significance –in part because that's where the vice president met the two young children he referenced in his comments to David Gregory on NBC Sunday. In explaining his change of heart in support of gay marriage, he said it was partly seeing the happy children, ages 7 and 5, of the gay couple who hosted that fundraiser. Sources say Biden met with the hosts and their children privately before the larger fund-raiser began – it was an impromptu meeting. And the vice president told Gregory the kids gave him flowers and he told THEIR fathers: "I wish every American could see the look of love those kids had in their eyes for you guys, and they wouldn't have any doubt about what this is about."
One source tells CNN the Vice President gave a nearly five minute answer and never explicitly states his support for gay marriage but left the clear impression he supported it. Another confirms the vice president did say "Will and Grace" helped him come to a greater acceptance of gay and lesbian same-sex partners. But the majority of his remarks focused on the president's work overturning the Don't Ask Don't Tell policy and extending some federal benefits to same sex couples as well as repeatedly drawing a contrast with Mitt Romney on gay and lesbian rights. FULL POST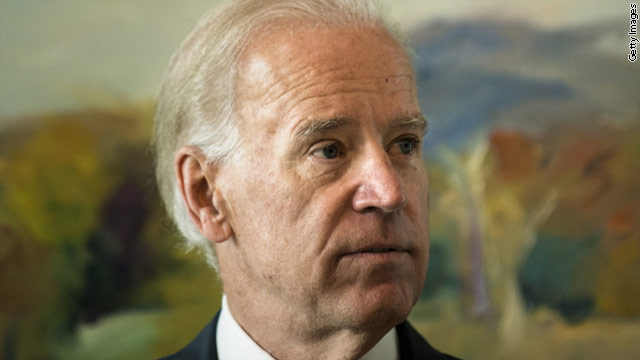 May 7th, 2012
08:35 AM ET
(CNN) – As a ballot initiative to ban same sex-marriage comes to a vote in North Carolina this week, Vice President Joe Biden said Sunday he was "absolutely comfortable" with the idea of same-gender marriage.
"I just think that the good news is that as more and more Americans come to understand what this is all about, it is a simple proposition: Who do you love? Who do you love? And will you be loyal to the person who love?" Biden said on NBC's "Meet the Press."
While he did not touch on the North Carolina initiative, his comments were consistent with his message on the controversial issue in general. He added, however, that it's the president, not he, who sets the administration's policy.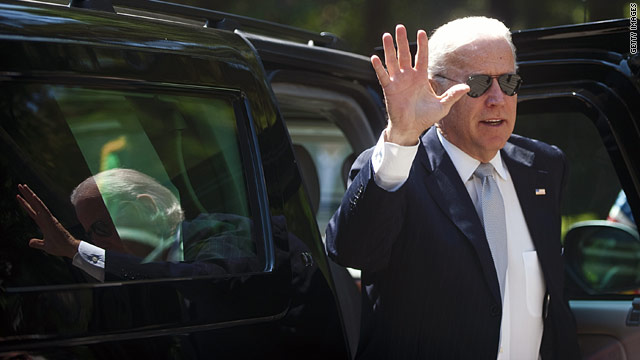 March 28th, 2012
09:07 AM ET
(CNN) – Vice President Joe Biden returns to the campaign trail Wednesday, slated to deliver a stinging critique of leading Republican presidential candidate Mitt Romney before an audience of manufacturing workers in Iowa.
"Mitt Romney has been remarkably consistent - as an individual investor, a businessman, as governor of Massachusetts, and now as a candidate for president ... consistently wrong," the vice president plans to say, according to prepared remarks distributed by the Obama campaign.
The event, to be held at an engineering plant in Davenport, is the third in a series of speeches the vice president is delivering in key battleground states as the president's re-election effort shifts into a more publicly combative phase seven months before Election Day.
The vice president will also meet with a private gathering of grassroots supporters in Sioux City Wednesday, according the campaign.
FULL POST
March 15th, 2012
03:32 PM ET
(CNN) – Vice President Joe Biden will continue his campaign tour at senior centers in Florida next week, where he will promote the White House's stance on Medicare and hit a Republican budget plan, a senior Democratic official said Thursday.
The information comes the same day Biden hit the campaign trail in Ohio, where for the first time this year he hit Republican presidential candidates by name, saying Mitt Romney, Newt Gingrich and Rick Santorum would "bankrupt the middle class."
The Democratic official said Biden would campaign in Ohio, Florida, Iowa, New Hampshire and Virginia, and would continue to make stops in Pennsylvania. All six states are considered battlegrounds in the race for the White House.
Aside from lauding the administration's handling of Medicare, Biden will hit the tax plan offered by Republican Rep. Paul Ryan, the chairman of the House Budget Committee. Ryan is the architect of a Republican budget proposal that has stoked controversy because of the way it would change Medicare by replacing the traditional insurance benefits the program currently provides with a vouchers recipients could use to purchase health care insurance in the private marketplace.
In his other upcoming campaign speeches the vice president will also tout Obama's handling of the manufacturing sector and his position on taxes, as well as continuing to promote the president's decision to bail out the American auto industry, a move his Republican rivals have criticized.
Democratic officials said the campaign planned this rollout in March because they thought there would be a GOP nominee at this point in the nomination process. The officials said they didn't want to wait until May or June to begin responding to the GOP's attacks and drawing contrasts with GOP positions.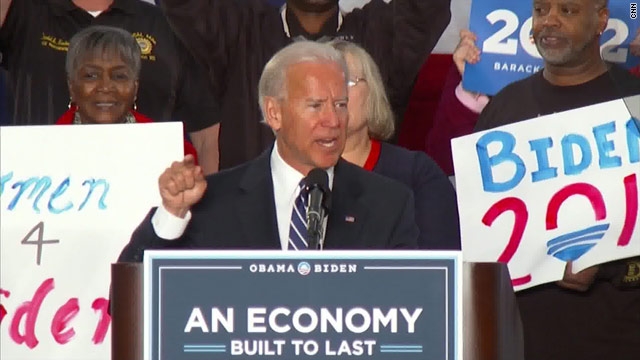 March 15th, 2012
01:48 PM ET
(CNN) - Vice President Joe Biden on Thursday harshly attacked the economic policies of Republican presidential contenders Mitt Romney, Newt Gingrich and Rick Santorum, calling them a threat to the American middle class.
"If you give any one of these guys the keys to the White House, they will bankrupt the middle class once again," Biden told autoworkers in Ohio, a key battleground state for Obama's re-election bid in November.
The speech by Biden at a United Auto Workers hall in Toledo was the first of four planned in coming weeks as Obama's top campaign surrogate, and he went after the Republican candidates by name - something the president has not done.
Read the complete story at CNN.com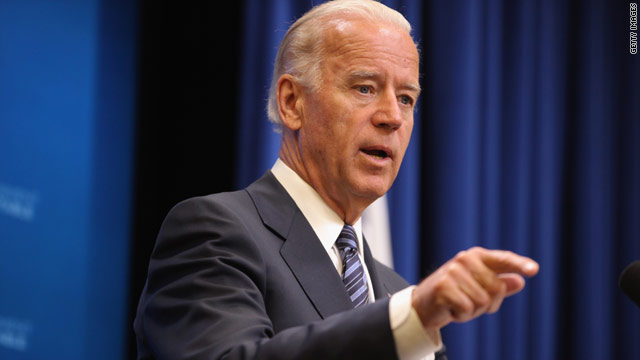 March 15th, 2012
01:45 PM ET
(CNN) – In his remarks Thursday at the United Auto Workers Local 12 Hall in Toledo, Ohio, Vice President Joe Biden will mention the Republican candidates by name, per a senior Democratic official.
This is a departure for Team Obama. To date, they have stayed away from outright combat by routinely declining to name the GOP candidates. Now the president's closest surrogate is dropping the fig leaf.
Read the full story on CNN's Political Ticker.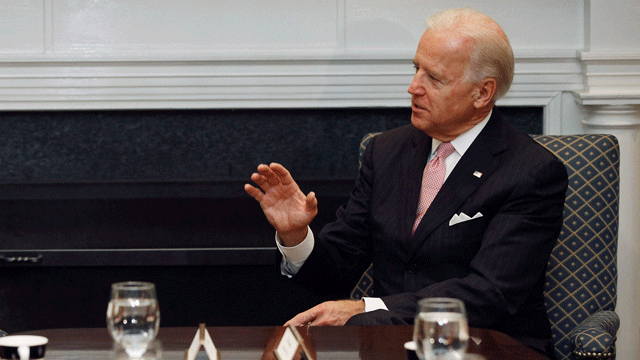 March 12th, 2012
12:12 PM ET
(CNN) - Days before Vice President Joe Biden hits the campaign trail in Ohio on behalf of the Obama reelection effort, the president's No. 2 is the headliner at a campaign fundraiser in the swanky Georgetown home of Sen. John Kerry and wife Teresa.
The fundraiser Monday night, which includes a sit-down dinner, is expected to draw upwards of 75 guests, according to an Obama campaign official. Tickets to the exclusive affair begin at $10,000 per couple and go from there.
Kerry, the 2004 Democratic presidential nominee, is no stranger to raising money and has continued to tap his vast fundraising network on behalf of the party since his losing bid for the White House eight years ago.
Biden has largely played a behind-the-scenes role in the president's reelection bid, quietly raising money at lower-profile events and at times, delivering speeches to grassroots activists in key states.
But the Obama campaign signaled last week that Biden – who has long been recognized as an effective campaigner on the stump - would soon be assuming a more prominent role in the reelection campaign, beginning with a speech in Toledo on Thursday. Three other high-profile speeches are expected to follow in the coming weeks.