March 6th, 2012
07:40 PM ET
Washington (CNN)–Vice President Joe Biden will hit the campaign trail next week beginning with a high profile speech in the critical swing state of Ohio.  A Democratic campaign official tells CNN the vice president will deliver four speeches over the next several weeks to "frame the issues that will define the campaign."  The official, who did not wish to be identified as speaking about campaign strategy, declined to name the Ohio city where the vice president will deliver his remarks.  Mr. Biden has traveled around the country over the past months headlining private fundraising events for the Obama re-election campaign.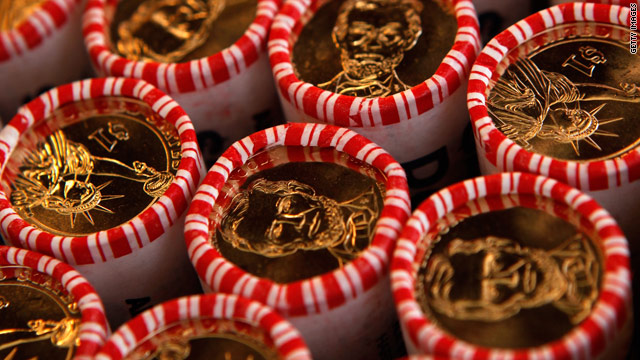 December 13th, 2011
01:00 PM ET
Vice President Joe Biden and several cabinet secretaries announced today the administration's efforts to identify and eliminate misspent tax dollars. My favorite – the savings of $50 million annually by no longer minting unneeded and unwanted dollar coins. Deputy Secretary of the Treasury Neal Wolin says they currently have a decade worth of excess coins on the shelves! From the White House release:
The Vice President and Secretary Geithner announced the Administration's plan to stop the wasteful production of $1 coins for circulation. In 2005, Congress enacted the Presidential $1 Coin Act, which mandated that the United States Mint issue new Presidential $1 Coins with the likeness of every deceased President. But more than 40 percent of the $1 coins that the United States Mint has issued have been returned to the Federal Reserve, because nobody wants to use them.

As a result, nearly 1.4 billion excess dollar coins are already sitting unused in Federal Reserve Bank vaults – enough to meet demand for more than a decade. But until today, the Mint was on pace to produce an additional 1.6 billion dollar coins through 2016.

To put a stop to this waste the Administration will halt the production of Presidential $1 Coins for circulation. The Administration will still be required, by law, to continue to produce a relatively small number of the coins to be sold to collectors, at no cost to taxpayers. Instead of producing 70-80 million coins per President, the United States Mint will now only produce as many as collectors want. Regular circulating demand for $1 coins will be met through the Federal Reserve Banks' existing inventory, which will be drawn down over time. Overall, this step will save at least $50 million annually over the next several years.

"At the Treasury Department, we're continuing to work hard in support of President Obama and Vice President Biden's efforts to cut waste and streamline government," said Treasury Secretary Tim Geithner. "Putting a stop to the minting of surplus $1 coins represents a significant opportunity to reduce costs and improve efficiency. In these tough times, Americans are making every dollar count, and they deserve the same from their government. We simply shouldn't be wasting taxpayer money on money that taxpayers aren't using."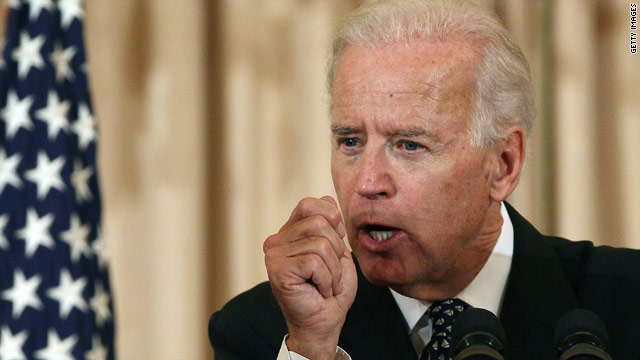 November 29th, 2011
11:04 AM ET
Vice President Joe Biden made a surprise visit to Baghdad Tuesday, his eighth trip to the country as vice president.
"Vice President Biden has arrived in Baghdad, Iraq. While here, the Vice President will co-chair a meeting of the U.S.-Iraq Higher Coordinating Committee," according to a White House official. "He will also meet with Prime Minister Nouri al-Maliki, President Jalal Talabani, Speaker Osama al-Nujaifi, and other political leaders."
"The Vice President will also participate in, and give remarks at, an event to commemorate the sacrifices and accomplishments of U.S. and Iraqi troops," the White House official added.
The trip comes more than a month after President Obama announced all U.S. forces in Iraq will be withdrawn by the end of 2011.
Update: The White House has released a full statement on the trip.  Statement after the jump.
FULL POST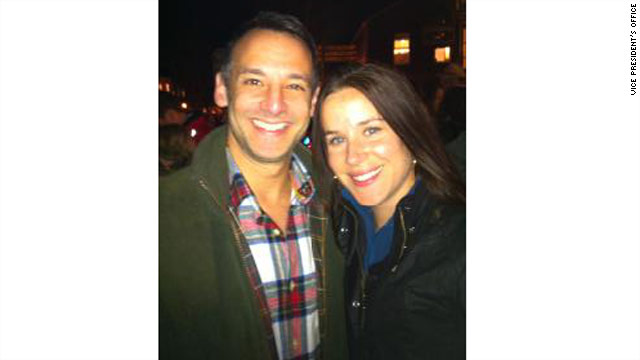 October 31st, 2011
05:05 PM ET
While speaking in Wilmington, Delaware last week Vice President Joe Biden referred to his "future son in law" several times, but no one knew yet if his only daughter Ashley was actually engaged. Well, now it's official.
"Ashley recently got engaged and the Vice President, Dr. Biden and their entire family are thrilled," said Jill Biden's communications director, Courtney Diesel O'Donnell.
Ashley has been dating Dr. Howard Krein for a little over a year and the couple officially got engaged in September. Ashley is a social worker and Krein is a physician specializing in Otalaryngology and Facial and Reconstructive Surgery.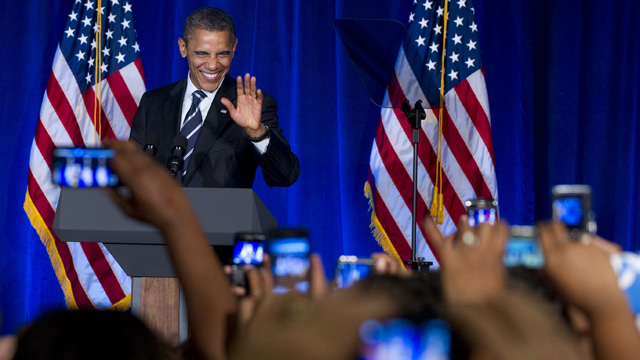 October 25th, 2011
01:11 PM ET
This week President Obama will hold six fundraisers in three states during a three-day visit to the Western United States. According to Democratic officials, his campaign hopes to raise more than $4 million. A busy fundraising schedule this week brings the total number of fundraisers on the president's schedule this month to 12. That mirrors the number of fundraisers he attended in September, the last month of the Federal Election Commission's 3rd fundraising quarter. In August, the president held only 7 fundraisers, and in July he held no fundraisers due to tense negotiations over a compromise to raise the federal debt ceiling.
On top of the president's efforts, First Lady Michelle Obama has hosted at least four fundraisers this month, and she hosted three fundraisers in the last week of September to bring in some last-minute cash before the close of the quarter. Vice President Joe Biden has been less active on the fundraising trail this month with only one fundraiser on his public schedule in October, but during September the vice president attended eight events raising money for the Democratic National Committee.
Almost none of the fundraising events attended by residents or employees of the White House collect money directly for President Obama's 2012 reelection fund. Due to campaign fundraising limits, the president, vice president and first lady raise almost all of their money for a joint account of the Democratic National Committee and Obama  for American – Obama's reelection campaign – called the Obama Victory Fund. Generally, the campaign gets the first $5,000 of an individual's contribution. By law, an individual donor is allowed to contribute $2,500 per candidate or candidate committee per election. So $5,000 would constitute a maximum donation of $2,500 for both the primary and the general elections. The maximum amount any individual can donate to a national party committee is $30,800 per calendar year, so the remaining portion of any donation up to that maximum amount goes to the DNC.
In the most recent FEC fundraising quarter, the joint Obama Victory Fund raised more than $70 million, and OFA received nearly two thirds of that, taking in $42.8 million.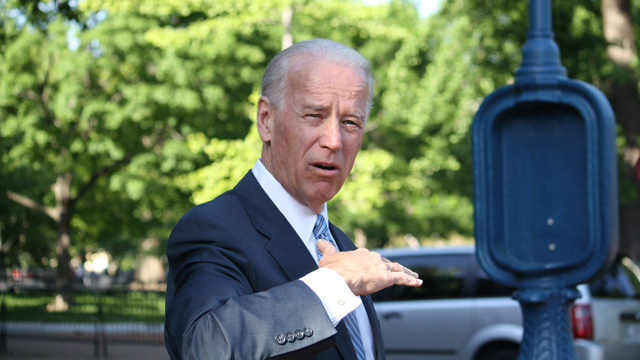 October 18th, 2011
12:59 PM ET
Today the White House released a statement confirming what CNN's Rachel Streitfeld reported on the Political Ticker yesterday: Vice President Joe Biden will head to New Hampshire on Thursday to officially file papers for President Obama to compete in the state's first-in-the-nation primary. While in New Hampshire, Biden will also deliver remarks at Plymouth State University, calling on Congress to pass the portion of the American Jobs Act that provides money to help states avoid laying-off teachers and first responders.
Check out CNN's original reporting here.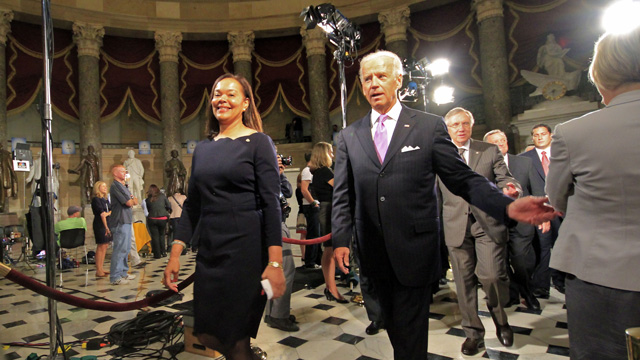 September 9th, 2011
09:57 AM ET
Vice President Biden made a tour of the network morning shows this morning and addressed reports of a "credible" terrorist threat to New York City and Washington D.C. on the 10th anniversary of 9/11. While he reiterated that he could not "confirm" the reports, Biden said that the threat was "real" and that this was "the first credible piece of information we've gotten" since Osama bin Laden was killed four months ago.
On what the administration is most concerned about this weekend, Biden told NBC:
The thing we're all most worried about is what they call the lone ranger, a lone actor, not some extremely complicated plan like it took to take down the World Trade Towers or the plane in Shanksville or the Pentagon. It doesn't mean they couldn't happen but it's much less likely. The lone actor is the more worrisome thing because there are fewer trails to follow, there are fewer leads to move on. But this is information from a credible source that indicated this was an intent. We have not been able to confirm, nor does that source confirm or do they know who the individuals may be who are trying to find access to the United States. But we're taking it seriously.
On reports that the threat includes a possible car bomb, Biden told ABC:
We have been told that was an intention to get people into the United States to do that, from a credible source, but we do not have confirmation of that.
On what this means for average Americans, Biden told NBC: FULL POST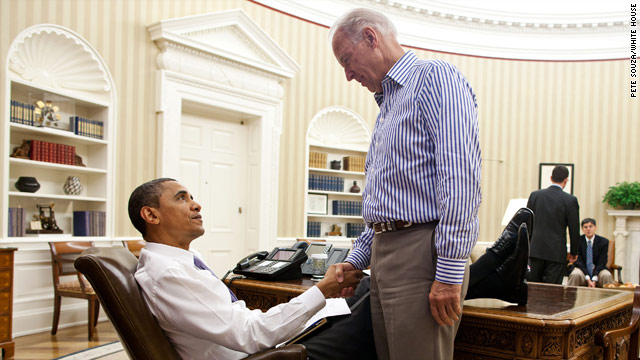 August 4th, 2011
02:53 PM ET
It looks like the President is sending "the closer" to the Far East.
From the White House: "The Vice President will depart for China, Mongolia, and Japan on August 16, 2011.  He will visit China at the invitation of Vice President Xi Jinping – the first of the planned reciprocal visits between the Vice Presidents announced during President Hu Jintao's state visit to Washington earlier this year.  While in China, the Vice President will meet with Vice President Xi and other Chinese leaders, including President Hu and Premier Wen Jiabao, to consult on a broad range of bilateral, regional, and global issues.  The Vice President will also visit the city of Chengdu, in China's Southwest.  In Ulaanbaatar, the Vice President will underscore our support for Mongolia's two decades of democratic development and our growing economic ties.  In Japan, the Vice President will express steadfast U.S. support for its close ally in the wake of the recent earthquake, tsunami, and nuclear emergency.  The Vice President will thank U.S. civilian and military personnel for their assistance in responding to the disaster, as well as highlight Japan's resilience during the recovery and rebuilding process."
June 27th, 2011
12:26 PM ET
President Obama's reelection campaign is ramping up its fundraising push among small donors ahead of Thursday's second quarter deadline - with a little help from Joe Biden.
The campaign had previously sought to lure donors by entering them in a raffle to have dinner with the president. But if that wasn't enough of a draw for some on-the-fence supporters, the campaign has now added Vice President Biden's name to the attendee list.
"We are setting another place at the table for Joe Biden," Obama announced in web video. "To use one of his favorite expressions, that's a big deal."
Sadly, Obama conspicuously left out the key f-bomb modifier that Biden used to make that phrase famous after the health care law was passed last year.
The Obama campaign has said they want to report raising at least $60 million in the second quarter combined with the Democratic National Committee. Obama campaign press secretary Ben LaBolt reports that the campaign has already received donations from 300,000 individuals. That compares to the 180,000 individuals who had donated to the president at this point in 2007.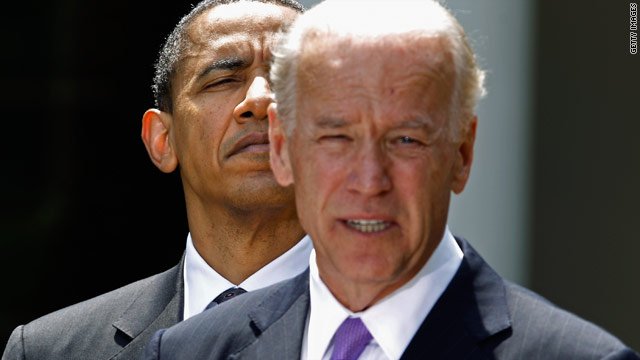 June 10th, 2011
12:48 PM ET
It appears President Obama has put his No. 2 in charge of a new project with the lofty goal of increasing accountability and cutting waste.
According to a statement from the White House, Biden will unveil his new initiative Monday:
Full statement:
WASHINGTON – On Monday, June 13th at 11:00 AM, Vice President Biden will make an announcement regarding the Administration's ongoing effort to make government more accountable to the American people. Building on the successful execution of the Recovery Act, the Vice President will discuss a new proposal to help federal agencies improve their performance and cut waste across government.