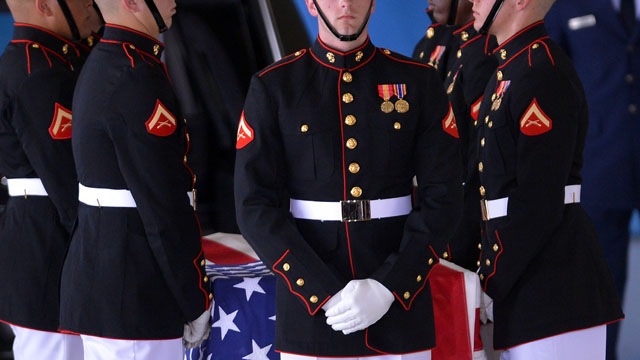 September 15th, 2012
11:01 AM ET
(CNN) – President Barack Obama on Saturday mourned the week's attacks on a U.S. consulate in Benghazi, Libya which killed four Americans, including the U.S. ambassador to the country.
"These four Americans represented the very best of our country," he said in his weekly address, naming Glen Doherty, Tyrone Woods, Sean Smith, and Ambassador Chris Stevens.
Woods and Doherty were former Navy SEALs, while Smith had served in the Air Force and was a computer expert.
Violence erupted this week in Benghazi and elsewhere in the Arab world – from Morocco to Tehran – based in anger over an inflammatory anti-Islam film. The film was posted online this summer but discussed and aired only recently in portions of the Middle East.
Protesters clashed with police in some cities on Friday, gathering in public squares and outside of embassies.
On Friday, Obama and Secretary of State Hillary Clinton spoke at a Transfer of Remains ceremony near Washington, D.C. when bodies of the four were returned to the U.S. Clinton referred to the "awful internet video that we had nothing to do with" and called the violence "senseless and it is totally unacceptable."
In his weekly address, Obama reiterated his message from previous statements, that "those who attack our people will find no escape from justice.
"We will not waver in their pursuit. And we will never allow anyone to shake the resolve of the United States of America," he said. FULL POST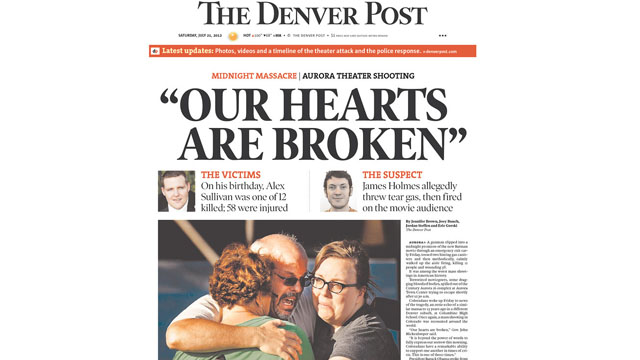 July 21st, 2012
10:03 AM ET
(CNN) – Void of politics, the weekly address of President Barack Obama and House speaker John Boehner coincided on Saturday, with each sending condolences to loved ones whose lives were cut short and those wounded in the Aurora, Colorado theater shooting.
Standing by for further details, both parties expressed regret over the massacre, agreeing to set politics aside in light of the incident.
"This weekend I hope everyone takes some time for prayer and reflection – for the victims of this terrible tragedy, for the people who knew them and loved them, for those who are still struggling to recover, and for all the victims of the less publicized acts of violence that plague our communities on a daily basis. Let us keep all these Americans in our prayers. And to the people of Aurora, may the Lord bring you comfort and healing in the hard days to come," said Obama.
House speaker John Boehner also weighed in on the tragedy.
"My plan today was to share some thoughts with you about the economy. But life, they say, is what happens when you're busy making other plans. There is still so much, too much, to sort out about the tragedy in Aurora, Colorado. Words cannot capture the horror, or make sense of something so senseless. So I won't try. This much I know. I know that when confronted with evil we cannot comprehend, Americans pull together and embrace our national family more tightly," said Boehner. (read more at CNN Political Ticker)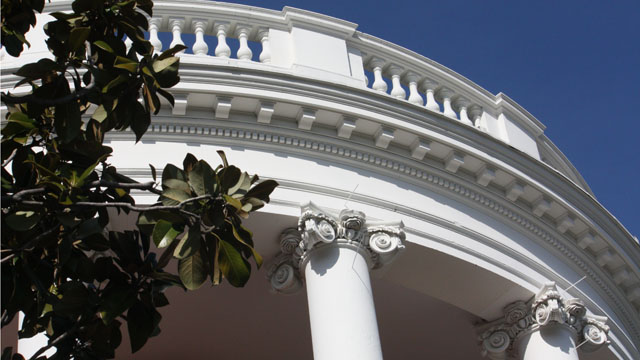 March 31st, 2012
11:20 AM ET
(CNN) – Democrats and Republicans addressed struggles facing middle-class families during their weekly addresses Saturday following a busy week dominated by Supreme Court judges' arguments on health care.
President Barack Obama and House Speaker John Boehner, a Republican from Ohio, spoke about proposals to help middle-class families, urging the opposing party to join theirs to find solutions.
Obama boosted the "Buffet Rule," a proposal to end Bush-era tax cuts for wealthy individuals, or, as Democrats describe it, would "ask some of the wealthiest Americans to pay their fair share."
"Now, if this were a perfect world, we'd have unlimited resources. No one would ever have to pay any taxes, and we could spend as much as we wanted," Obama said.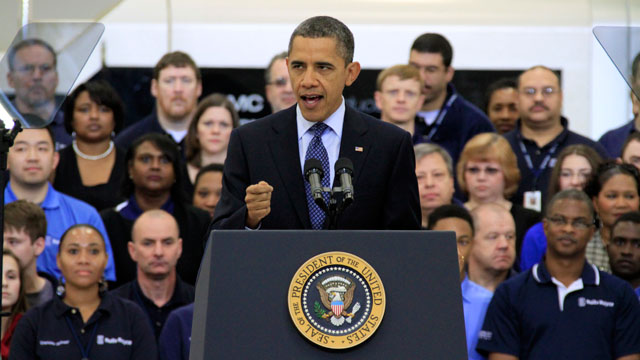 March 10th, 2012
10:13 AM ET
(CNN) – Jobs and energy prices dominated weekly addresses by Democrats and Republicans on Saturday, a day after government numbers showed the creation of 227,000 new jobs last month.
Despite the jobs, the unemployment rate remained unchanged, according to the numbers.
With unemployment hovering at 8.3%, Republicans put forth Gov. Jack Dalrymple of North   Dakota, whose state boasts the lowest unemployment rate, according to the most recent state level data, from December.
"These are big reasons why North Dakotais doing so well compared to the rest of the nation," he said. "We have created a friendly business climate inNorth Dakota, where taxes and insurance rates are low, the regulatory environment is very reasonable, and we have the most responsive state government anywhere."
He said his state offers major incentives.
"Companies want to expand inNorth Dakota because of the ease of doing business and because of our well educated, well trained work force," Dalrymple said.
His state's economy, he said, is thriving because of both high-tech manufacturing near the state's capital and oil drilling in the northwestern region.
The U.S. could learn from North Dakota's model and expand domestic oil production, he said, criticizing President Barack Obama for blocking the Keystone oil pipeline, which would run through his state.
"It is now within our reach to become energy independent in North America if we simply develop the resources we already have available in places like the Gulf of Mexico, nonsensitive public lands across America, and in our friendly bordering countries," he said.
The president also spoke on energy, making his case that theU.S."can't just drill our way to lower gas prices – not when we consume 20% of the world's oil."
"The recent spike in gas prices has been another painful reminder of why we have to invest in this technology. As usual, politicians have been rolling out their three-point plans for $2 gas: drill, drill and drill some more," he said. "Under my Administration, oil production inAmericais at an eight-year high. We've quadrupled the number of operating oil rigs, and opened up millions of acres for drilling." FULL POST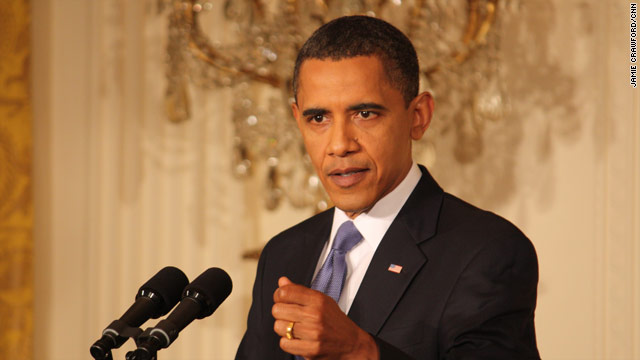 January 14th, 2012
09:54 AM ET
(CNN) - In his weekly address Saturday, President Barack Obama encouraged congressional leaders to grant him executive branch reorganization powers.
The president, echoing comments he made Friday, said he would replace the Commerce Department, rearrange lower-tier agencies and elevate the Small Business Administration to a Cabinet-level post.
"These changes will make it easier for small business owners to get the loans and support they need to sell their products around the world," he said. "For example, instead of forcing small business owners to navigate the six departments and agencies in the federal government that focus on business and trade, we'll have one department."
With the November elections around the corner, Republicans are skeptical of the proposal.
"Given the president's record of growing government, we're interested to learn whether this proposal represents actual relief for American businesses or just the appearance of it," a spokesman for House Speaker John Boehner said on Friday.
The president pledged to limit reforms to those developing "more efficiency, better service and a leaner government," and simultaneously previewed tax code changes he debuted this week at the White House.
"I will put forward new tax proposals that reward companies that choose to do the right thing by bringing jobs home and investing in America - and eliminate tax breaks for companies that move jobs overseas," he said.
Meanwhile, urging job creation on a different front, North Dakota Sen. John Hoeven called on the White House to pave the way for construction of a controversial oil pipeline, arguing an economic and job creation case.
"This new $7 billion, 1,700-mile, high-tech transcontinental pipeline, the largest shovel-ready project in the country, would reduce our dependence on Middle East oil, help keep down the cost of energy for American consumers and businesses, and create thousands of jobs for American workers at a time when our nation so greatly needs them," he said in the GOP weekly address.
In December, Congress started a 60-day window for the Obama administration to either approve or deny theCanada-to-GulfCoastoil pipeline. The project is generally opposed by environmentalists and favored by Republicans. The State Department says it needs more time to consider the environmental impact.
The battle lines of this week's addresses may preview those which driveWashingtonthis month, as Congress returns from holiday recess and the president delivers his State of the Union address on Jan. 24.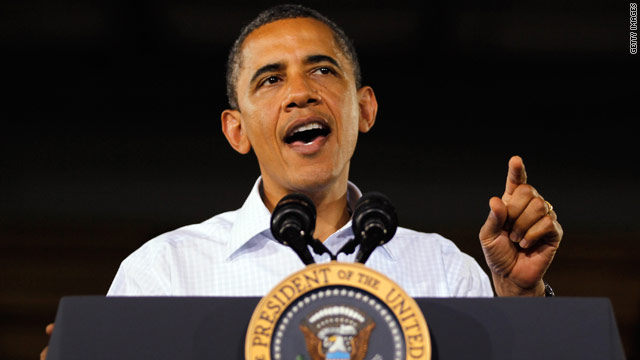 (CNN) – President Barack Obama and Ohio Gov. John Kasich passed along what they saw as lessons from the Midwest Saturday during their weekly addresses.
The president taped his weekly address from Alpha, Illinois-a town he visited during a three-day bus tour through the region used to engage small town citizens in dialogue about jobs and the economy.
Washington can take a lesson from people in towns like Atkinson, Illinois; Peosta, Iowa; and Cannon Falls, Minnesota, Obama said. "Our country would be a whole lot better off if our elected leaders showed the same kind of discipline and integrity and responsibility that most Americans demonstrate in their lives every day."
Obama recounted the obstacles in the economy, including the aftermath of a "terrible recession," persistent unemployment, and "smaller paychecks or less money in the cash register" to highlight the need for elected officials to "put aside their differences to get things done."
And he proposed ways to take immediate action that will "mean more customers for businesses and more jobs across the country."
For the full article, click here.
April 23rd, 2011
02:22 PM ET
From CNN's Rebecca Stewart
WASHINGTON (CNN) – President Barack Obama recognized the economic strain caused by soaring gas prices and stressed the importance of clean energy initiatives to reduce America's dependence on oil in the weekly address Saturday.
"Even if you haven't faced a job loss, it's still not easy out there," he said.
Obama added that despite rising costs, paychecks are not getting any bigger.
"There's no silver bullet that can bring gas prices down right away," he said.
Obama offered solutions including the "safe and responsible production of oil at home," and discussed a task force launched Thursday by Attorney General Eric Holder that has the mission of "rooting out cases of fraud or manipulation in the oil markets that might affect gas prices, including any illegal activity by traders and speculators."
For the full story, click on the political ticker.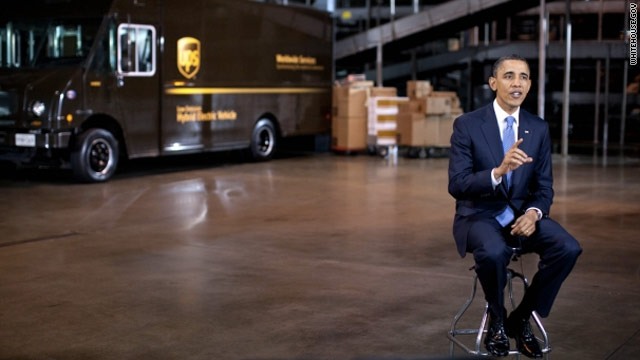 April 2nd, 2011
12:37 PM ET
(CNN)-President Barack Obama delivered the weekly address from a UPS customer center in Landover, Maryland to drive home the need for a commitment to clean energy vehicles and highlight recent job gains.
The president noted rising gas prices and outlined his plan to strengthen the economy and reduce the nation's dependency on oil imports. He also praised UPS, FedEx, Verizon, AT&T, and PepsiCo for taking the lead in transitioning to more fuel-efficient cars and trucks.
A commitment to increased oil exploration in America is included in the plan, but Obama stated that "drilling alone is not a real strategy to replace our dependence on foreign oil."
FULL POST
FULL STORY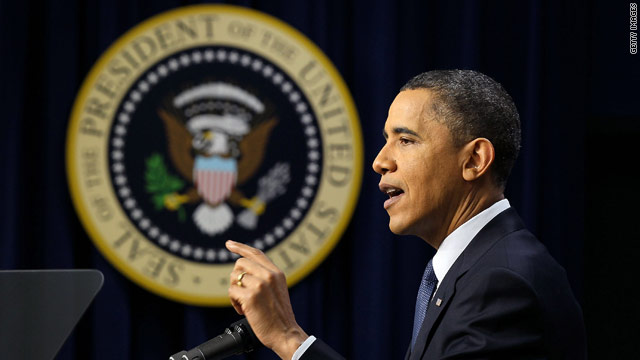 March 12th, 2011
05:18 PM ET
Washington (CNN) – President Obama noted that March is Women's History Month, calling it a time to celebrate "the progress that women have made" and the "women throughout history who have made that progress possible," in the weekly presidential address.
He recalled how Eleanor Roosevelt challenged President Kennedy to find qualified women for top posts in his administration, and that Kennedy asked her to head a new presidential commission to study the status of women in America in response. "It's been almost fifty years since the Roosevelt commission published its findings - and there have been few similar efforts by the government in the decades that followed," the president remarked.
Read the full story on the political ticker.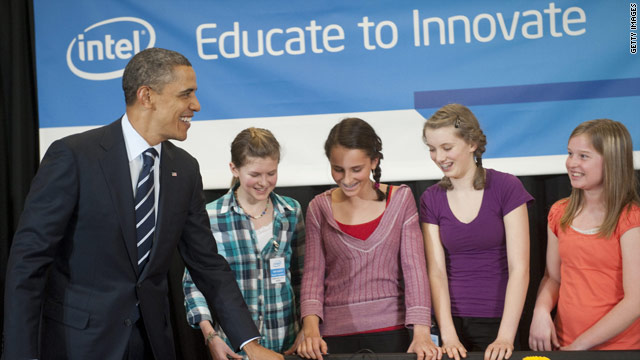 (CNN)–President Obama turned his attention to education during his weekly address as he discussed another aspect of how he believes the nation can "win the future." Obama acknowledged that "Over the next ten years, nearly half of all new jobs will require education beyond high school."
He delivered the address from outside Portland, Oregon, while visiting Intel, a company that he said models how "instead of just being a nation that buys what's made overseas, we can make things in America and sell them around the globe.
Check out the full story on the political ticker.