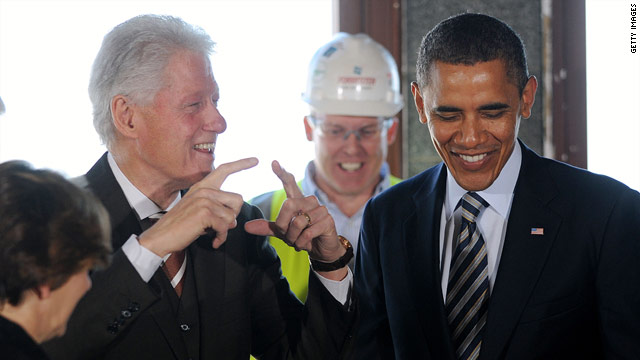 June 4th, 2012
02:02 PM ET
(CNN)–Joining forces with Hollywood and Broadway starpower, President Barack Obama and former President Bill Clinton are looking to add more than three and a half million dollars to the Obama campaign coffers and that of the Democratic Party Monday during a whirlwind seven hour trip to New York City.
The evening begins with a high ticket reception for fifty people at a private residence in the city. The price for face time with both the president and former president doesn't come cheap. A Democratic campaign official tells CNN the tickets are $40,000 each.
The presidents then move on to a big gala at the tony Waldorf Astoria where rocker Jon Bon Jovi will entertain the 500 invited guests who each paid at least $2500 a ticket. FULL POST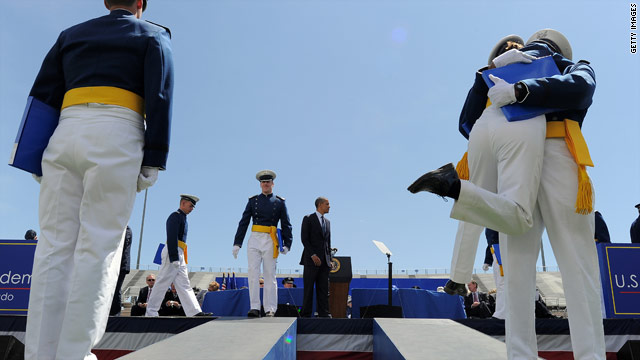 May 23rd, 2012
04:04 PM ET
COLORADO SPRINGS, Colorado (CNN) – In the race to collect campaign cash President Obama is expected to raise nearly $3.5 million dollars during his visit to Colorado and California this week.
After delivering the commencement address at the United States Air Force Academy in Colorado Springs, Wednesday, the president travels to Denver where he'll attend a reception at the Hyatt Regency. Seven hundred people are expected to attend, paying up to $500 each, according to a campaign official.
It's a much more upscale event when the president heads to Atherton, California for a fundraising dinner at a private residence Wednesday evening. About 60 people paid $35,800 each to get up close with the president and take in a performance by David Crosby and Graham Nash of Crosby, Stills and Nash, the official said.
The president wraps up the evening with a much larger event at the Fox Theatre in Redwood City, California where 1,100 supporters are expected. Tickets start at $250 dollars each.
Before flying to Iowa on Thursday to headline a campaign event and push clean energy, the president will attend one more fundraiser in San Jose, California, where a campaign official said tickets for the 20 attendees cost $35,800 per person.
All of the money raised goes to the Obama Victory Fund, which is a joint effort of the campaign, the Democratic National Committee and various state Democratic parties.
May 3rd, 2012
07:43 AM ET
(CNN) - The Obama campaign renewed its focus on women voters Thursday with a stepped up attack on Mitt Romney.
A data-filled memo alleges the budget cuts, tax reform and social policy Mitt Romney supports will disproportionately hurt middle- and low-income women.
Along with the memo, the campaign links to a web tool called "The Life of Julia," which follows the character from the age 3 to 67, suggesting how one such woman would be impacted by the policies of the two Presidential candidates.
For example, under President Obama, Julia at age 23 can fight for a right to equal pay, because he signed the Lilly Ledbetter Fair Pay Act, according to the web tool. But Julia doesn't know her fate under a President Romney because he hasn't said whether he would have signed the Lily Ledbetter Act. (read more at CNN Politics)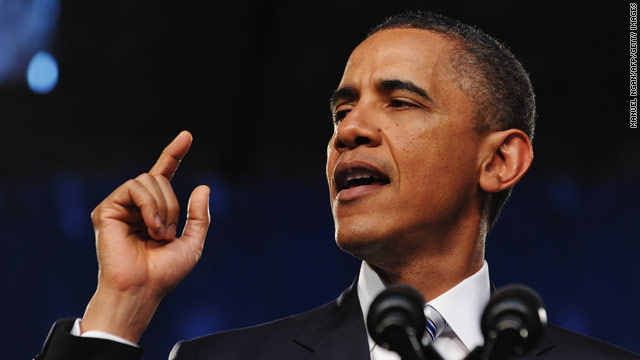 January 17th, 2012
06:50 PM ET
(CNN) - President Barack Obama's re-election team is taking the first initial steps towards launching campaign commercials.
The Obama re-election team is requesting rates for potentially large ad buys in key states, a Democratic source confirms to CNN. The source adds that "no decision's been made yet."
Another source familiar with the request says the Obama campaign has inquired about commercial rates in the following states: Arizona, Colorado, Florida, Iowa, Minnesota, New Mexico, North Carolina, New Hampshire, Nevada, Ohio, Pennsylvania, Virginia and Wisconsin.
For the full story, click here.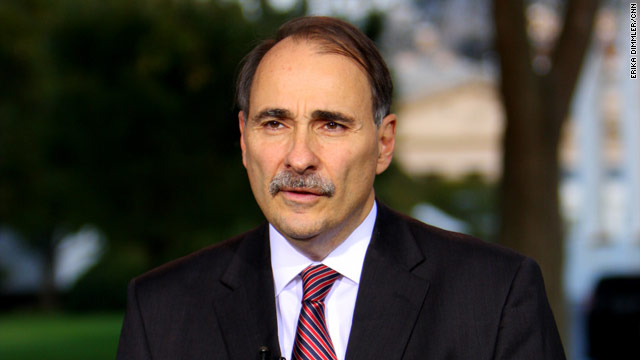 December 13th, 2011
01:41 PM ET
Washington (CNN) - President Barack Obama's top re-election campaign advisers predict that an extended Republican primary battle will produce a weakened GOP nominee, and that a longer process could drain the independent Republican super PACs of much of their money.
And while top officials continue to focus most of their fire on former Massachusetts Gov. Mitt Romney, one of them did compare new GOP front-runner and former House Speaker Newt Gingrich to the rear end of a monkey.
Asked if Gingrich can sustain his front-runner over time, senior Obama campaign strategist David Axelrod said "I told my colleagues yesterday a bit of homespun wisdom that I got from an alderman in Chicago some years ago when one of his colleagues wanted to run for higher office and he was really dubious. He said, 'just remember the higher a monkey climbs on a pole, the more you can see his butt.' So, you know, the Speaker is very high on the pole right now and we'll see how people like the view."
Axelrod also described Gingrich's economic proposals as "far more radical than Romney's," and says if the former House speaker wins the nomination, there's plenty of material in Gingrich's record to use against him in a general election.
His comments came Tuesday as the top Obama campaign officials briefed political reporters in Washington on the campaign's strategy to win the 270 electoral votes needed for re-election next year.
FULL POST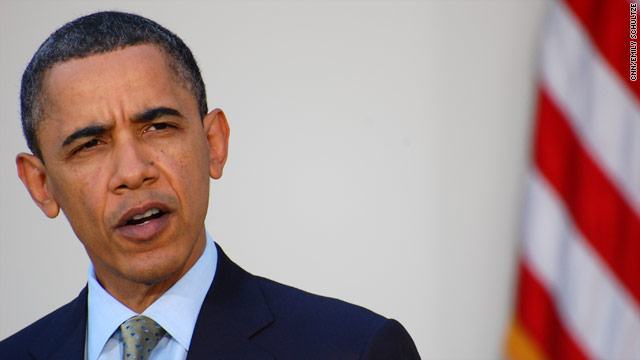 June 20th, 2011
01:50 PM ET
 Washington (CNN) - With the end of the second quarter of fundraising closing in, it appears President Barack Obama's picking up the pace.
Monday night the president is the main attraction at two fundraisers for the Obama Victory fund which are both being held at the Mandarin Oriental Hotel in the nation's capital.
According to a Democratic source with knowledge of the fundraisers, the first event is a dinner with Americans in Support of a Strong US-Israel Relationship. The gathering comes just a few weeks after comments by the president in calling for Israel to consider restoring its pre-1967 borders as part of its discussions with the Palestinians as part of any peace settlement. The proposal received an icy response from bothIsraeland from Jewish-Americans.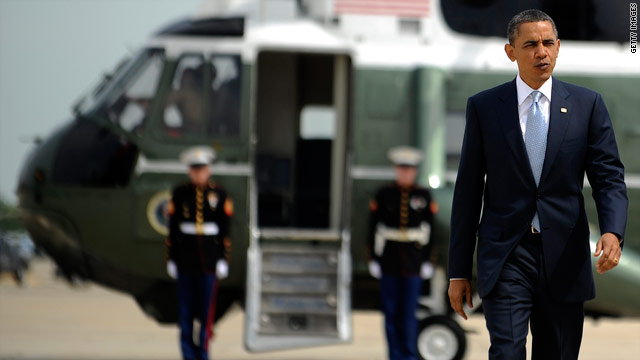 (CNN) - President Barack Obama starts his one day visit toTexas with policy, but he ends it with pure politics.
After speaking out on the need for immigration reform at an event in El,Paso,Texas, near the border withMexico, the president travels to theAustin, the state capital, to headline two fundraisers Tuesday evening.
The first event is at the Moody Theater, home of Austin City Limits. A source with knowledge of the event says that approximately 750 people are scheduled to attend the function, with country music artist Robert Earl Keen performing at the gathering.
The second fundraiser is a dinner being held at a private residence, with around 50 people in attendance.
Tickets for the two events range from $44 to the legal maximum limit of $35,800 that an individual can contribute for both the primary and the general election. The money raised will go to the Obama Victory Fund, with the proceeds being shared by both the president's re-election campaign and the Democratic National Committee.
Read full post HERE.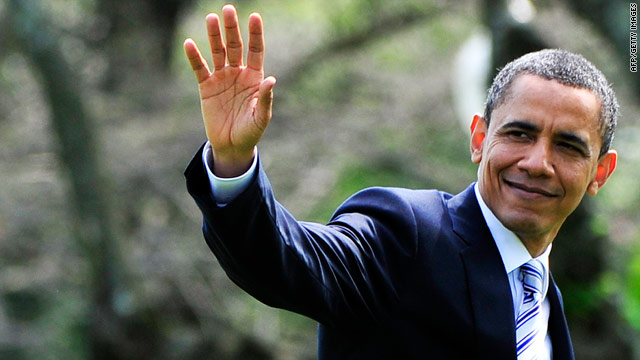 April 15th, 2011
04:53 PM ET
WASHINGTON (CNN) It shouldn't be any surprise that two of the three states President Barack Obama visits next week are battleground states.
According to a White House release Friday, the president will travel to northern Virginia Tuesday to hold a town hall. Obama won the state in 2008, the first Democrat to carry Virginia in a presidential election since 1964. With an open Senate seat to defend as well, Virginia is a crucial state for Democrats in 2012.
The president also holds a town hall in Reno, Nevada on Thursday. Obama carried that state as well in 2008, the first Democrat to capture Nevada since Bill Clinton won it in 1996. Like Virginia, there's a crucial contest for the Senate as well, but in this case it's an open seat that is currently held by the GOP.
In between the two events, the president also holds a town hall Wednesday at Facebook Headquarters in Palo Alto, California. California is safe and lucrative politically for Obama. He will also be the main attraction at fund raisers in San Francisco and Los Angeles for his re-election campaign and the Democratic National Committee.
March 28th, 2011
03:05 PM ET
(CNN) – When President Barack Obama sets up his 2012 re-election campaign, it will be headquartered in a downtown Chicago office building.
A Democratic source confirms to CNN that the re-election campaign will be housed in One Prudential Plaza, a skyscraper which faces the city's Grant Park, where Obama held his 2008 election night victory rally. The story was first reported earlier Monday by Lynn Sweet of the Chicago Sun Times.
The office tower, known to many as the Prudential Building, its original name, is about two blocks away from the building where Obama's 2008 presidential campaign was headquartered.
CNN reported earlier this month that the president will be back in his hometown on April 14, to headline a Democratic National Committee event. Obama has picked up the pace in attending political functions as his team lays the groundwork for his 2012 re-election bid.
The DNC is technically running the president's political operation until Obama registers with the Federal Election Commission as a 2012 presidential candidate, which will allow the campaign to begin raising money. Obama brought in a record breaking $750 million dollars in his 2008 campaign for president and could raise up to $1 billion for his re-election bid.
March 16th, 2011
01:45 PM ET
WASHINGTON (CNN) - President Barack Obama headlines a Democratic party event Wednesday night, the second time this week and fourth time this month he's been the main attraction at a party gathering.
The official White House schedule says that the president delivers remarks at a Democratic National Committee event at a hotel in the nation's capital. A source with knowledge of the gathering tells CNN that Obama will speak to members of the DNC's national advisory board and national finance committee.
For the full story, click here.