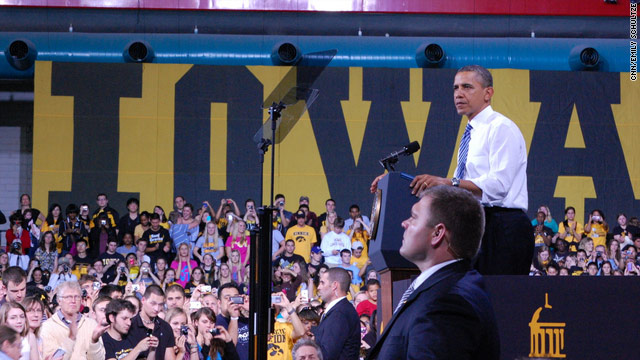 April 25th, 2012
03:57 PM ET
Iowa City, IA (CNN) -  President Obama visited his third college in two days with this stop at the University of Iowa, where he continued his push for the youth vote, calling on Republicans to extend lower interest rates on federally subsidized Stafford loans.  The rates are set to jump from 3.4% to 6.8% if Congress doesn't act by July 1.
Pushing his campaign message that he is the candidate fighting for the middle class, Obama sought to contrast himself with his wealthier opponent, former Massachusetts governor Mitt Romney, telling a crowd of students, "We were lucky to land good jobs with a steady income but we only finished paying off our student loans about eight years ago."
"Think about that," he said.  "I'm president of the United States. It was only about eight years ago that we finished paying off our student loans."
The president's trip to Iowa follows Tuesday's speeches at the University of North Carolina Chapel Hill and the University of Colorado at Boulder – all in battleground states.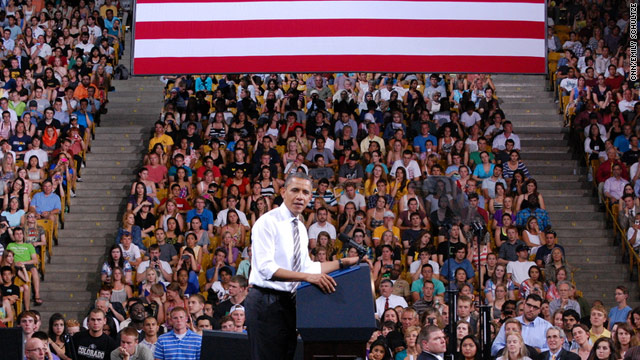 April 25th, 2012
03:51 PM ET
Iowa City, IA (CNN) –– President Obama targeted House Republican Todd Akin from Missouri in his remarks on student loan interest rates at the University of Iowa Wednesday.
He did not call out Akin by name, instead citing Akin's recent remarks about how the federal government should not be in the business of student loans.
"America has got the equivalent of the stage three cancer of socialism because the federal government is tampering in all kinds of stuff it has no business tampering in," Akin said in a debate with his two Republican opponents Saturday, according to a report by the Columbia Daily Tribune.
Akin, who represents suburbs west of St. Louis, is in a Republican primary contest to oppose Sen. Claire McCaskill (D-MO).  She is facing perhaps the toughest re-election fight of any incumbent Democratic senator this cycle.
FULL POST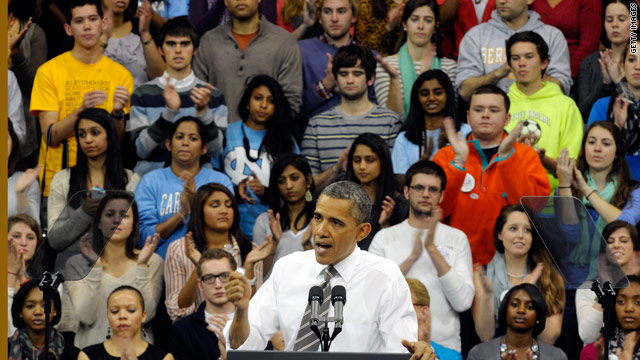 April 24th, 2012
03:55 PM ET
Boulder, CO (CNN) - President Obama kicked off a tour of three battleground states today with a speech at the University of North Carolina at Chapel Hill. This two-day college blitz is, on it's face, about pressing Congress to prevent interest rates on federally subsidized student loans from doubling this summer. In political reality, the president's latest excursion from Washington is all about energizing part of his base – youth voters – in an election year.
"For each year that Congress doesn't act, the average student with these loans will rack up an additional $1,000 in debt - an extra $1,000," President Obama told a supportive crowd of mainly students at UNC Chapel Hill. "That's basically a tax hike for more than 7 million students across America, more than 160,000 students here in North Carolina alone."
In 2007, with bipartisan support, a Democratic-led Congress cut interest rates on Stafford loans from 6.8% to 3.4%, the current rate. On July 1, that rate is set to return to 6.8% for new loans. As some congressional Republicans voice concern about the $6 billion price tag for maintaining the low rates, the White House is coordinating with congressional Democrats to frame Republicans as threatening to raise costs on college students.
On Monday, presumed Republican presidential nominee Mitt Romney gave a full-throated endorsement of extending the low interest rates, trying to blunt the president's momentum on the issue. Congressional Republicans accuse President Obama of trying to distract from his performance on the economy and point out that under the president's own budget proposal student loan rates would double in 2013.
In 2008, 66 percent of voters age 18 to 29 voted for Obama. Thirty-two percent went for Sen. John McCain. The latest CNN/ORC poll shows a similar breakdown among young people in an Obama-Romney match-up, but a number of polls show an enthusiasm gap for Obama among young voters compared to 2008 when they flocked to cast ballots in unprecedented numbers.
President Obama is scheduled to speak at the University of Colorado Boulder Tuesday night. On Wednesday he addresses students at the University of Iowa.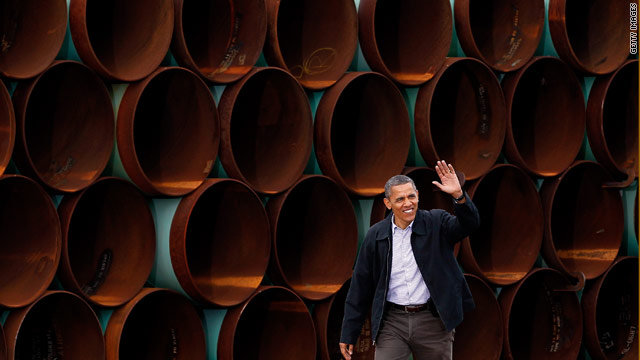 April 18th, 2012
08:52 PM ET
CLEVELAND, Ohio (CNN) - The company building the controversial Keystone XL pipeline has submitted a proposal for a new route, a spokesman for Nebraska's environmental authority said Wednesday.
The new route is east of the initially proposed route that went over an environmentally sensitive aquifer, said spokesman Brian McManus of the Nebraska Department of Environmental Quality. TransCanada is the company constructing Keystone XL.
The pipeline is intended to carry between 500,000 to 700,000 barrels of crude oil a day from Canada's oil sands to the U.S. Gulf Coast.
U.S. President Barack Obama in January denied a permit for the 1,700-mile pipeline, a decision that prompted Republican criticism that the president was not doing everything possible to create jobs and combat high gasoline prices.
FULL POST
CNN White House correspondent Brianna Keilar shows us the interesting intersection of the Obama and Romney campaigns in one small Ohio town Wednesday.
April 5th, 2012
11:15 PM ET
The Muslim Brotherhood, the controversial group in Egypt key to the country's new government, is on a public relations tour and members had meeting with White House officials. CNN's Brianna Keilar reports on the meeting that the White House hopes to open lines of communications.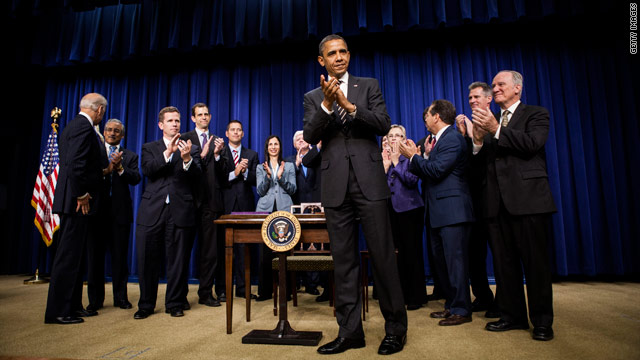 April 4th, 2012
02:08 PM ET
Here at the White House we're seeing something this week that we haven't seen in a very long time: public bill signings attended by Republican and Democrats.
In recent months, as President Obama has positioned himself opposite an unpopular congress, he has shied away from the fanfare of signing ceremonies, once routine in the early months of his term. But today he signed the STOCK Act, aimed at preventing elected officials from using their professional knowledge for financial benefit, in a public ceremony at the White House. Tomorrow he will do the same with the JOBS Act, a bill that is supposed to make it easier for small businesses and start-ups raise investment dollars (though some critics say it won't create jobs and could increase risk for investors).
The last signing ceremony at the White House was in early February (a bill spearheaded by Democratic former Rep. Gabrielle Giffords of Arizona) and, before that, November. In February, congress passed a substantial bill to fund the FAA and an extension of the payroll tax cut, a measure that received overwhelming bipartisan support and that Obama had pressed congress to pass. He signed both in private.
Republicans charged that he was playing politics, denying them a visual of bipartisanship in an election year. House Republican leaders have adopted a more conciliatory tone toward the president in recent months following a bruising battle on a temporary extension of the payroll tax cut in December. But not all Republicans want a picture standing next to the president. House Speaker John Boehner (R-OH) and Senate Republican Leader Mitch McConnell (R-KY) did not make the trip. Noticeable among the handful of GOP lawmakers at todays signing ceremonies were those who are trying not to appear hyper-partisan as they face strong Democratic challengers in tough re-election races, including Sen. Scott Brown (R-MA) and Rep. Robert Dold (R-IL).
March 26th, 2012
08:27 AM ET
In a private conversation about the planned U.S.-led NATO missile defense system in Europe, President Obama asked outgoing Russian President Dmitri Medvedev for space on the issue.
"On all these issues, but particularly missile defense, this, this can be solved but it's important for him to give me space," Obama told Medvedev.
"Yeah, I understand. I understand your message about space," Medvedev replied.
"This is my last election," Obama said. "After my election I have more flexibility."
"I understand. I will transmit this information to Vladimir," Medvedev said, referring to incoming President Vladimir Putin.
The two leaders talked Monday during a formal one-on-one meeting ahead of the Nuclear Security Summit in Seoul, South Korea.  In video they are seen seated, almost huddled, facing each other, each man with his elbows on his knees, leaning in closely over a small table, as they speak intently. Part of the exchange was caught on camera at the end of the 90-minute meeting as reporters and cameras entered the room for a quick photo opportunity of Obama and Medvedev. FULL POST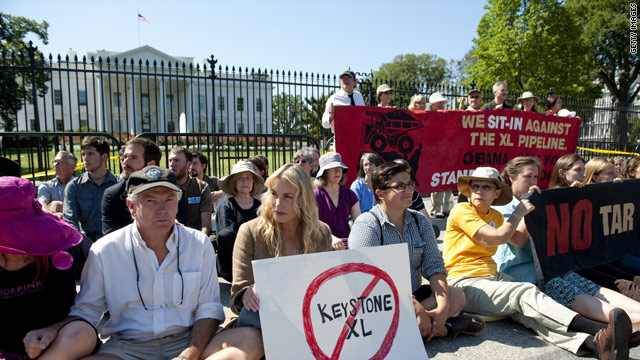 March 20th, 2012
05:00 PM ET
President Barack Obama plans to announce in Cushing, Oklahoma, on Thursday that his administration will expedite the permit for the southern half of the Keystone XL pipeline, a source familiar with the president's announcement told CNN.
In January, the Obama administration denied a permit for the 1,700-mile-long Keystone XL oil pipeline, which would stretch from Canada's tar sands development to the U.S. Gulf Coast. That decision was met by persistent Republican criticism that the president has not been doing everything possible to create jobs and combat high gas prices.