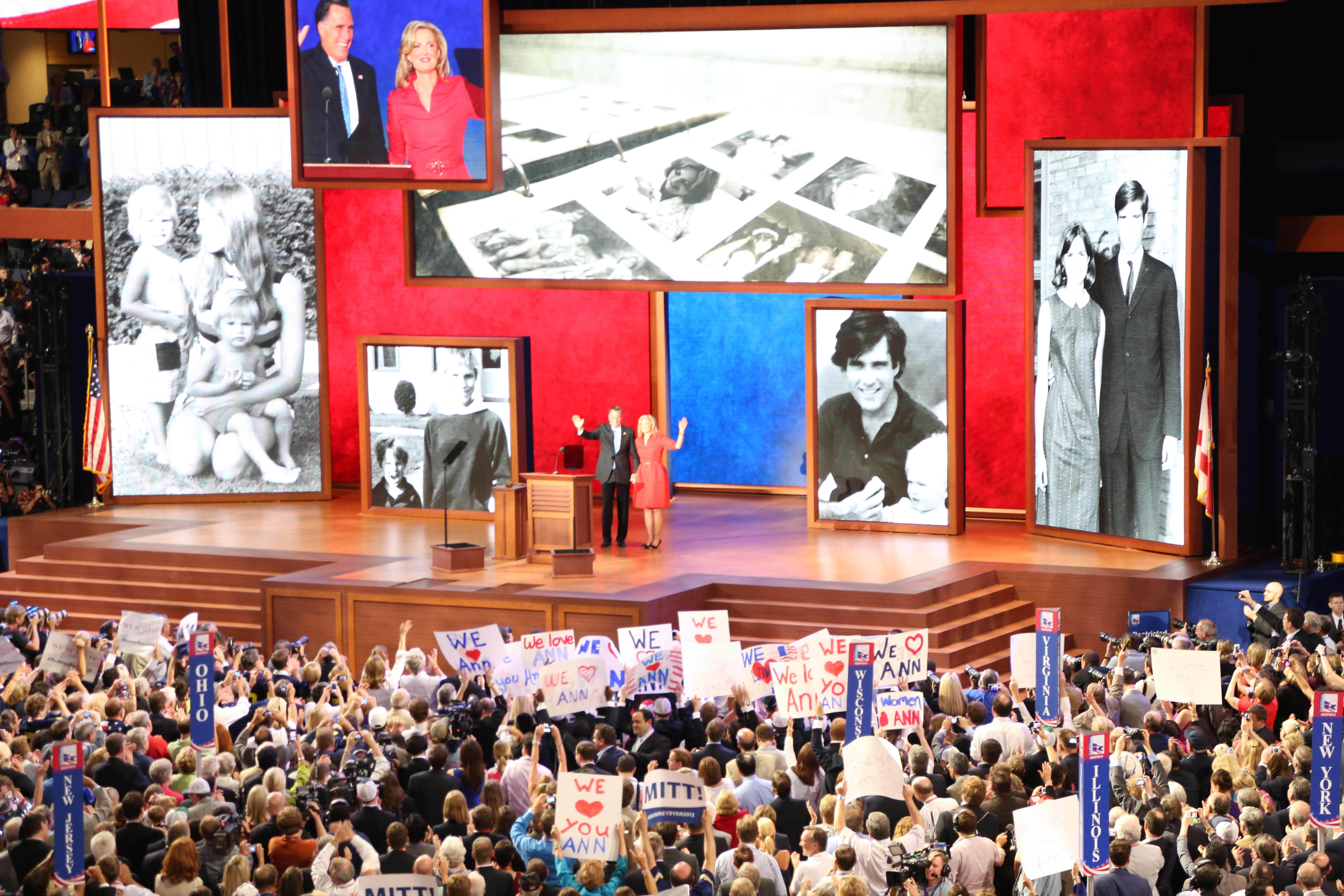 September 1st, 2012
01:22 PM ET
(CNN) – In a new campaign video and in emails sent to reporters throughout the day, the Obama campaign spent much of Friday highlighting what they call an important omission from Mitt Romney's acceptance speech on Thursday night.
"In an almost 45-minute speech, Mitt Romney didn't find a moment to mention Afghanistan," Obama campaign manager Jim Messina said in a statement sent to reporters just after midnight. "With no new plans and evasion about his real plans, Mitt Romney leaves this convention no stronger than he came."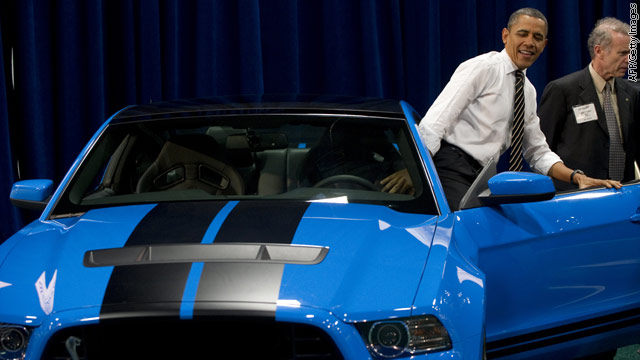 August 29th, 2012
10:41 AM ET
CNN Money has a great write-up of new fuel economy standards announced Tuesday by the Obama administration:
NEW YORK (CNNMoney) - The Obama administration finalized new fuel economy rules Tuesday that within 12 years will almost double today's standard for cars and light trucks to 54.5 miles per gallon.

The rules, which have been in the works for several years, will add thousands of dollars to the cost of new cars. But in the long run, regulators say, drivers will spend less on gas, outweighing the additional cost at the dealership. They say the rules will also help reduce the nation's oil imports from OPEC by about half.

The standard takes effect in 2024 when 2025 model-year cars begin to hit dealer lots.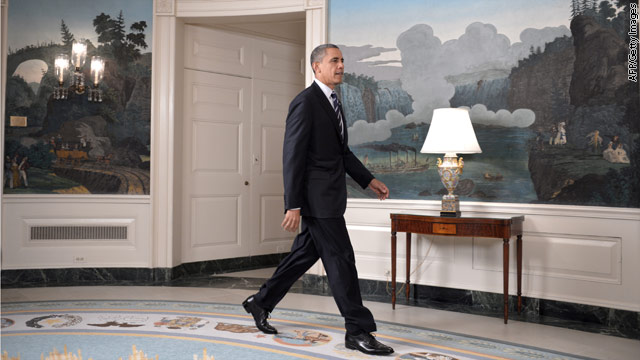 August 28th, 2012
11:12 AM ET
President Obama delivered a statement from the Diplomatic Room of the White House Tuesday morning, warning residents of the Gulf Coast to "listen to your local officials and follow their directions" in preparation for Tropical Storm Isaac to make landfall Tuesday evening. On Monday, the president signed a disaster declaration for the state of Louisiana, ensuring that avenues of federal funding and support from the Federal Emergency Management Agency were open.
"We're dealing with a big storm and there could be significant flooding and other damage across a large area," the president said. "Now is not the time to tempt fate. Now is not the time to dismiss official warnings. You need to take this seriously."
Here are the president's full remarks: FULL POST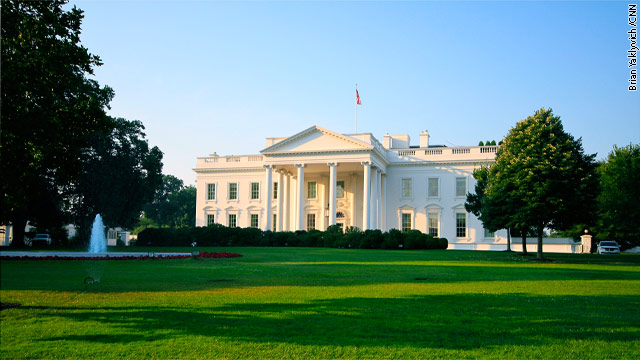 August 23rd, 2012
03:21 PM ET
Washington (CNN) – With 75 days left until Election Day, Team Obama's top ranks said Thursday they're encouraged by the campaign's standing among key voting constituencies, including women, African Americans, Latinos and younger members of the electorate.
At a briefing for reporters, senior campaign officials pointed to a consistent lead in national polling as well as a sufficiently favorable view of the president among undecided voters to argue the real story of the general race is one of consistency, not volatility.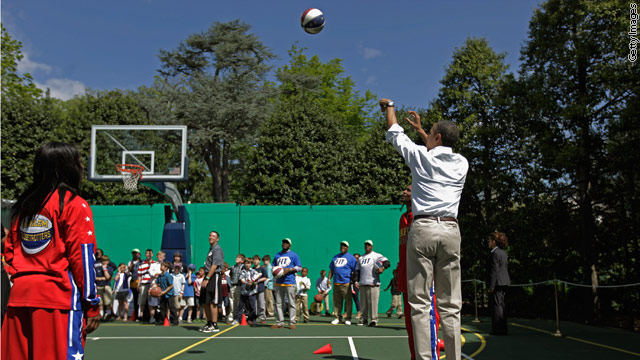 August 22nd, 2012
04:11 PM ET
President Obama heads to New York City on Wednesday night to participate in the long-awaited Obama Classic,  a basketball fundraiser with current and former NBA and WNBA stars. Originally scheduled during the 2011 NBA lockout when basketball fans had nowhere to see their favorite players play, the event was canceled after the lockout was resolved and rescheduled for this summer.
As part of the event, the Obama campaign raffled off a dinner with President Obama hosted by basketball legend Michael Jordan. The two will be joined by other participants in the evening's basketball game including Carmelo Anthony, Patrick Ewing, Sheryl Swoopes, Kyrie Irving, and Alonzo Mourning. Including the winners of the campaign's fundraising raffle, approximately 120 people will attend the dinner and tickets cost $20,000 per person. After the dinner the president will join in what the campaign is calling a "casual" shoot around with some of the players.
Earlier in the day there will be two separate fundraising events with some of the players that will not include the president. The first is an autograph signing where approximately 400 people paid $250 for a chance to meet some basketball legends, and the second is a skills camp where about 100 people paid $5,000 per couple to get lessons from professional ball players.
All told the campaign is expecting to raise close to $3 million.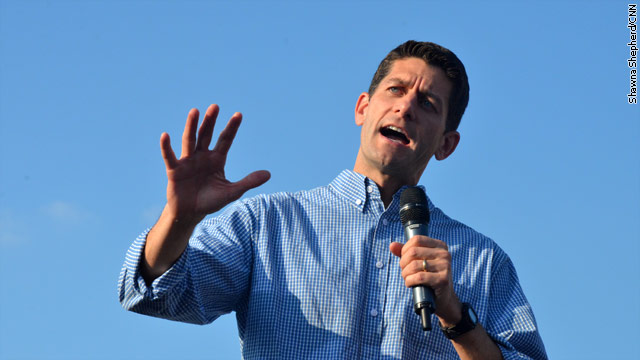 August 16th, 2012
05:39 PM ET
Washington (CNN) - In a polling memo released by campaign pollster Joel Benenson on Thursday, Team Obama tried to paint Rep. Paul Ryan as one of the worst vice presidential selections in recent history.
"This reflects something about Mitt Romney's decision making priorities and what he did was he tapped as a running mate the person who's been dubbed the leader of the most extreme wing of the Congressional Republicans," Benenson said on a conference call accompanying the memo.
The historically low public approval ratings of Congress combined with the public's opinion of Ryan's readiness to be commander in chief "are all factors that go into this being a very uninspiring choice and reflecting that it's not a boost to the ticket, if anything it's a drag on the ticket," Benenson argued. FULL POST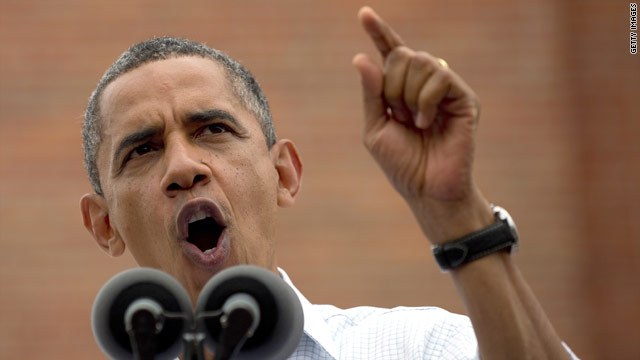 August 15th, 2012
04:54 PM ET
Dubuque, Iowa (CNN) – Continuing an increasingly heated campaign exchange on the topic of Medicare, President Obama defended his record here on Wednesday against attacks from his Republican rivals that he has cut benefits to seniors.
Linking the reforms included in Republican vice presidential candidate Paul Ryan's congressional budget proposal with Mitt Romney's campaign platform, Obama argued that they're attacking his plan because they don't want to sell their own.
"I think they know their plan's not very popular," the president said. "You can tell that because they're being pretty dishonest about my plan, especially by the way when it comes to Medicare. Now this is something I've got to point out here because they are just throwing everything at the wall to see if it sticks."
FULL POST
August 14th, 2012
03:07 PM ET
Oskaloosa, Iowa (CNN) - Kicking off the second day of his three-day bus tour across Iowa, President Obama shifted his message from drought relief to renewable energy, and even found a way to connect wind power to Mitt Romney's now-infamous dog Seamus.
Speaking in a state that gets 20 percent of its electricity from wind power, Obama on Tuesday criticized his Republican rival Mitt Romney for opposing tax credits for renewable energy companies.
"During a speech a few months ago Governor Romney even explained his new energy policy this way, I'm quoting here: 'You can't drive a car with a windmill on it,'" Obama said. "That's what he said about wind power: 'You can't drive a car with a windmill on it.' I don't know if he's actually tried that. I know he's had other things on his car."
FULL POST
August 14th, 2012
08:35 AM ET
BOONE, Iowa (CNN) –President Barack Obama addressed an enthusiastic crowd of more than 2,000 supporters in Boone, Iowa, Monday, but even among the most diehard of fans it wasn't hard to find a critic.
Krishna Prabhu, a recent college graduate from Ames, Iowa, stood just over the president's left shoulder throughout his remarks at the Herman Park pavilion. A few minutes after Obama took the stage, Prabhu quietly unfolded a regular piece of white printer paper with the words "FUND PEPFAR" printed on it in big black letters. He held it silently for about five minutes in full view of the audience and all the television cameras aimed at the president's remarks, and then just as quietly, he refolded the paper and put it away.
PEPFAR – or the President's Emergency Program for AIDS Relief – was started by President George W. Bush in 2003 and is widely viewed as one of the great successes of his administration. The program was renewed by Congress in 2008 with a $48 billion commitment for fiscal years 2009 to 2013. FULL POST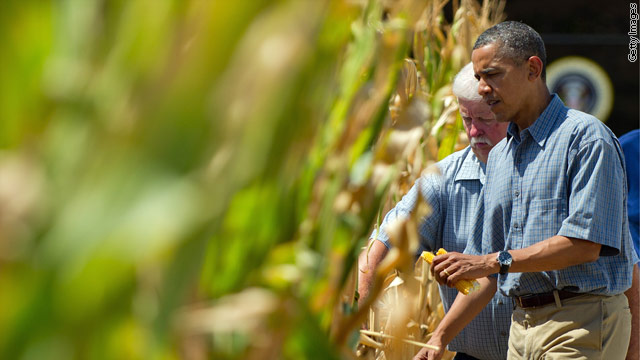 August 13th, 2012
04:06 PM ET
COUNCIL BLUFFS, Iowa (CNN) – President Obama mixed business and campaigning on Monday, holding a rally and an official event on the first leg of a three-day bus tour across the Hawkeye State.
After delivering his campaign stump speech here at Bayliss Park, the president and Agriculture Secretary Tom Vilsack stopped by a drought-ravaged farm in the Missouri Valley to officially announce a new initiative to aid farmers and ranchers.
Calling the current conditions the worst "in decades," the president outlined actions his administration has taken to address the crisis, including the approval of emergency loans, opening federal lands for grazing and providing money to help get water to livestock.
The administration's actions also include a new initiative, announced Monday morning in a statement by the U.S. Department of Agriculture, to purchase up to $170 million of "pork, lamb, chicken, and catfish for federal food nutrition assistance programs, including food banks."
While the government couldn't make it rain, the president said that as a major consumer of U.S. meat products, it could assist struggling farmers and ranchers by purchasing the food now and freezing it for future consumption.
FULL POST