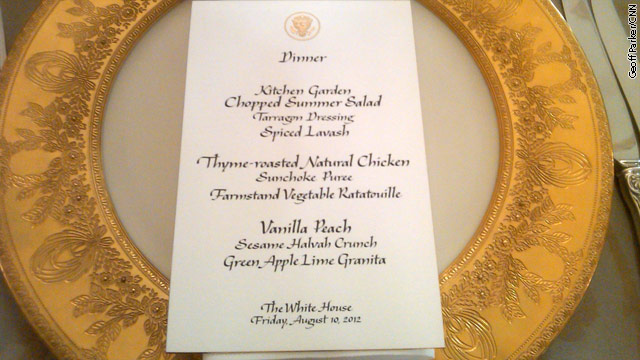 August 10th, 2012
06:57 PM ET
Friday night President Obama will host his fourth annual Iftar dinner in the State Dining Room to celebrate the Muslim holy month of Ramadan. During Ramadan, observant Muslims fast from sunup to sundown and often break their fast with a communal Iftar dinner in the evening.
The tradition of hosting an Iftar dinner at the White House began under President Clinton and has been continued by both President Bush and President Obama.
According to the White House, the invited guests for the evening "include elected officials, religious and grassroots leaders in the Muslim American community, and leaders of diverse faiths and members of the diplomatic corps."
Here's the menu for the Friday's dinner: FULL POST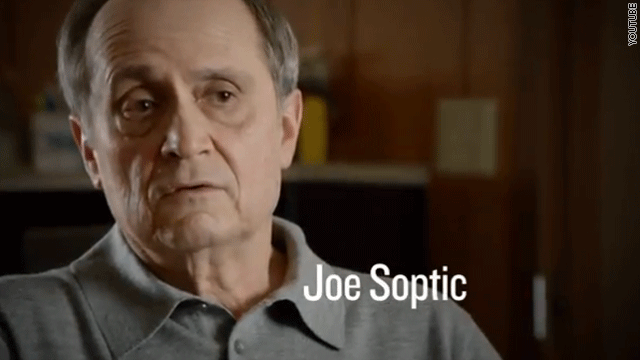 August 8th, 2012
07:01 PM ET
Representatives from the Obama campaign tried to distance themselves on Wednesday from a new ad released by the pro-Obama Super PAC Priorities USA that links actions taken by Bain Capital to the death of former steelworker Joe Soptic's wife.
Aboard Air Force One, campaign spokesperson Jen Psaki told reporters that the campaign had "no involvement with any ads that are done by Priorities USA."
"We don't have any knowledge of the story of the family," Psaki said when asked about Soptic's story.
On CNN's Early Start Wednesday morning, Obama for America Deputy Campaign Manager Stephanie Cutter also denied that she knew the details of Soptic's story.
"Well, you do know that we don't have anything to do with Priorities USA," Cutter told CNN's John Berman. "That by law, we're not allowed to coordinate with them, and by law we don't have anything to do with their ads. I don't know the facts of when Joe Soptic's wife got sick or when she died."
But in an interview with CNN on Tuesday, Soptic said that the campaign had asked him to appear at events on behalf of the president to talk about his experiences with Bain. FULL POST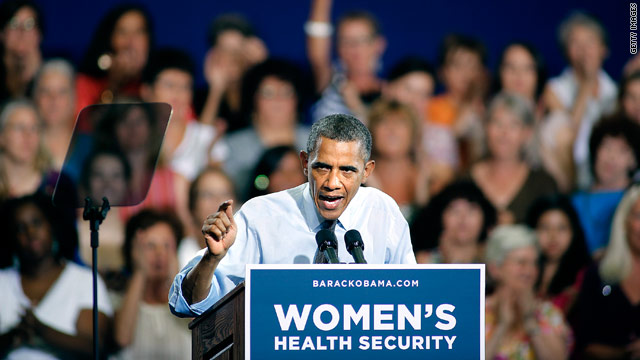 August 8th, 2012
06:29 PM ET
Denver (CNN) – At the first stop of a two-day campaign trip through Colorado, President Obama made his pitch to female voters, telling a crowd here that on women's health issues his opponents "want to take us back to the policies more suited to the 1950's than the 21st century."
"The decisions that affect a woman's health, they're not up to politicians, they're not up to insurance companies. They're up to you," Obama said. "And you deserve a President who will fight to keep it that way. That's the President I've been. That's the President I will be if I get a second term as President of the United States, to keep moving this country forward."
August 8th, 2012
04:44 PM ET
One day after refusing to answer questions about a television ad put out by pro-Obama Super PAC Priorities USA, on Wednesday both the White House and the Obama campaign distanced themselves from the new attacks on Mitt Romney's record.
The ad ties the actions of Romney's old financial firm Bain Capital to the 2006 death of factory worker Joe Soptic's wife. Soptic, an employee of GST Steel in Missouri for nearly 30 years, was laid off in 2001 when Bain closed the factory where he worked. This caused him to lose his health insurance, which also covered his wife Ilyona.
Years later Ilyona died rather suddenly from stage-four lung cancer that had gone undiagnosed, a situation that Soptic told CNN was caused by Bain's decision to shutter the Kansas City steel mill where he had worked.
White House Press Secretary Jay Carney told reporters traveling with the president aboard Air Force One on Wednesday that he had not seen the ad, quickly brushing aside repeated questions about whether or not its allegations are appropriate.
"I still haven't seen the ad," Carney said. "I've read about it. I don't speak for a third-party group. I speak for the President and the administration, and I explain and defend his policies."
Traveling campaign spokesperson Jen Psaki was even blunter.
"We have nothing - no involvement with any ads that are done by Priorities USA," Psaki said. "We don't have any knowledge of the story of the family. As you know, campaign finance rules in that regard are in place for a reason. At the same time, while we're talking about this ad, which we all know we had no involvement in, Mitt Romney's team is running a dishonest ad, an ad that is a big, bold-faced lie that even President Clinton has said was disappointing and inaccurate. And that's an ad that they should be held accountable for and on the facts, because right now they're out there running it across the country as if this is a true policy when in fact it's not. So that's a conversation we feel like we should be having."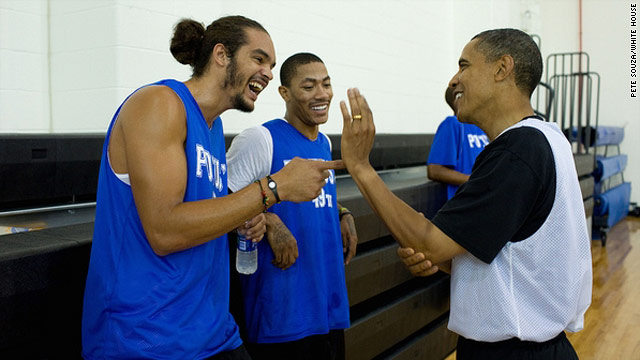 August 7th, 2012
03:57 PM ET
After losing the monthly fundraising battle in July for the third straight month, the Obama campaign is rolling out a new money-raising gimmick to encourage its supporters to pony up donations.
In an email sent out on Tuesday, Obama for America announced that future donors to the president's reelection campaign will be automatically entered into a lottery for the chance to play basketball with current and former NBA and WNBA stars at the rescheduled Obama Classic. The winner will also get a dinner with President Obama and NBA legend Michael Jordan.
Originally organized during the 2011 NBA lockout, the Obama Classic was an exhibition game scheduled for last December at a time when basketball fans had nowhere else to turn to watch their favorite players. When the lockout was resolved at the end of November, NBC stars and Obama Classic organizers Vince Carter, Baron Davis and Chris Paul sent out an email announcing that the game was being postponed until summer 2012. FULL POST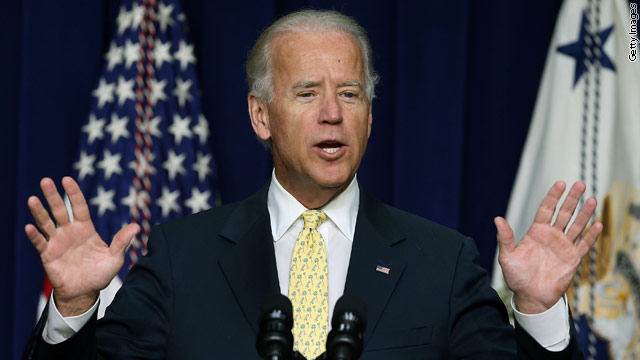 July 24th, 2012
05:49 PM ET
(CNN) – The White House and Congressional Democrats are using a Senate vote on Wednesday to try and force Congressional action on a tax cut compromise. At issue is President Obama's proposal to extend only Bush-era tax cuts on income below $250,000 a year, while allowing cuts for everything over that threshold to expire at the end of the year.
In anticipation of the vote, the National Economic Council released a study on Tuesday surveying the economic effects of the president's plan, and Vice President Joe Biden held a rare conference call with reporters to hammer home the significance of finding a compromise.
"If Congress doesn't get this done, there are going to be 114 million people – middle class families – see their taxes go up and in effect a cut in their wages," Biden said. "A typical middle class family, making fifty grand, a family of four, is going to pay $2,200 extra." FULL POST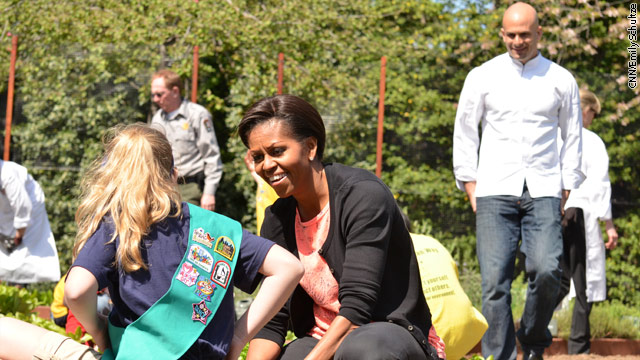 July 23rd, 2012
03:03 PM ET
(CNN) – The White House held a conference call on Monday to release the details of First Lady Michelle Obama's visit to London as the head of the U.S. delegation to the 2012 Olympic Games. Joining the first lady as part of the delegation will be former Olympics and Paralympics athletes Brandi Chastain, Dominique Dawes, Gabriel Diaz de Leon, Grant Hill and Summer Sanders.
"Leading our nation's delegation and traveling to London is truly a dream come true," Obama said. "If anybody had asked me when I was 10, or 11 or 20 or actually 40 whether I'd be doing this I would have said not. Some of my fondest memories when I was young and not so young involved watching the Olympics on TV and cheering on Team USA and as part of this trip and my Lets Move! initiative to solve the problem of childhood obesity I decided that I wanted to turn that Olympic spirit and inspiration into action by using these games as a way to get more kids up and moving."
The first lady will head to London on Thursday, and her official visit will begin with an informal breakfast for U.S. Olympians on Friday. Later in the morning, Obama will host a Let's Move! event for the children of American service members stationed in London as well as American and British students. Athletes such as David Beckham, Nadia Comaneci, Shawn Johnson, Carl Lewis, and Dikembe Mutombo will also attend the event. FULL POST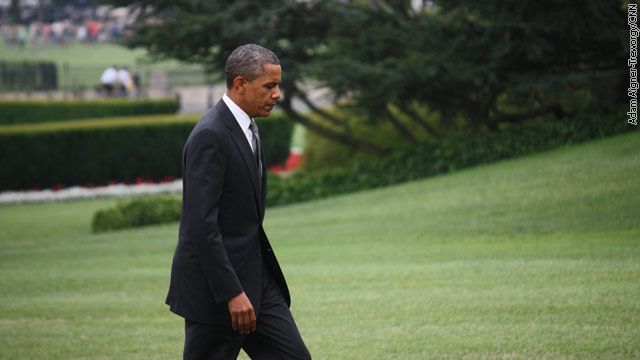 July 20th, 2012
03:08 PM ET
Immediately after arriving back at the White House on Friday afternoon, President Obama met with senior advisers in the Oval Office for a briefing on the ongoing investigation into the mass shooting in Aurora, Colorado Friday morning. The president walked from Marine 1 on the South Lawn directly into the Oval Office for a meeting with FBI Director Robert Mueller, Chief of Staff Jack Lew, chief counter-terrorism adviser John Brennan, senior adviser Valerie Jarret and White House Counsel Kathy Ruemmler.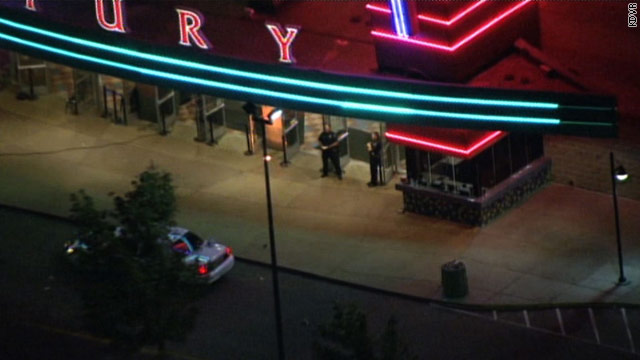 July 20th, 2012
10:48 AM ET
President Obama was schedule to make stops in Ft. Myers and Winter Park, Florida today as part of a two-day campaign swing, but after being informed of the mass shooting in Aurora, Colorado early this morning he has decided to return to Washington early. He will address the tragedy during abbreviated remarks at his first event in Ft. Myers before returning to the White House.
The president was informed of the tragedy at 5:26 am by his chief counter-terrorism adviser John Brennan. He then immediately inquired whether the incident was over and if everyone was safe, Press Secretary Jay Carney told reporters in a gaggle aboard Air Force 1. Shortly after, Obama also spoke with the mayor of Aurora and was briefed again by Brennan, Chief of Staff Jack Lew and FBI Director Bob Mueller. Upon returning to Washington the president will receive additional briefings on the investigation, which the White House described as a local law enforcement matter at this point.
"We do not believe at this point there was an apparent nexus to terrorism," Carney added.
Campaign press secretary Jen Psaki also informed the reporters traveling with the president that the campaign would be pulling down its "contrast advertising" in Colorado for the time being.
"It takes time for stations to be able to do this, but we are making every effort," Psaki said.
As to the president's additional reactions to the shooting, The president expressed to Carney "how heavy his heart is" and the pain that the parents and loved ones of the victims must be going through.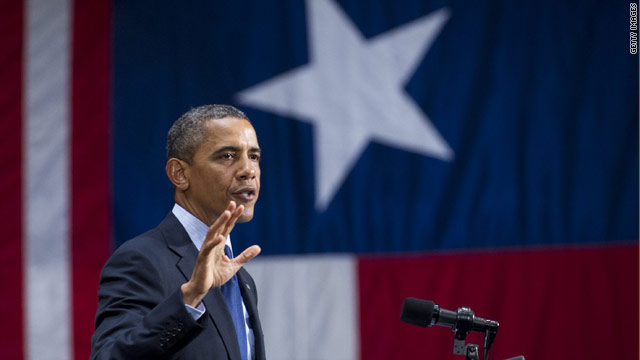 July 17th, 2012
03:28 PM ET
San Antonio, TX (CNN) – President Obama took his campaign to one of the reddest states in the country on Tuesday, telling a crowd of roughly 1,200 supporters at a lunch-time fundraiser here that while he may not win their home state in November, Texas Democrats should be optimistic about the future.
"You're not considered one of the battleground states, but that's going to be changing soon," Obama said to applause, referring to Texas' changing demographics that many analysts predict may help shift the state's political leaning.
Long a reliable state for Republicans, Texas has nonetheless been a consistent source of money for both political parties. According to the Center for Responsive Politics, only Californians have donated more to presidential candidates this cycle than the nearly $30 million given by Texans.
FULL POST