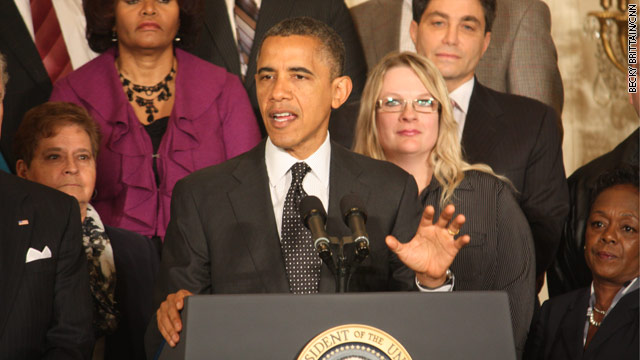 November 14th, 2012
07:48 AM ET
Washington (CNN) - The last time President Barack Obama held a full-blown news conference at the White House, his first campaign rally was two months away and former Pennsylvania Sen. Rick Santorum looked to have the upper hand over Mitt Romney in the GOP presidential primaries.
To be sure, in some ways the political landscape has changed dramatically since Obama fielded questions from the White House press corps on March 6: He is now assured of four more years in the Oval Office and can claim fresh leverage in his dealings with Republicans over reaching a budget deal.
But in many ways, the political environment closely mirrors what it looked like eight months ago: Republicans remain in control of the House of Representatives, the GOP leadership maintains it is opposed to any measure that will raise tax rates on the nation's top earners and the president's approval rating remains stubbornly stuck around a less-than impressive 50%.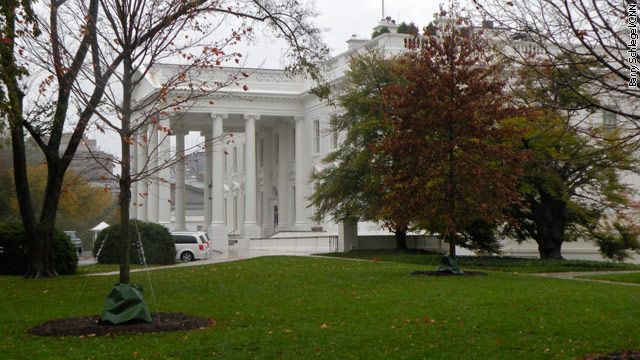 November 14th, 2012
07:40 AM ET
It's a busy day at the White House with the main event at 1:30 PM when President Obama holds his first full-length press conference with White House reporters since March.   Reporters will grill the president in the East Room of the White House and the entire event is expected to last about an hour.
Following the press conference, Obama will sit down with prominent business leaders to discuss his upcoming budget negotiations with Congress.  The meeting follows a similar sit down with labor leaders and prominent women's groups Tuesday.  It's all ahead of the president's meeting with congressional leaders of both parties Friday at the White House.
Full White House schedule after the jump:
FULL POST
November 6th, 2012
01:07 PM ET
(CNN) - The final curtain isn't likely to fall on this presidential election until the wee hours of Wednesday morning, but President Barack Obama's moment to exit the stage came more than 24 hours earlier.
With the imposing Iowa State Capitol looming over a soggy crowd that bore near-freezing temperatures in windswept Des Moines, Obama made his last major appearance of the 2012 campaign to urge the more than 20,000 supporters to maintain the enthusiasm that first catapulted him from a fresh-faced senator to presidential front-runner nearly five years ago.
Flanked by first lady Michelle Obama and rock star Bruce Springsteen, Obama's final bow came in the Hawkeye State as the clock approached midnight there, marking at long last the arrival of Election Day and the end of the president's last campaign - 105 rallies after kicking off his re-election effort in Ohio and Virginia seven months prior.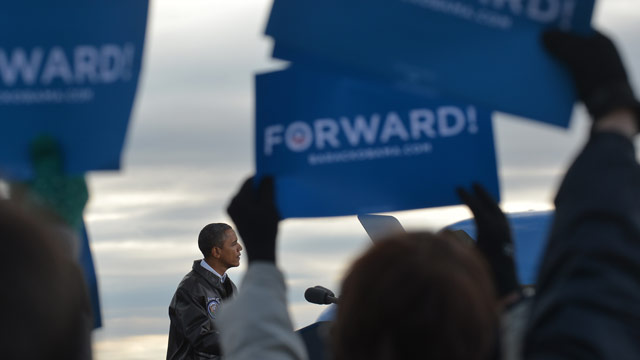 November 1st, 2012
04:04 PM ET
(CNN) – President Obama is bringing a heavy dose of star power with him on his final day on the campaign trail.
The campaign announced Thursday that musician Bruce Springsteen will perform at all three of the president's stops that day – Madison, Wisconsin; Columbus, Ohio; and Des Moines Iowa. In addition, rapper JAY Z will perform at the Columbus, Ohio stop.
First Lady Michelle Obama will also join the president at his last stop in Des Moines, according to the campaign.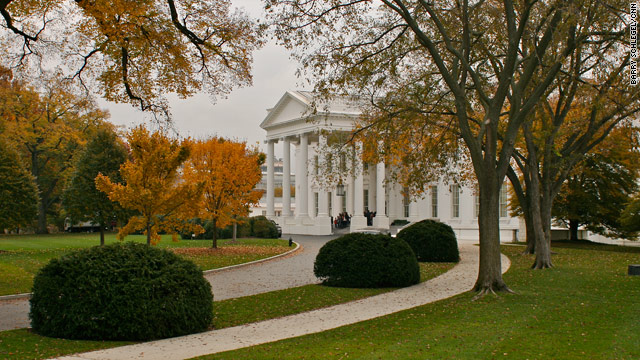 October 31st, 2012
07:45 AM ET
The president's attention continues to be diverted from the looming election, now only six days away, as he deals with the aftermath of Hurricane Sandy. Obama will travel to New Jersey's Atlantic City area Wednesday to survey the storm damage with Gov. Chris Christie. Christie, you may remember, was the keynote speaker at the Republican National Convention two months ago. Now of course, the two men meet under very different conditions.
The president's full schedule after the jump:
FULL POST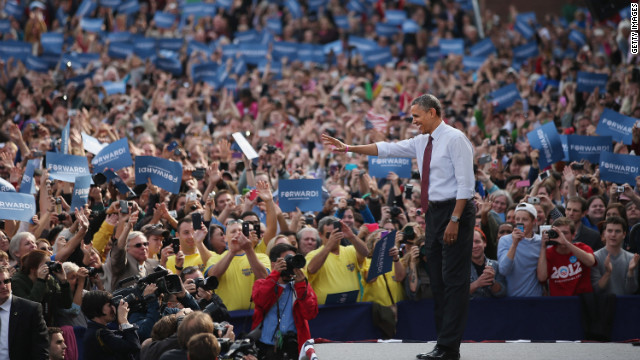 October 27th, 2012
01:54 PM ET
Nashua, New Hampshire (CNN) – In the latest sign of just how tight both presidential campaigns view the race, President Barack Obama rallied voters on Saturday in New Hampshire – a battleground state that caries just four electoral college votes.
Obama carried the state by a 10 points four years ago, but his fortunes in the Granite State now are considerably more in doubt. Obama's victory in 2008 was largely due to support from self-identified independents, who make up more than a third of the electorate.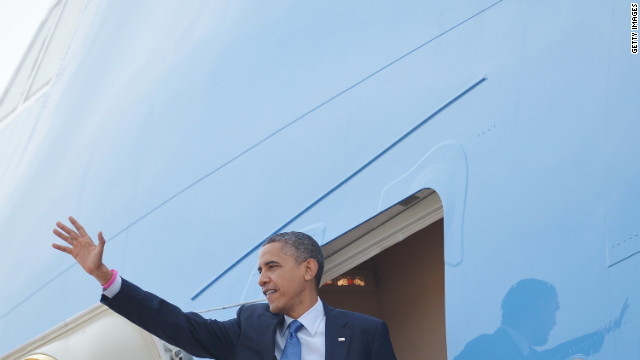 October 26th, 2012
03:25 PM ET
(CNN) – With the potential for a so-called "perfect storm" to batter the mid-Atlantic and New England early next week, President Obama is monitoring the latest developments – both as a president and as a presidential candidate.
Depending on just where Hurricane Sandy comes ashore – and when and where it collides with another winter storm system – may both impact Obama's campaign schedule and test his administration's preparedness one week before Election Day.
Earlier Friday, the White House announced that the president convened a call with FEMA Administrator Craig Fugate, National Hurricane Center Director Dr. Rick Knabb, and Homeland Security Advisor John Brennan to discuss precautions ahead of the storm. The White House also said that FEMA has decided to deploy Incident Management Assistance Teams up and down the East Coast this weekend before the brunt of the storm is felt.'''
FULL POST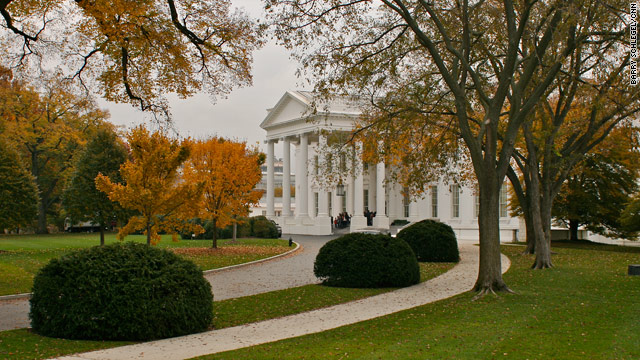 October 26th, 2012
09:30 AM ET
After a marathon campaign trip that stretched coast to coast, President Obama is back at the White House Friday. But the president's focus is of course still on the election, now only 10 days away, and he will spend the majority of the day giving interviews to several local television outlets, radio shows, and even MTV.
Full schedule below:
FULL POST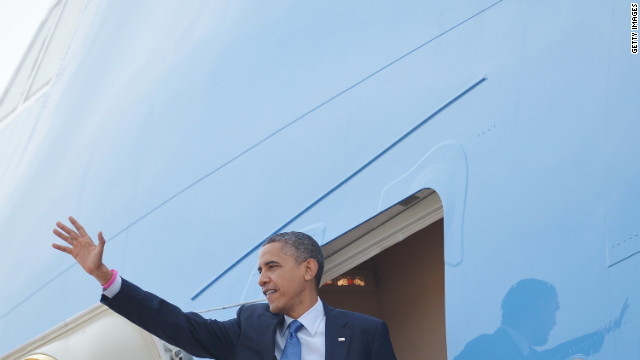 October 24th, 2012
01:40 PM ET
(CNN) – It's the kind of feverish schedule that is usually reserved for the final days of a presidential campaign: a two-day coast-to-coast swing that includes stops in eight states, multiple television interviews, and a redeye flight on Air Force One.
But President Obama isn't waiting for the last weekend of the campaign to up his pace to an all out sprint, a likely reflection of just how close he and his aides believe this race now stands with just under two weeks until Election Day.
"This is the first stop on our 48-hour fly around, campaign marathon extravaganza," a smiling Obama told supporters at his first stop in Davenport Iowa earlier Wednesday.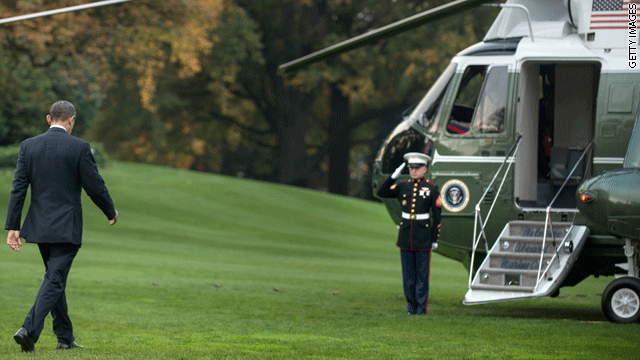 October 24th, 2012
11:12 AM ET
President Obama kicks off a multi-state around-the-clock campaign tour Wednesday. The two-day swing will take the president to Iowa, Colorado, California, Nevada, Florida, Illinois, and Ohio.
Full schedule after the jump: