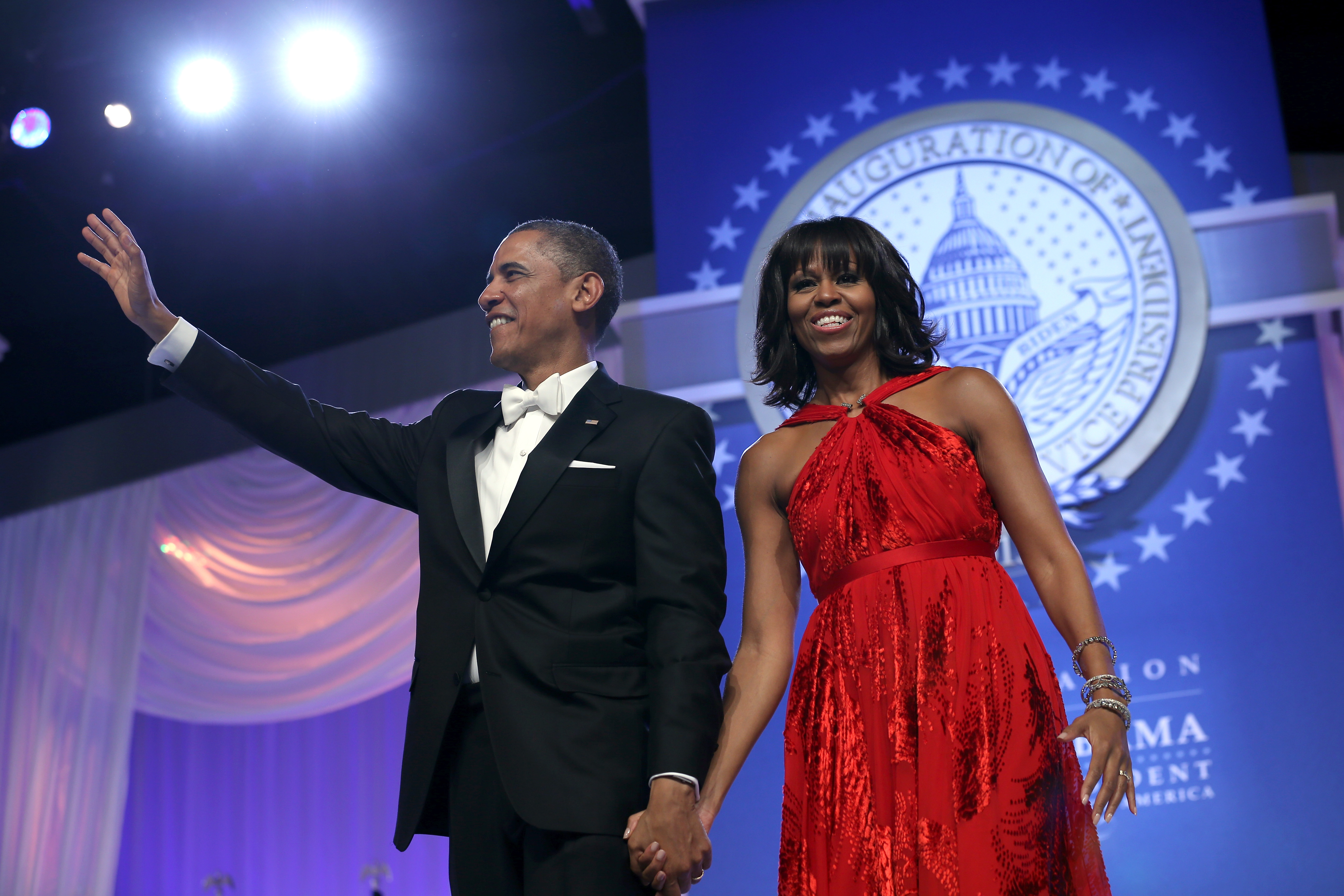 January 22nd, 2013
08:20 AM ET
Washington (CNN) – After all the anticipation and waiting, perhaps the biggest bombshell about Michelle Obama's inaugural ball dress was that it really wasn't a surprise at all.
Like 2009, the first lady wore a gown by the Taiwanese-born American designer Jason Wu, who was catapulted into the highest echelons of fashion when Obama donned one of his designs four years ago.
Obama, who is known for favoring lesser-known American designers, had several dresses presented to her before she made her decision, and didn't reveal what she would wear before she stepped out on stage at the Commander-in-Chief's ball, making her repeat turn in Jason Wu a rare moment of suspense amid the scripted revelry of the inauguration.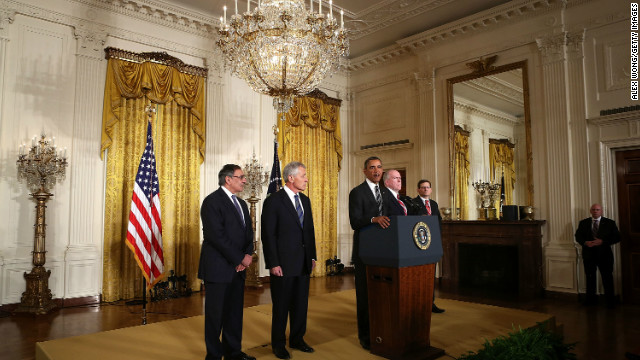 January 14th, 2013
04:32 PM ET
Washington (CNN) – Just wait and see.
That was President Barack Obama's response Monday to critics who have questioned why his second-term cabinet nominees have all been white males.
"I would just suggest that everybody kind of wait until they've seen all my appointments, who is in the White House staff and who is in my cabinet, before they rush to judgment," Obama said during his Monday news conference, which focused mostly on the upcoming debate over raising the federal debt limit.
Since winning re-election in November, Obama has made four high-profile nominations for posts in his cabinet, including tapping Sen. John Kerry for secretary of state. If confirmed, he'll replace Hillary Clinton, the highest profile woman in Obama's administration.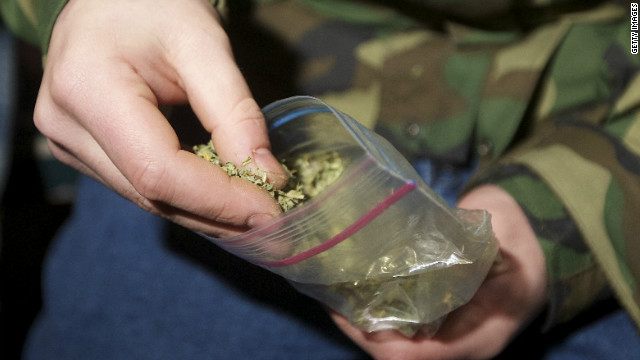 December 14th, 2012
10:35 AM ET
Washington (CNN) – President Barack Obama says that federal law enforcement agencies have "bigger fish to fry" than prosecuting marijuana users in Colorado and Washington, which voted in November to legalize the recreational use of marijuana.
Obama made explicit in an interview to air Friday on ABC News that prosecution of marijuana users in the two states would be placed low on his Justice Department's list of law enforcement priorities, but that certain issues must still be ironed out as more states could pass similar legislation.
October 23rd, 2012
10:50 AM ET
(CNN) – Perhaps it only makes sense that a candidate who prepared for a presidential debate near Colonial Williamsburg would slam Mitt Romney's plan for more Navy ships with the phrase "horses and bayonets."
President Barack Obama's quip – meant to make the point that modern warfare doesn't require the type of equipment it did in the past – appeared part of a larger strategy of casting his opponent as stuck in a time warp on important issues. And Republicans, seeing an opening, are making sure shipbuilders just down the road from the president' Virginia prep location are aware of the president's suggestion their industry is a thing of the past.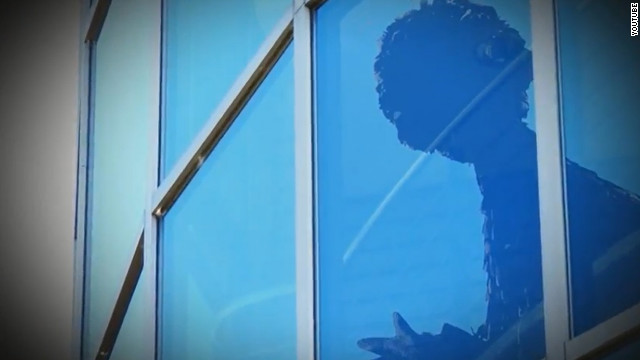 October 9th, 2012
08:08 AM ET
(CNN) – The unlikely star of last week's presidential debate is now starring in a political ad from President Barack Obama's re-election campaign.
The spot, released Tuesday, sarcastically casts Big Bird as a corporate fiend akin to Bernie Madoff and Kenneth Lay. The campaign said it would air on national broadcast and cable.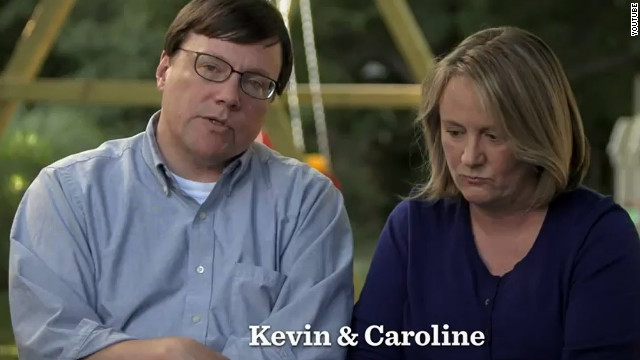 August 22nd, 2012
04:49 PM ET
(CNN) – Mitt Romney's stance on class sizes in public schools came under fire Wednesday from President Barack Obama's campaign, which released a television spot featuring parents who say their children benefit from lower student-to-teacher ratios.
The ad, called "Children," will air in Ohio and Virginia on Thursday, the campaign said. Those states are key battlegrounds where Paul Ryan, the Wisconsin congressman running as Romney's vice presidential pick, has campaigned this week.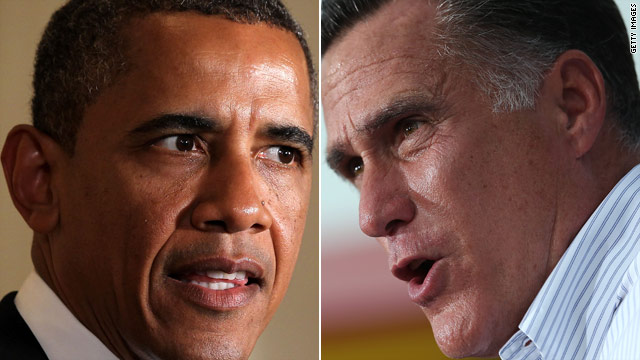 August 22nd, 2012
01:52 PM ET
(CNN) – A Congressional Budget Office report released Wednesday on the potentially dismal impact of the impending "fiscal cliff" prompted finger pointing from both parties, not surprisingly, blaming each other.
The White House placed blame for a gloomy economic outlook on Congressional Republicans and Mitt Romney, the presumptive GOP presidential nominee, named President Barack Obama as the instigator of high projected deficits.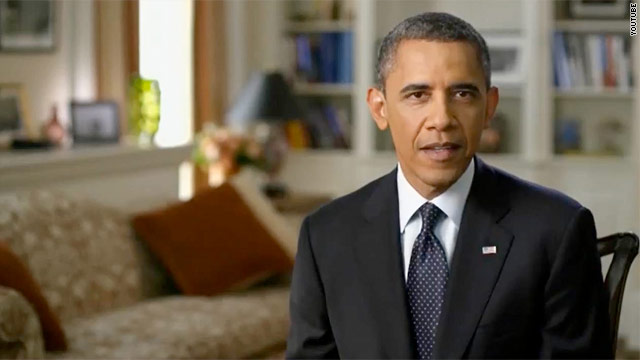 July 26th, 2012
01:33 PM ET
(CNN) – A television ad from President Barack Obama's re-election campaign mistakenly aired in Colorado Springs Thursday morning, marking the first time since last Friday's deadly shooting a spot for one of the presidential candidates aired in the state.
Both candidates' campaigns said on the morning of the shooting they would discontinue airing political ads in the state. A spokeswoman for Obama's campaign said Sunday the ads would remain off the air through Friday. Romney's team said the ads would not be airing "until further notice."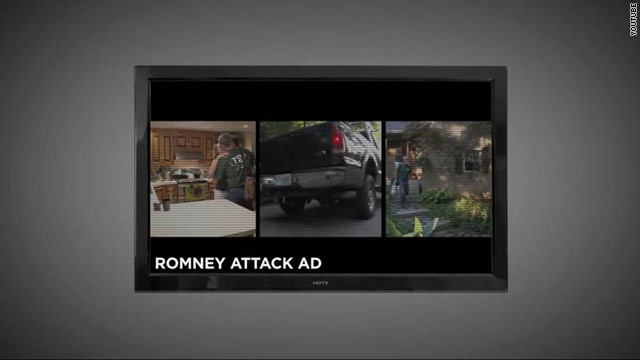 July 24th, 2012
11:43 AM ET
(CNN) – As Mitt Romney and fellow Republicans ramp up their attacks on President Barack Obama for his remarks on small business, the president's operation is pushing back with a duo of web videos arguing the comments are out on context.
The battle stems back two weeks, when Obama told a crowd in Roanoke, Virginia, that successful small businesses got that way with the help of governmental support like roads and educators.
"If you are successful, somebody along the line gave you some help," Obama said. "There was a great teacher somewhere in your life. Somebody helped to create this unbelievable American system that we have that allowed you to thrive. Somebody invested in roads and bridges. If you've got a business, you didn't build that. Somebody else made that happen. The Internet didn't get invented on its own. Government research created the Internet so that all the companies could make money off the Internet."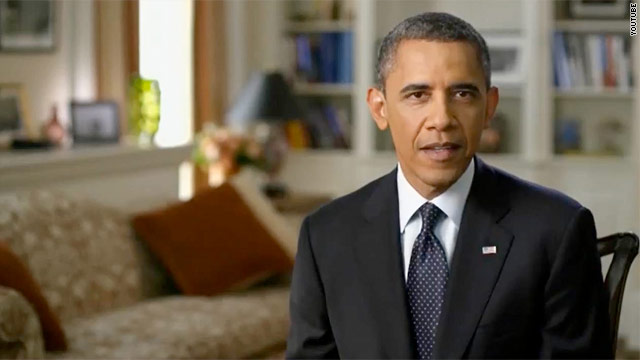 July 24th, 2012
11:34 AM ET
(CNN) – President Barack Obama says in a new television spot that the economic plan favored by his rival Mitt Romney is a tired approach that would only favor the wealthy.
The Obama campaign says the minute-long ad, called "The Choice," will air in nine battleground states: Colorado, Florida, Iowa, North Carolina, New Hampshire, Nevada, Ohio, Pennsylvania, and Virginia. Obama's campaign said on Sunday they would not air any ads in Colorado through Friday in light of the shooting there last week. "The Choice" will begin airing in the state on Saturday, the Obama campaign tells CNN.