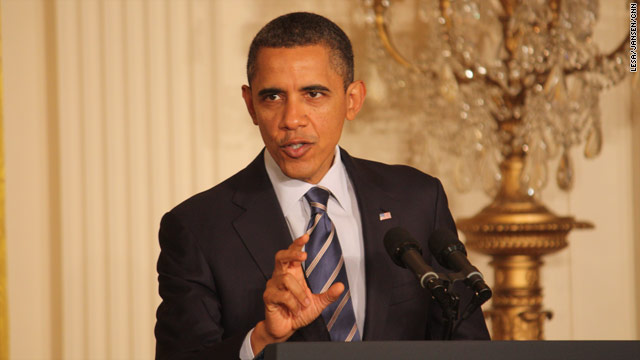 July 27th, 2012
02:40 PM ET
Washington (CNN) - The day before Mitt Romney makes a highly publicized trip to Israel, President Barack Obama on Friday signed a bill passed by Congress designed to increase security ties with the Jewish state.
Both the timing of Friday's event and the presence of TV cameras opened the White House to accusations of political maneuvering in a presidential election year.
Obama's schedule for this week, distributed by the White House on July 20, made no mention of the signing of the United States-Israel Enhanced Security Cooperation Act. The measure won final approval from Congress on July 17, receiving strong bipartisan support.
White House spokesman Jay Carney denied any political intent with the timing of the bill signing, saying the measure passed last week and Obama was traveling from Sunday to Wednesday.
"The president's been on the road, and today was the day to sign it," he said Friday. (READ MORE)
July 9th, 2012
03:29 PM ET
Washington (CNN) - President Barack Obama revitalized his push for holding down middle class tax rates Monday, calling on Congress to pass a one-year extension of the Bush-era tax cuts for people earning less than $250,000 a year.
In a White House statement delivered while people described as working Americans stood behind him, Obama said his proposal would provide the certainty of no tax increase next year for 98% of Americans.
Noting that Republicans seek to maintain all of the Bush tax cuts enacted in 2001 and 2003, Obama said both sides therefore agree on extending the lower rates for middle class families.
"Let's agree to do what we agree on, right?" Obama said to laughter and applause in the East Room. "That's what compromise is all about."
Facing a tough re-election fight in November against Republican challenger Mitt Romney, the Obama campaign seeks to frame the contest as a debate between the president's goal of restoring middle class opportunity versus GOP policies that it says would primarily benefit corporations and wealthy Americans.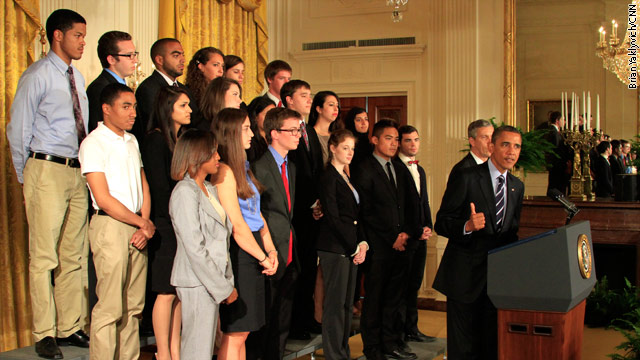 June 21st, 2012
04:46 PM ET
WASHINGTON (CNN) - With time running out for Congress to prevent a doubling of interest rates on federal student loans, the White House and Republican leaders exchanged accusations Thursday on who was to blame for the lack of an agreement.
President Barack Obama chided Republicans for holding up a deal with unreasonable demands, and he urged college students to continue raising their voices on the issue.
However, spokesmen for Republican leaders in the House and Senate denied an assertion by press secretary Jay Carney that the White House has been working with them to try to reach a deal.
Asked about GOP complaints that the White House has not reached out to Republicans on the issue in recent days, Carney said that "we are actively working with members of Congress to get this done," adding, "in both parties."
Spokesmen for House Speaker John Boehner, R-Ohio, and Senate Minority Leader Mitch McConnell, R-Kentucky, disputed Carney's account.
On the Senate floor, McConnell accused Obama and Democrats of playing political games on the issue.
"It is the Democrat-led Senate that has failed to act and the president who has failed to contribute to a solution, and the reason is obvious," McConnell said. "It was reported yesterday that the Democratic Congressional Campaign Committee is launching a website with a student loan countdown clock aimed at raising money off this issue. The implication is that Republicans are the ones dragging their feet. "
June 21st, 2012
02:14 PM ET
WASHINGTON (CNN) - A possible U.S. House vote next week on citing Attorney General Eric Holder for contempt of Congress in connection with the botched Fast and Furious gun-running sting evoked bitter political sniping Thursday between Republicans and Democrats.
Despite statements by all parties favoring a deal to avoid what would be an unprecedented contempt citation against a sitting attorney general, the heated rhetoric indicated congressional leaders and Holder remained committed to deeply rooted stances on the politically charged issue.
House Speaker John Boehner, R-Ohio, defended the House Oversight Committee vote Wednesday to refer the contempt citation to the full House, saying the goal was to uncover the truth about Fast and Furious, including what he called certain White House involvement.
"The House will vote next week on a contempt measure unless these documents are released," Boehner said.
At the White House, spokesman Jay Carney called the Republican investigation a "politically motivated, taxpayer funded, election year fishing expedition."
"It is this approach that explains at least in part why this Congress has the lowest approval ratings of any in recent memory," Carney said.
Holder, meanwhile, said his offer still stands to turn over some of the documents sought by House Republicans.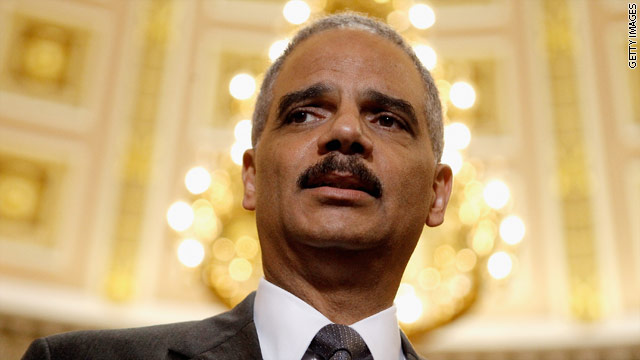 June 20th, 2012
11:52 AM ET
Washington (CNN) - An extraordinary House committee hearing began considering a contempt measure against Attorney General Eric Holder on Wednesday even though President Barack Obama asserted executive privilege over documents sought by the panel investigating the botched Fast and Furious gun-running sting.
Committee chairman Rep. Darrell Issa, R-California, said the White House assertion of executive privilege "falls short" of any reason to delay the hearing.
However, the committee's top Democrat, Rep. Elijah Cummings of Maryland, accused Issa of setting an "impossible standard" for Holder by demanding documents the attorney general was legally prohibited from providing.
Issa has "no interest in resolving" the dispute with Holder, Cummings said.
Wednesday's development further heightened the drama of a high-profile showdown between Issa and Holder over the committee's demand for the Department of Justice to turn over more documents about the Fast and Furious program.
The White House move means the Department of Justice can withhold the documents from the House Oversight Committee, which was scheduled to consider a contempt measure Wednesday against Holder.
For the full story, click here.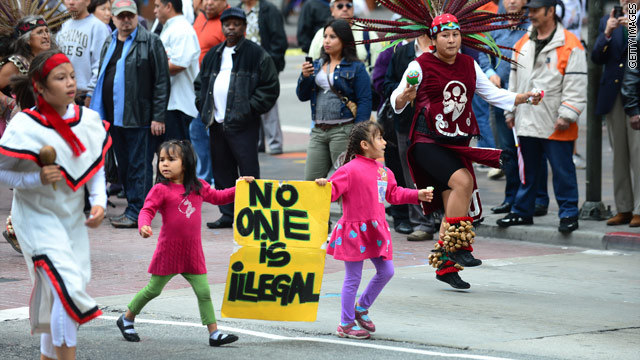 June 15th, 2012
12:11 PM ET
UPDATE TO PRESIDENT OBAMA'S SCHEDULE: President Obama will make remarks in the Rose Garden about the immigration announcement at 1:15p.
Washington (CNN) - In an election-year policy change, the Obama administration said Friday it will stop deporting young illegal immigrants who were brought to the United States as children if they meet certain requirements.
The new policy will cover people younger than 30 who came to the United States before the age of 16, pose no criminal or security threat, and were successful students or served in the military, the Department of Homeland Security announced.
It also will allow those meeting the requirements to apply for work permits, the statement said. The initial deferral of deportation will be for two years, and participants must be in the United States now and be able to prove they have been living in the country continuously for at least five years.
President Barack Obama will make a White House statement about the policy change Friday afternoon.
Click here for the entire story.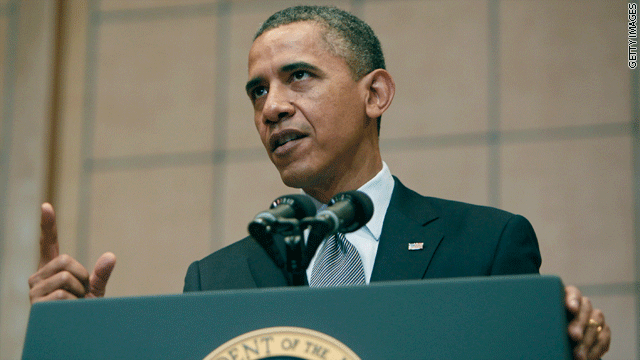 April 23rd, 2012
01:44 PM ET
Washington (CNN) - President Barack Obama announced Monday that he has signed an executive order allowing new sanctions against companies that enable Syria and Iran to use technology such as cell phone monitoring to carry out human rights abuses.
The order is part of a broader strategy intended to strengthen the administration's ability to prevent atrocities, including creation of an Atrocities Prevention Board, Obama said in somber remarks at the U.S. Holocaust
Memorial Museum to mark Holocaust Remembrance Day.
"These technologies should be in place to empower citizens, not to repress them," Obama said of the measure, which targets the Syrian and Iranian governments, as well as companies that provide them with high-tech equipment to use against their own people.
More HERE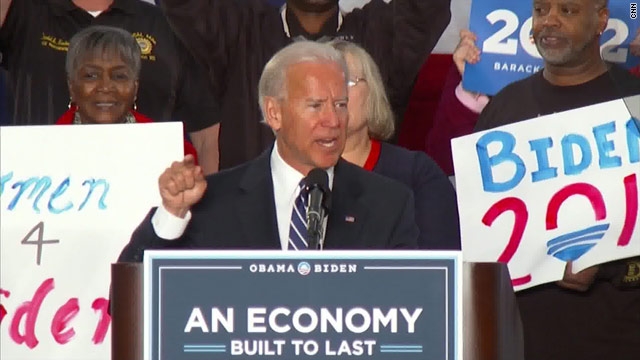 March 15th, 2012
01:48 PM ET
(CNN) - Vice President Joe Biden on Thursday harshly attacked the economic policies of Republican presidential contenders Mitt Romney, Newt Gingrich and Rick Santorum, calling them a threat to the American middle class.
"If you give any one of these guys the keys to the White House, they will bankrupt the middle class once again," Biden told autoworkers in Ohio, a key battleground state for Obama's re-election bid in November.
The speech by Biden at a United Auto Workers hall in Toledo was the first of four planned in coming weeks as Obama's top campaign surrogate, and he went after the Republican candidates by name - something the president has not done.
Read the complete story at CNN.com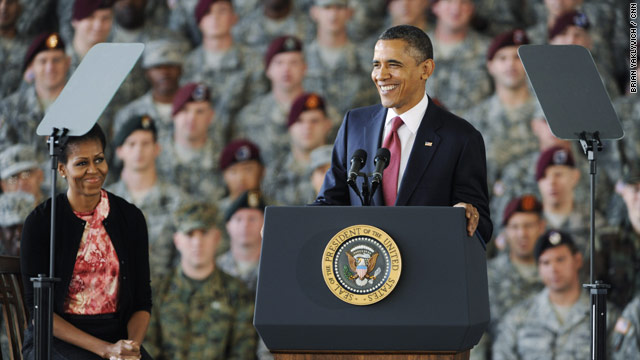 December 14th, 2011
06:34 PM ET
(CNN) - President Barack Obama on Wednesday welcomed home returning troops from Iraq, hailing their service to help a people they didn't know as an example of what makes America great.
"As your commander in chief, and on behalf of a grateful nation, I'm proud to finally say these two words, and I know your families agree - welcome home. Welcome home," Obama told cheering troops at Fort Bragg, North Carolina.
"Welcome home," he repeated again, to enthusiastic applause. "Welcome home."
The U.S. military mission that began in 2003 is ending this month, and Obama used the speech to mark the fulfillment of a campaign pledge he made in 2008 to end the war.
Noting the almost 4,500 Americans killed and more than 30,000 injured, Obama spoke of the heavy sacrifice and hard work in the Iraq mission.
"Because of you - because you sacrificed so much for a people that you had never met, Iraqis have a chance to forge their own destiny," Obama said. "That's part of what makes us special as Americans. Unlike the empires of old, we did so not for territory or for resources. We do it because it's right.
"There can be no fuller expression of America's support for self-determination than our leaving Iraq to its people. That says something about who we are."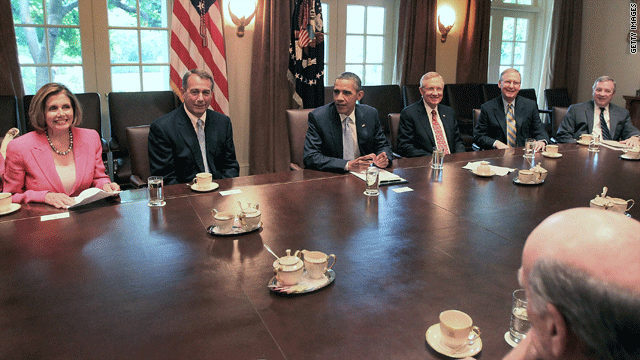 July 14th, 2011
07:27 AM ET
Washington (CNN) - A fifth session of talks in five days is set for Thursday to head off a possible government default.
Wednesday's session ended on a tense note with House Majority Leader Eric Cantor and President Barack Obama squaring off over the Republican's call for a short-term extension of the federal debt ceiling.
At one point, Obama said the political wrangling confirmed what the public considers to be the worst of Washington, according to Democratic sources familiar with the talks who spoke on condition of not being identified.
Multiple sources, also speaking on condition of anonymity, said Obama told the gathering that "this could bring my presidency down," referring to his pledge to veto any short-term extension of the debt ceiling. Sources say he vowed, "I will not yield on this."